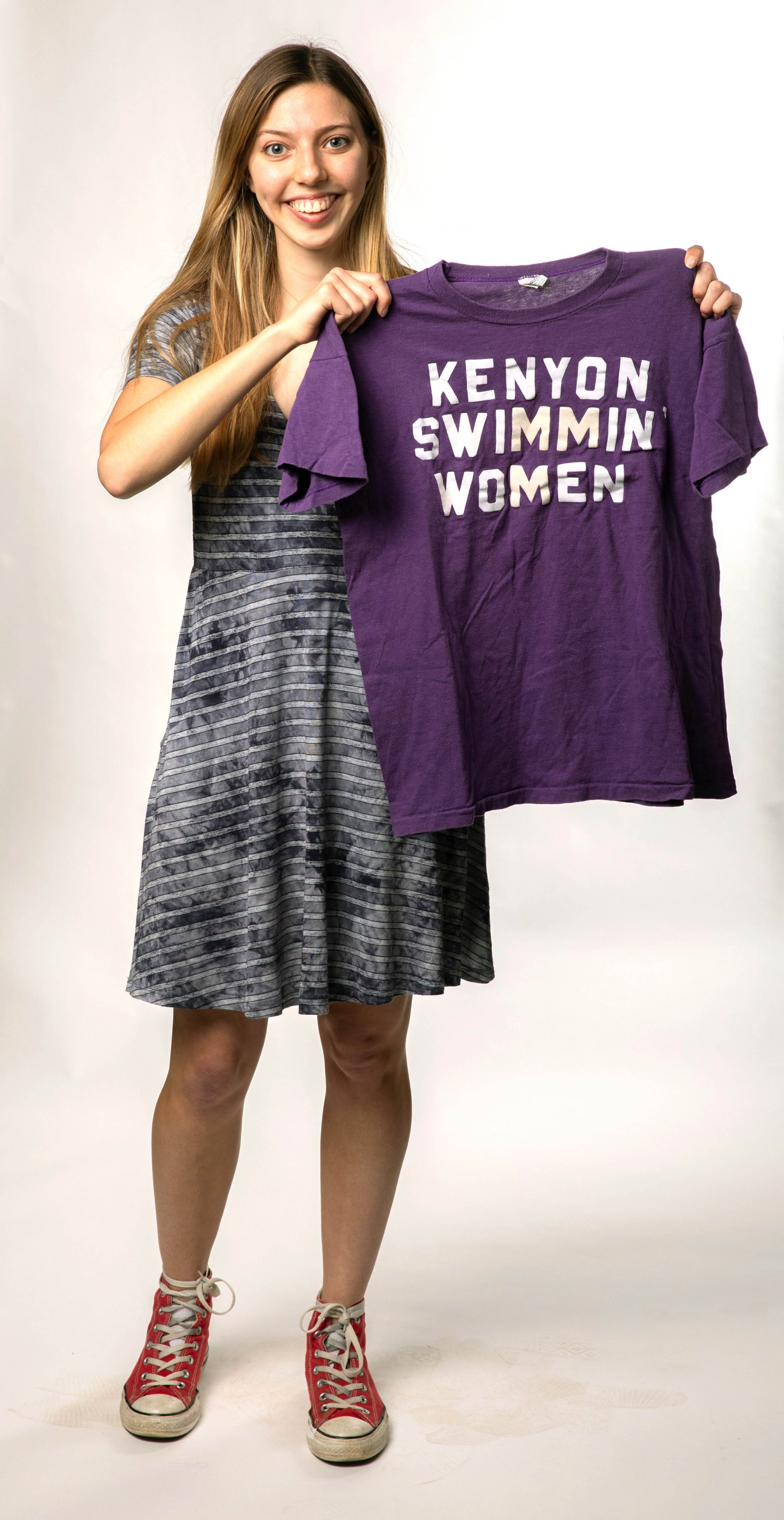 Walking along Middle Path today, we see the culture of Kenyon displayed in our choices of clothing and backpacks; in the earbuds we wear; the K-cards we carry and the Kenyon gear we mix with more trendy items. We carry so much of our current cultural moment with us, even as we walk the same path that generations of women who came before us walked.
The idea to mount an exhibition on the material history of coeducation at Kenyon in September 2019 (as part of Kenyon's official celebration of 50 years of coeducation) came from Pegi Goodman '73, a member of Kenyon's first coeducational class.
I first learned about the effort last spring, when I went to visit Roy T. Wortman Distinguished Professor of History Wendy Singer during her office hours. As she told me about her research on the history of coeducation at Kenyon, I knew I wanted to be involved. We formed a small research team, including Professor Singer, Hannah Aronson-Paxton '21, Maddie Johnson '22 and me. Hannah and Maddie have backgrounds in costume and stage design and are working on re-creating some of the outfits and styles that were popular at Kenyon in 1969. And I met with a selection of Kenyon alumnae who were kind enough to lend us their Kenyon mementos for the exhibition.
Throughout this project, I've found that a simple search for physical culture has revealed a great deal about the lives of the people who owned and wore the pieces. Often, these artifacts came with a story about the culture and environment on campus at the time they were used.
Sorting through Reveille yearbooks in the archives, I was struck by how much I didn't know about my own college's history. For example, I was unaware that there had ever been a Coordinate College at Kenyon, and I had no idea how fraught the transition to coeducation was in the beginning. Some of the comments that were made — in print! — about the women who attended Kenyon in those early days of coeducation surprised me, because they would likely be considered offensive by today's standards. Each alumna I've spoken with so far has mentioned experiencing at least some form of discrimination on the basis of gender during that time.
When we look at what was socially acceptable in 1969 and what is socially acceptable in 2019, there's a big difference. Obviously, the change didn't happen overnight, and our exhibition is a physical representation of that social change, moving across the decades. My hope is that current students will be inspired by the women who brought about earlier social change, and go on to make their own change. After all, everyone who lives, lives through history.
---
---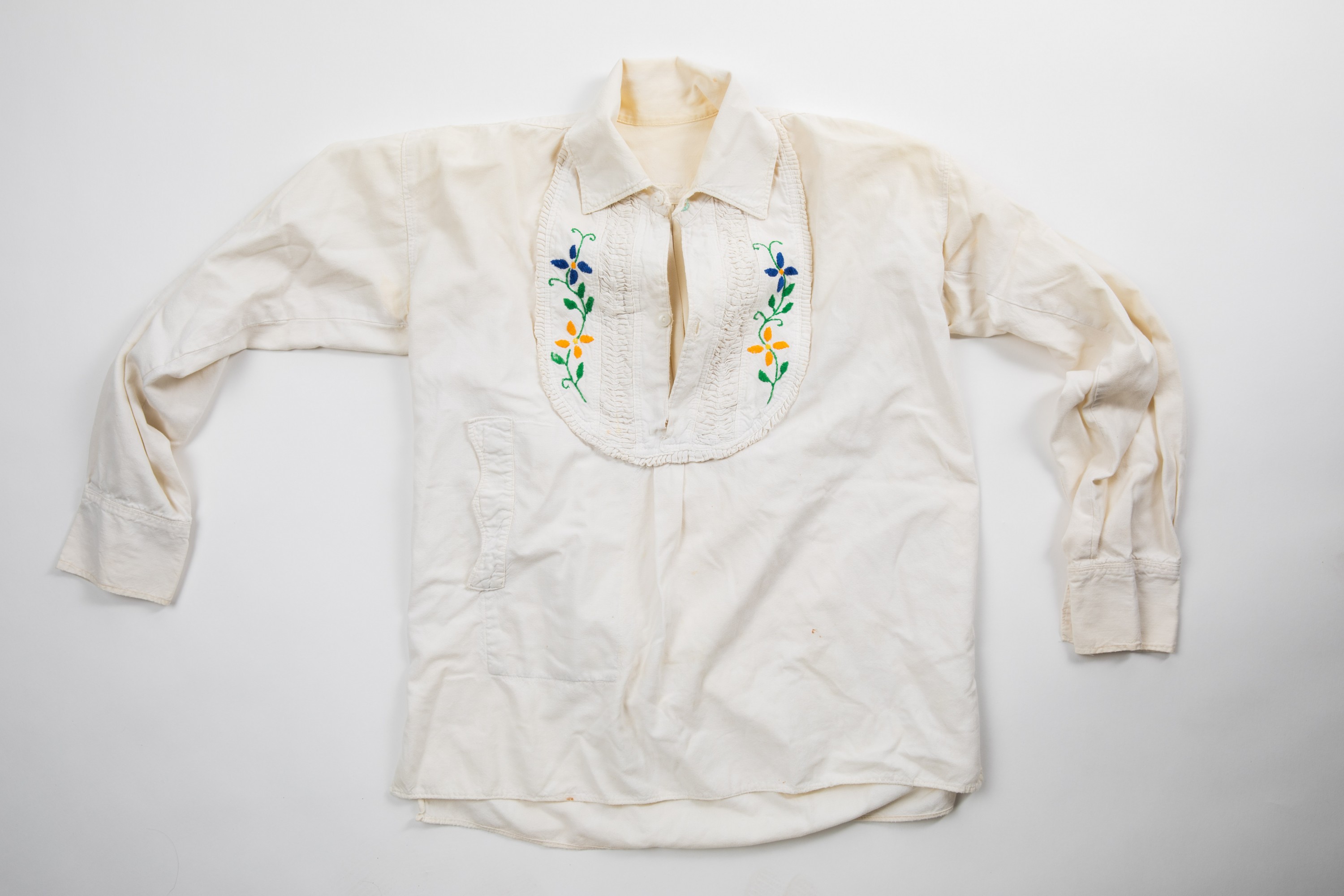 Embroidered Women's Shirt
Worn by Cornelia "Buffy" Ireland Hallinan '76 H'91, purchase year unknown.
"I probably got it when I was in college, but definitely not in Gambier. It was my favorite shirt," Hallinan recalled. "I tried not to wear it too often — just once a week — and I always wore it with a leotard underneath and my jeans, because I only wore jeans."
---
---
Student ID Cards
Courtesy of Cornelia "Buffy" Ireland Hallinan '76 H'91. 1973-1976.
Hallinan explained that in her day, unlike today, when students send in their own ID photos before arriving on campus, "the first thing you did when you'd come to campus was get your picture taken for your ID card."
In addition, each card contained a strip on the back that could be marked or punched by dining hall staff. "We had steak in the dining hall on Saturday nights, and when you got your steak, they punched or marked your card," Hallinan said. "This was done to show that the person had gotten their steak, in order to prevent students from getting more steak. They were just the worst steaks in the world... the guys would try and get more than one. Sometimes the girls would get their steak and give it to the guys."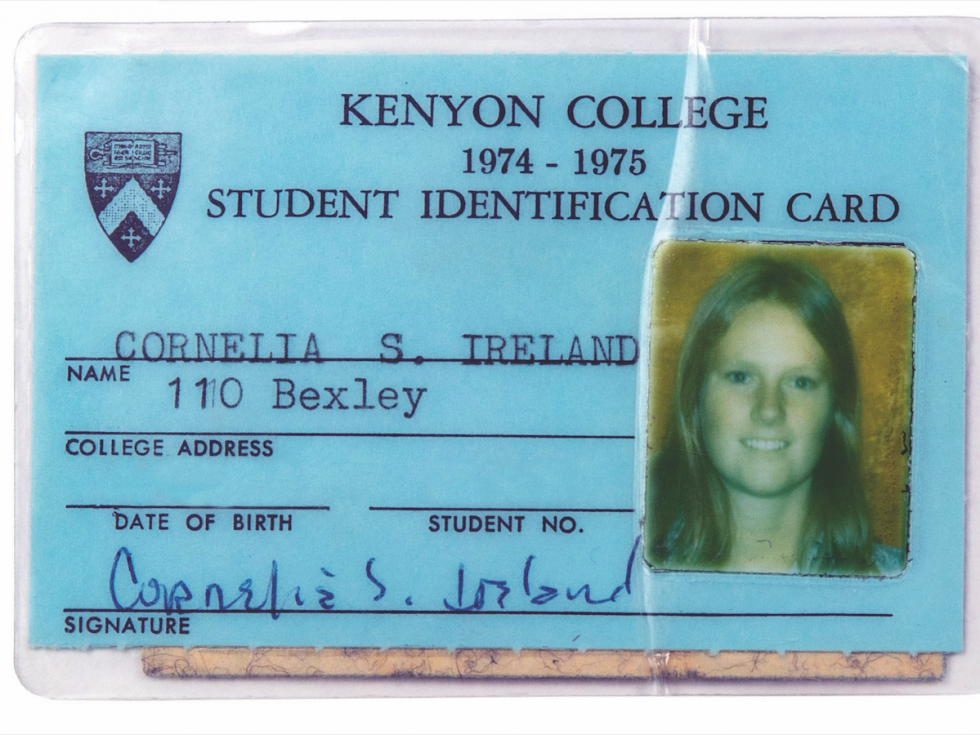 ---
---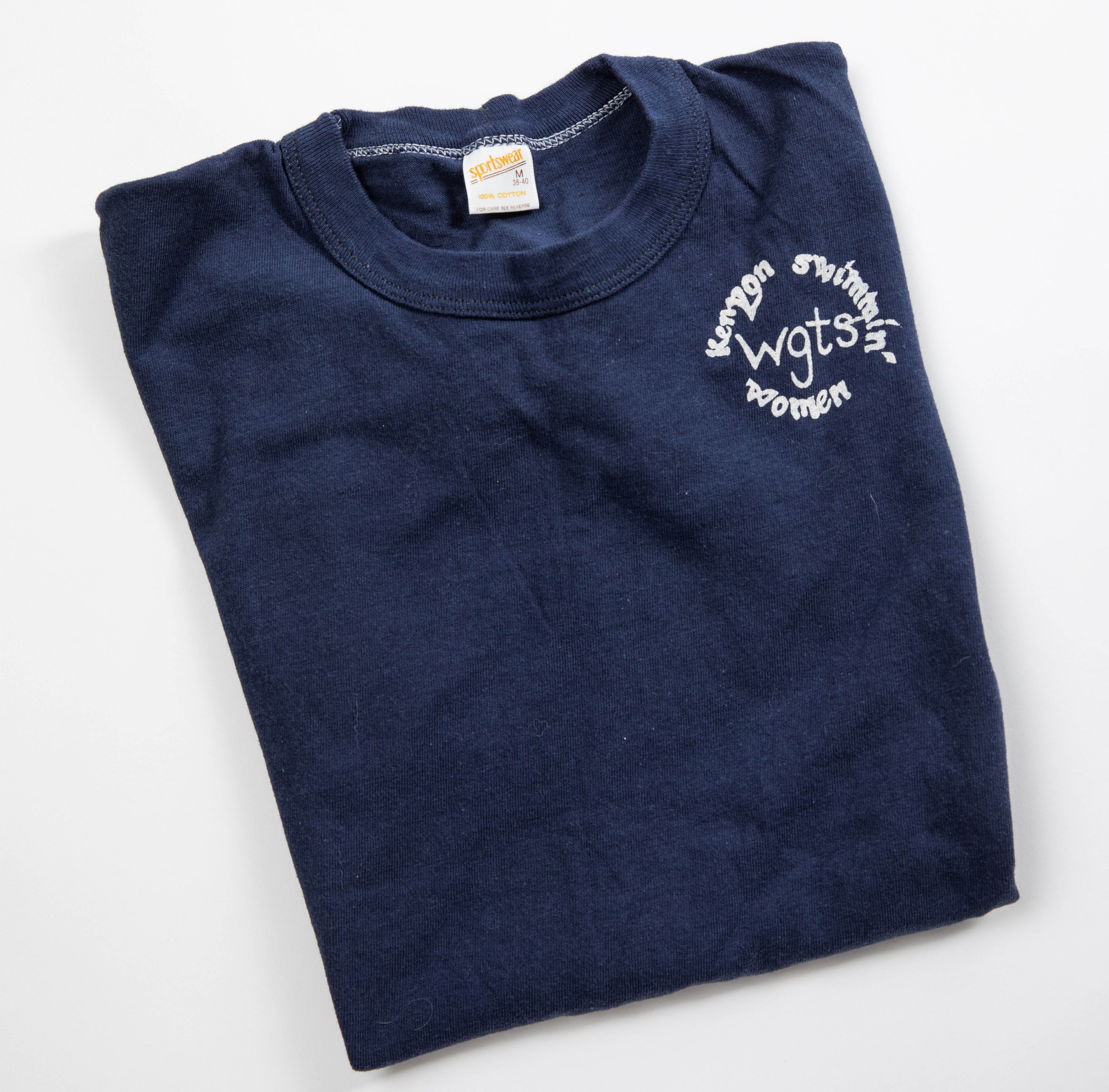 "WGTS" T-shirt
Worn by Kris Kennard Caldwell '84 at the 1981-82 conference meet when the Ladies were going for their sixth conference title.
According to Caldwell, the made-up acronym on the front of the shirt stood for "we're good they suck."
---
---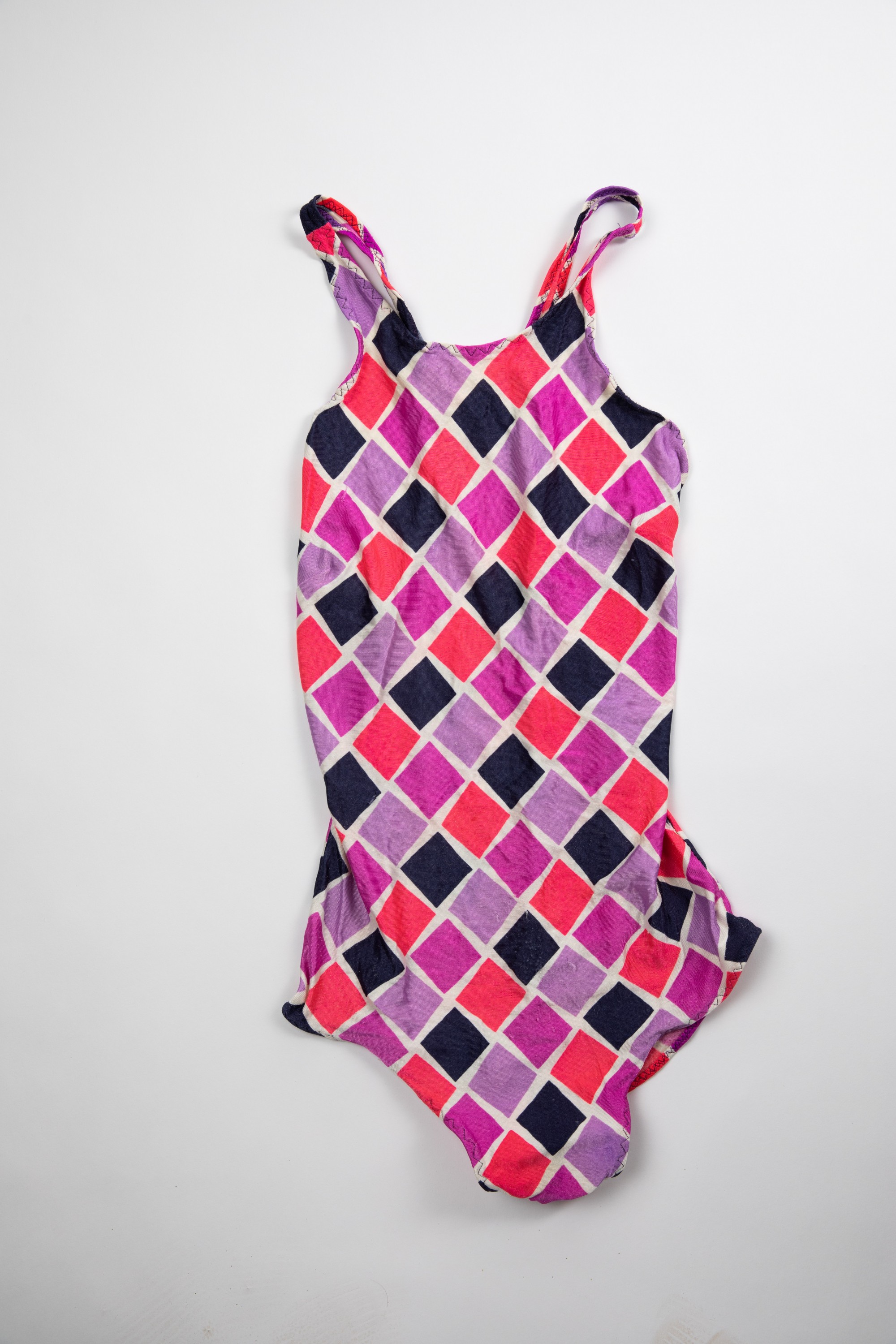 Purple Diamond Pattern Swimsuit
Original owner unknown. 1974-75.
According to Mary Fountain '76, these suits were "very early Lycra," meaning they were very thin and quite revealing. "The men's team gave us this heads-up: solid colors showed 'it all,' patterned colors did not. Thus the harlequin purples and orange and dark blue on white patterns!"
---
---
Black Swimsuit
Worn by Gwynn Harrison '94, a member of the swim team. Year unknown.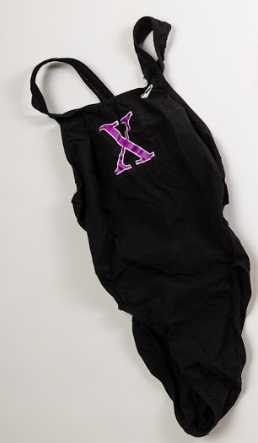 "It was probably a Finals brand and it was one of the first years we wore paper suits at championships," Harrison recalled of the black suit with a purple "X." "Paper suits were a very thin, restrictive material that was supposed to be ... conducive to faster times. We only wore paper suits for championship meets (conference and nationals) and we got a new one each season. We put something related to our 'theme' on the suits each year. ... We also had a matching black baseball hat with an 'X' on it, which was mistaken for a Malcolm X tribute by fellow travelers in the Atlanta airport."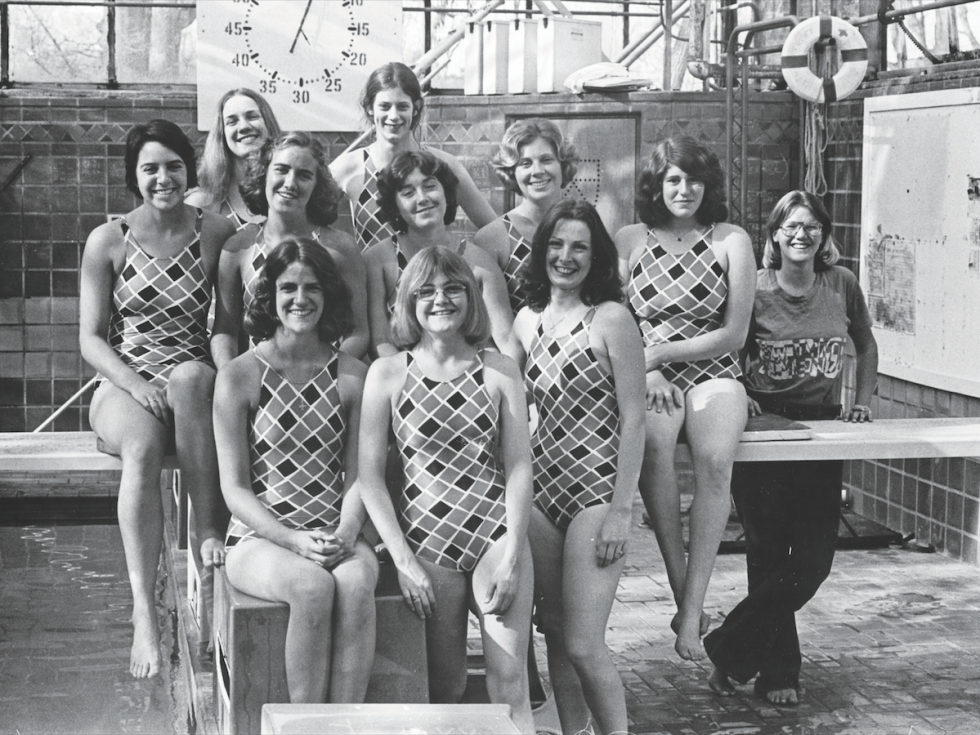 Twelve alumnae artists share their work — and the moments they feel their power.
Read The Story
Through their varied accomplishments, Kenyon women have shaped not only Kenyon, but the world.
Read The Story