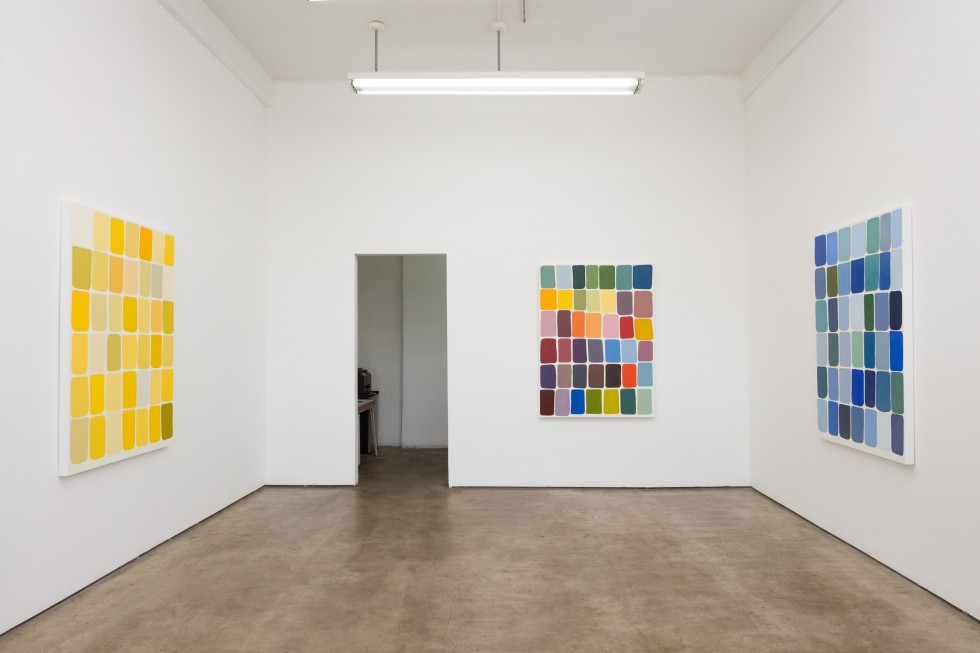 In advance of her upcoming show, "Hue Separation Value: The Archer Paintings," which will be on view at the Gund Gallery from Aug. 30 — Dec. 15, we asked painter Meg Cranston '82 a few burning questions about art and life. This interview has been edited for length and clarity.
Why do we all see the same colors in fashion and retail?
I have been interested in how color is programmed in the built world for many years — why some years we see all the same colors. That's because color is forecasted industrially. Basically every manufacturer, not only in fashion but in housewares and automobiles, follow the program. It is a kind of color totalitarianism.
That's what led to "Hue Saturation Value" and the project with the Archer School for Girls (an independent prep school in Brentwood, California). My question was basically: If I presented a range of colors to [the girls] and allowed them to vote for their favorites, would they arrive at a different color program than what's been suggested industrially or would they align with that program? Women ages 18 to 30 are the biggest consumers of fashion, so this was a perfect research set.
The students did choose many of the colors that are in the forecast. I have a couple of conclusions: One is that Pantone and other forecasters are very good at forecasting. They really do sense the zeitgeist, so to speak. Or I guess the more diabolical conclusion is that we are so programmed that we don't know what we like; we like what we're told we like. Or maybe it's some combination of the two.
What does it mean to bring this work to the Gund Gallery during the 50th anniversary of coeducation?
You can link my interests in this exhibition directly to my education at Kenyon, to the questions that we wrestled with in the anthropology building, that faculty like Rita Kipp asked us to investigate. Rita Kipp was a huge influence on me — a dynamic, incredibly interesting woman. In a lot of my work I ask questions that are basic epistemological questions: What do we know and how do we know it? I've played around with those kinds of questions all my life.
Were there other women at Kenyon who influenced you?
My fellow female students — they were a huge part of my education. There were about 20 powerhouse females all down a row [in Gund Hall]. I think I was in the first room, and I think Allison Janney '82 was in the last. We were all feminists, but none of us from the position of lack. It was amazing.
"The more diabolical conclusion is that we are so programmed that we don't know what we like; we like what we're told we like."
- Meg Cranston '82
Cranston's work has been exhibited internationally since 1988 and has received awards such as the John Simon Guggenheim Memorial Foundation Fellowship, J. Paul Getty Community Foundation Artist Grant, Architectural Foundation of American Art in Public Places Award and a COLA Artist Grant. Cranston's work can be found in major collections worldwide including the Museum of Contemporary Art, Los Angeles; the Museum of Modern Art, New York; Los Angeles County Museum of Art; and the Hammer Museum, Los Angeles. She is the chair of fine arts at Otis College of Art and Design. Cranston received her master of fine arts from California Institute of the Arts and her bachelor's degree from Kenyon College.
---
Students mount alumnae art exhibition
In considering how it would mark the 50th anniversary of women at Kenyon, the Gund Gallery enlisted the help of students — selecting one woman from each class year — to mount a show of alumnae artists, based on a forthcoming book by Marcella Hackbardt and Claudia Esslinger, professor of art. The exhibition "Alumnae: 50 Years," explores the work of 10 Kenyon alumnae over seven months.
When reviewing the work, the four women, who intern as Gund Gallery Associates, considered potential connections to campus discussions and course offerings. "We think about the themes in these artists' work, how they relate to our lives in this day and age and how they could potentially relate to each other," said Catherine Von Holt '19, outgoing curatorial leader for the associates.
"Our small team of four women being treated as a capable curatorial force with the level of control that we've been given has been really special," Von Holt added. "Guiding the course of the narrative is always a powerful position to be in, and I'm grateful to the Gund Gallery for giving Alasia [Destine-DeFreece '21], Annika [Ostrom '20], Rebekah [Utian '22] and me the chance to guide this narrative."
Featured in "Alumnae: 50 Years"
August 30-September 27, 2019: Mia Halton '73
October 4-November 1, 2019: Mallory Cremin '84/Cynthia Brinich-Langlois '04
November 8-December 6, 2019: Mitra Fabian '96/Erica Rosenfeld '97
January 17-February 16, 2020: Ashley Thompson '15/Ally Schmaling '14
February 21-March 22, 2020: Kate Nichols '04
March 27-April 26, 2020: Caroline Del Giudice '15
May 1-31, 2020: To be announced
---