Book Shelf
Explore new releases from members of the Kenyon community.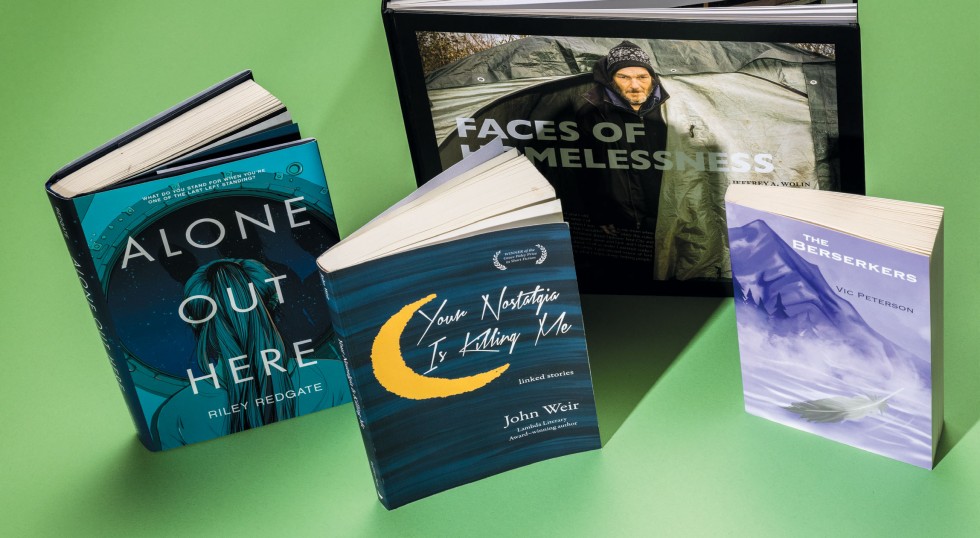 Your Nostalgia Is Killing Me
BY JOHN WEIR '80
Lambda Literary Award-winning author Weir is back with his latest book, "Your Nostalgia Is Killing Me," a collection of linked short stories that follow a middle-aged gay man who survives high school in the 1970s and the death of his best friend due to AIDS in the 1990s. Weaving through time in a non-linear narrative, our narrator the experiences of being bullied as a gay teen, the struggle to find love in the big city and falling for all the wrong men. In expert tragicomic style, Weir will have you alternately laughing, crying and contemplating the brilliant insights about life and love revealed in these stories. (Red Hen Press)
Alone Out Here
BY RILEY REDGATE (RIOGHNACH ROBINSON '16)
Redgate's thrill ride fourth novel is a futuristic update of the classic "Lord of the Flies" set in space. The year is 2072 and the ultimate climate crisis is nigh: a volcanic eruption that will make Earth uninhabitable. Knowing the end is coming, governments around the world have commissioned scientists and dignitaries to develop a state-of-the-art spaceship that will allow humans to survive until they reach another habitable planet. But when disaster strikes earlier than anticipated — as the children of the world's foremost scientists and politicians are touring the spacecraft prototype — Leigh Chen, first daughter of the U.S. president, makes the difficult choice to save those she can while leaving everyone else on Earth behind. With gripping action and wave after wave of palpable tension that will make your heart race, "Alone Out Here" is both timeless and modern. (Hyperion)
Faces of Homelessness
BY JEFFREY A. WOLIN '72
Photographer Wolin often asks viewers to confront the faces of the most neglected members of our communities. From Holocaust survivors to veterans to people living in public housing, Wolin's work fosters empathy for people who are forgotten and ignored. His latest project and accompanying photography book, "Faces of Homelessness," is a continuation of this necessary work. By pairing portraits of unhoused people with their own words, Wolin amplifies the voices of people whom we as a society must acknowledge, and listen to, as our neighbors. (Kehrer Verlag Heidelberg)
The Berserkers
BY VIC PETERSON '86
When a woman dressed in a Norse Valkyrie costume is found stabbed and frozen in a lake, it's up to the police records clerk and Viking heavy-metal band musician Grammaticus Kolbitter to find the killer. Blending the crime and science fiction genres, "The Berserkers" is an experimental and evocative romp through an adventure novel unlike any other. (Hawkwood Books)
Like a Complete Unknown: A Novel
BY ANARA GUARD '78
Guard's fourth book and first novel, "Like a Complete Unknown," follows Katya, a runaway teen with a dream of becoming an artist, and Dr. Lewis, a physician who wants to help her. Guard brings these seemingly disparate characters together to explore friendship, with a satisfying redemption arc that makes the story unforgettable. While at Kenyon, Guard received the John Crowe Ransom Poetry Prize, so it's no surprise that even her prose is filled with artful, poetic language that proves she's expert in both crafts. (New Wind Publishing)
The Right to Repair: Reclaiming the Things We Own
BY AARON PERZANOWSKI '01
With the recent passing of France's law requiring companies to be responsible for the entire life cycle of their products, from manufacture to landfill, Perzanowski's latest book, "The Right to Repair," is timely. As consumers become increasingly concerned with how shopping affects the environment, more people are seeking to repair the devices they have rather than buy new ones. However, because this hurts companies' bottom lines, many companies, especially in the technology industry, have made it difficult (if not impossible) to repair products, forcing consumers to buy, buy, buy. Perzanowski, a lawyer, dives into "planned obsolescence" and how laws have eroded consumer rights — as well as how laws can be implemented to restore that most essential right to repair. (Cambridge University Press)
Ahab Unbound: Melville and the Materialist Turn
BY MEREDITH FARMER '05 AND JONATHAN D. S. SCHROEDER, EDITORS
This sweeping collection is an in-depth, eye-opening look at a character most people think they already know. Captain Ahab's quest for the great white whale was made infamous in Herman Melville's "Moby-Dick." Since then, Ahab has been seen as the prototypical single-minded tyrant, a man unwilling to abandon his hunt despite the human cost involved. However, literary scholars are rethinking past conclusions about who Ahab is as a character, and what readers can take from his singular obsession present-day. Featuring 16 essays from literary scholars, "Ahab Unbound" examines the captain in a new light by imagining him as a man transformed by his environment — a "product of his raising," if you will. (University of Minnesota Press)
David Bukszpan '02 talks writing, puzzling and his published New York Times crossword.
Read The Story
Kenyon alumni and faculty share their thoughts about the power — and the limits — of storytelling in the fog…
Read The Story
The puzzling past and promising future of one of Kenyon's most storied buildings.
Read The Story