Happy Days
A conversation with Beimnet Beyene "Happy" Kassaye '23.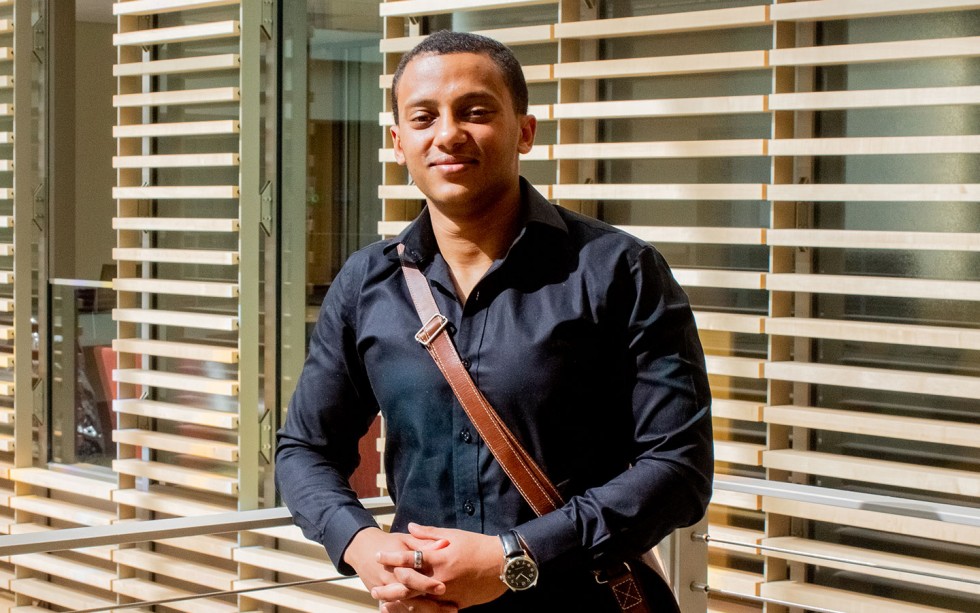 Beimnet Beyene "Happy" Kassaye '23 has been a joyful presence on campus, in the biology lab and at the pool. The molecular biology major received the Elmer A. Graham Endowed Scholarship during this year's Honors Day ceremony. The scholarship, established to honor a former chairman of Kenyon's Board of Trustees, covers tuition costs for the recipient's senior year.
Birhanu T. Gessese '21 spoke with Kassaye about his journey from Ethiopia to Gambier, the origin of his nickname, his passion for science and more.
Let's start by demystifying your names, Happy. I call you Beimnet because it is in Amharic, our mother tongue. But Happy is the name many know you by.
That is a very long story (laughs). Apparently, Beimnet was not the name given to me at birth. My mother tells me she thought, "this baby is a happy baby, so we are going to call him Happy." Then I went around by that name for a few weeks before my family decided to call me Beimnet.
In our Ethiopian culture, we intend a special meaning by giving names. What does Beimnet mean?
As you know, in our culture we use first names and middle names (a child's first name plus their father's first name). My middle name, Beyene, means "he passed judgment," and my first name, Beimnet, means "by faith," so my full name translates to "he passed judgment by faith."
Tell us about how you got to Kenyon.
Our guidance counselor at St. Joseph School mentioned Kenyon, and I applied. I was one of the top five scorers on the national university entrance exam, so had the chance to go to the prestigious Black Lion Medical School in the capital, Addis Ababa. But I saw myself doing more hands-on research and helping people on a larger scale.
Tell me more about your research.
During my first semester, I took Biology 116, where I met my faculty and research advisor, Joan Slonczewski. I joined their lab and began to work as a scientist. One of the reasons I fit in well at Kenyon is the research we do, and the pace with which we conduct it in the lab. When I joined the lab, I started by sterilizing and preparing culture media. Then the pandemic happened, and everyone had to go back home, but as an international student I stayed on campus. Luckily, our lab was open during that time. I worked hands-on and led a few microbiology projects through my sophomore year. Then I completed a summer internship at the Icahn School of Medicine at Mount Sinai Hospital.
Were your skills in the Kenyon lab transferable to Icahn?
The level of sophistication was different, but the basics were the same. I tapped into the skill sets I gained at Kenyon over the years, but the application was different. I do not remember a time when I was scared to do anything. I just did things, some things came out wrong, and I got feedback from my mentors.
You also spent a semester abroad in Denmark. What was that experience like for you?
I went on the DIS Copenhagen program, where my core coursework was in biotechnology and drug development. Denmark is an interesting place because it has Medicon Valley, which is similar to Silicon Valley in the U.S. Medicon Valley is known for its biopharmaceuticals, drug development and company startups. During my internship, I met people who were able to take their work out of the lab and capitalize on their knowledge. I was able to visit research laboratories, research groups and biopharmaceutical companies.
What do you enjoy doing outside of the lab?
I would say I am good at learning new languages. I got a formal education in French and also spoke it at home with my parents. When I was in Denmark, I was speaking conversational Danish. I am also a member of the Black Student Union, the African Student Association and the Men of Color. I enjoy the shared culture in these groups.
How did you decide to try out for Kenyon's diving team?
My swimming and diving friends, Cherantha De Silva '23 and Andrew M. Albrecht '23, had an influence. Andrew and I have the same major and took many classes together. One day he took me to train with him and Coach Ron Kontura was there and said I could join if I would give him my 100 percent. Then I slowly worked my way up.
What are your plans after Kenyon?
I hope to pursue a doctorate in neuroscience, and try to keep in touch with my friends, professors and advisors. Life has a tendency to take you on a different route after you finish a segment of it, but when important dates come, you look back, recall and reconnect.
---
Birhanu T. Gessese '21 is an English major from Addis Ababa, Ethiopia. He wrote this as an associate in the Office of Communications. He is pursuing an M.F.A. in creative writing from Western Kentucky University.
David Bukszpan '02 talks writing, puzzling and his published New York Times crossword.
Read The Story
Kenyon alumni and faculty share their thoughts about the power — and the limits — of storytelling in the fog…
Read The Story
The puzzling past and promising future of one of Kenyon's most storied buildings.
Read The Story