A Life Uncommon
Henry Abraham '48 has survived — and studied — key historical moments that changed the world. At 97, he reflects on his life and what it's like to witness history repeat itself.
Story by Kate Andrews | Photography by TJ Kirkpatrick
On a warm September afternoon, Henry Abraham '48 H'72 P'79, '84, ever the courtly gentleman, wore a dark blue suit and a tiny sprig of white wildflowers pinned to his coat. At 97, the white-haired, dark-browed Kenyon alumnus lives once again in a scenic college town — this time in central Virginia, a few miles from the University of Virginia, where he taught constitutional law for three decades.
As he moves through the halls of his retirement home in a pushed wheelchair, most people greet him by name. He and his wife, Mildred, meet for dinner each day, and he corresponds with former students and friends by letter, preferring a 1937 German typewriter to more current means of communication.
In recent months, Abraham has seen his health decline. His hands tremble while holding a small paper cup of juice. His voice is low and sometimes halting, but his words are full of thought and purpose. He told a friend that he was holding a seminar on this day, and indeed, he does so — for me.
He begins with his early life in the United States, having fled here in 1937, at the age of 15, from Nazi Germany.
His mother had worried about his future as a young Jewish scholar in Offenbach, Germany, and sent him to stay with other German Jews in Pittsburgh's Squirrel Hill neighborhood, where he enrolled in high school.
"She gave me two lives," he said of his mother. "She gave me my body, and she gave me the States."
Abraham's father, a leather goods manufacturer, insisted that his service for the German army in World War I would protect him and the other members of his family. The senior Abraham was wrong; in November 1938, he was arrested and held for two months in the Dachau concentration camp. (Abraham's father survived the camp but never entirely recovered his health, dying 13 years later of a heart attack.)
As soon as Abraham's father was released in early 1939, he, his wife and younger son, Otto, joined Henry in the U.S.
"We had a very small family. Many of them did not survive, but our immediate core family did," Abraham recalled. Within the next few years Abraham, as a U.S. Army counterintelligence soldier, stationed in Germany, would see the gravesites of two great aunts, former neighbors and friends, and collect information used to prosecute Nazi officials at Nuremberg.
Later, he would become one of the country's foremost authorities on the U.S. Supreme Court, befriending Justices William J. Brennan Jr., Lewis F. Powell Jr., Antonin Scalia and Ruth Bader Ginsburg, and writing 13 books and more than 100 articles about the judicial system.
"A Veritable Dream"
Abraham first visited Kenyon in the fall of 1943. However, the 22-year-old U.S. Army draftee was far from the traditional student. He was part of a new French language program for soldiers with linguistic aptitude, who were expected to gather information and report on suspected Nazis in France and Belgium.
"The change from soldiering to academic pursuits, although always in uniform and subject to some mild drills, was sheer heaven," Abraham wrote in his self-published memoir, "Reflections on a Full Life," which he dedicated to his sons and their families in 2002 (and updated in 2013). "The college itself, located in a gorgeous setting, seemed like a veritable dream, and I vowed then and there that, were I to return safely at the war's end, I would apply to Kenyon."
After spending a few months at Kenyon in 1943, Abraham was reassigned to special training in counterintelligence, where the unit consisted of soldiers who were mainly German refugees fluent in German and French. They interrogated Nazis and analyzed enemy documents and battle formations.
"We ran around in German uniforms," he said of the counterintelligence unit that trained in Maryland with German defectors. "We had Hitler's private joker, Ernst 'Putzi' Hanfstaengl [who had defected to the U.S.]. A great many of us became good friends."
In France and Germany, where the unit worked in 1944 and 1945, Abraham discovered some family members and old friends, including his father's sister Elsa, who had escaped a concentration camp-bound train and found refuge in a Frankfurt hayloft. He also visited the graves of two friends who had been killed by Nazis.
Abraham's unit questioned German POWs, with the interrogations governed by the Geneva Convention rules of interrogation. The task was unpleasant for Abraham but was usually straightforward.
"We would ask name, rank and serial number. We worked in buddy teams. My buddy was a kid from Brooklyn and he hated to be in the service, didn't like the Germans, didn't want to be in France, didn't want to do anything except hurt the Germans if he could." One day, Abraham's partner made a Nazi captain put a bar of Lifebuoy soap in his mouth after shouting "Heil Hitler!"
"That was not supposed to be kosher," Abraham said.
Abraham joked that brother Otto, who died in 2015 at age 89, also served during the war in a cavalry unit, despite having no prior experience with horses. After arriving in Pittsburgh in 1939, Otto never spoke German again, while his brother Henry mostly shed his accent, which sounds slightly European but difficult to place.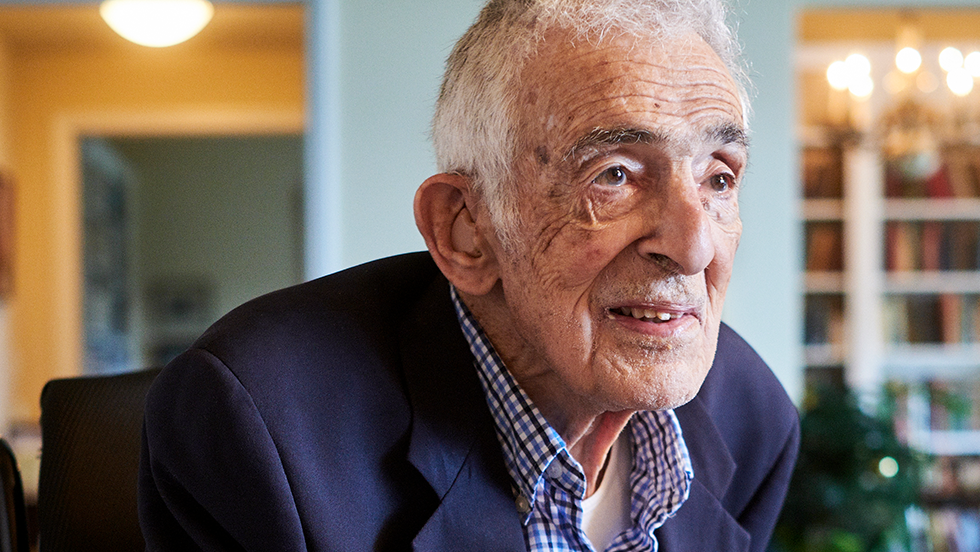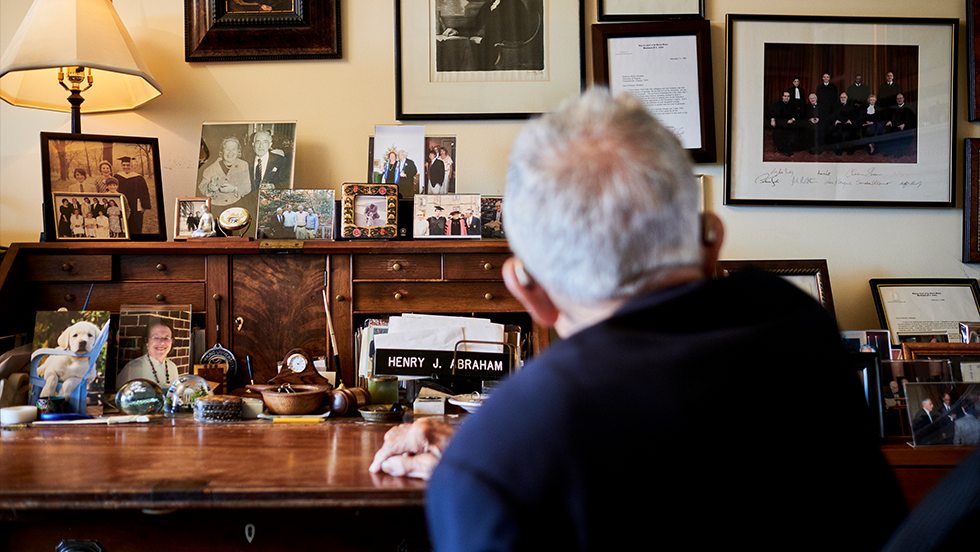 Highest Honors
At the end of the war, in May 1946, the 24-year-old Abraham left the army as a second lieutenant and enrolled as a sophomore at Kenyon, paying his $500 tuition with his GI Bill. To make ends meet, he waited tables and worked in a clothing store in Mount Vernon.
The College was all-male then, with only 275 students in its entering class. Among them were comedian Jonathan Winters '50 (who "flunked out," according to Abraham), future Swedish prime minister Olof Palme '48 and the iconic actor Paul Newman '49, who was Abraham's roommate for three weeks. "Paul's major interest was applied anatomy," Abraham joked in his memoir.
Abraham, however, calls himself a "grind" — an older-than-average student who was determined to make good grades and didn't have a date during his two years at Kenyon, although he did find time to form a soccer club with Palme. His advisor was political science professor Paul A. Palmer, who would die from a heart attack just a month after Abraham graduated.
"He wanted nothing special, except that we work hard, and once in a while we were told we had an obligation to fulfill, which in a very real sense came with the Bill of Rights," Abraham remembered of Palmer. "There were some professors who were not immediately ready to open their doors. When I was given my first Sunday morning breakfast at Paul Palmer's house, I felt I had arrived."
In 1948, Abraham graduated first in his class, attaining highest honors in political science and a Phi Beta Kappa key. His mother, father and younger brother were in the audience at graduation. "Offenbach was a distant memory, albeit a precious one," he wrote in his memoir.
After attending Columbia University for his master's degree — an unhappy period leavened only by occasional opera tickets at the Old Met — Abraham was hired in 1949 to teach political science at the University of Pennsylvania's Wharton School of Finance and Commerce. He taught five sections of "Political Science I," including an 8 a.m. Saturday class filled with "inebriated frat boys," Abraham recalled. The salary of $4,300 wasn't very high, so Abraham took on more teaching jobs and even worked as a camp counselor with a 19-year-old Philip Roth.
His father died in 1951, shortly before Abraham received his Ph.D. from the University of Pennsylvania, and, in April 1954, Abraham married Mildred, whom he proposed to on the Penn campus, asking, "I think we could make a go of it, don't you agree?"
Teaching became Abraham's true vocation, first at the University of Pennsylvania and then, beginning in 1972, at the University of Virginia. Legions of students, calling themselves the "Tribe of Abraham," still sing his praises, even 20 years after his retirement.
From 1959 to 1960, he lived in Denmark on the Fulbright Scholarship with Mildred and their 1-year-old son, Philip, and was later hired by the U.S. State Department, eventually teaching and speaking in more than 60 countries over 30 years.
Over the years, Abraham wrote steadily, publishing his first book, "Compulsory Voting," in 1955. His next book, "The Judicial Process: An Introductory Analysis of the Courts of the United States, England and France," was first published in 1962 and updated seven times through 1997.
He would go on to publish several other texts, including "Justices, Presidents, and Senators: A Political History of the Appointments to the Supreme Court from Washington through Bush II," now in its fifth edition.
Law and Order
Abraham left for the University of Virginia, in Charlottesville, where he would teach in the university's government department for 25 years.
"I had become increasingly disenchanted by ... the (University of Pennsylvania's) unwillingness to stand up to the students' riots andmisbehavior during the late 1960s and into the early 1970s," Abraham recounted in his memoir.
"He's very committed to law and order," said a former student, Barbara Perry, director of presidential studies at U.Va.'s Miller Center. Perry speaks fondly of Abraham's "old world charm" and uses Abraham as her model for how to approach faculty meetings. "He never preached his views," she explained. "If you were excellent, he wanted to work with you. Henry was and is completely open-minded."
Students remember his formal lecture style — typically a composed lesson peppered with vivid anecdotes and details about individual Supreme Court justices, such as former Chief Justice Earl Warren's response to Abraham's question about whether he regretted his ruling in 1944's Korematsu v. United States, in which the court voted 6-3 that the internment of Japanese American citizens was constitutional. "Yes, indeed," Warren told Abraham in 1969. "I was terribly wrong and have shed many a tear because of what I did."
Justices Ginsburg and Scalia were frequent correspondents with Abraham, and Justice Lewis Powell became "a true friend" who even traveled to Kenyon in 1979, the year of Phil's graduation, to receive an honorary degree.
For former student Richard Litton, the president of Virginia-based real estate investment firm Harbor Group International, Abraham was "the best professor I ever had. I wanted to go to law school, and he convinced me that it was the right path. He was so brilliant and articulate and able to explain principles to undergraduates. He didn't pontificate. He was a teacher. He taught. He was mesmerizing."
Abraham received the university's top faculty prize, the Thomas Jefferson Award, in 1983, and every year, U.Va.'s School of Law hosts a lecture series named after Abraham, featuring prominent legal figures like former U.S. Supreme Court Chief Justice William Rehnquist.
And this year, a new donor society for loyal and consecutive giving launched at Kenyon; the society is named for Abraham, who has made a gift to the College's annual fund every year since 1955.
"He knows every case and about every judge on the Supreme Court," said son Peter, senior vice president and real estate broker with Harvey Lindsay CRE based in Norfolk, Virginia. Former students often tell him that his father was one of their favorite professors — even a man who sat next to Peter on a chairlift at a ski resort in Park City, Utah, mentioned that he was in Abraham's class.
"He didn't pontificate. He was a teacher. He taught. He was mesmerizing.
Richard Litton, a former student of Henry Abraham's.
A Teacher, Always
As a teenager, Abraham's son Philip traveled with his father back to Germany. "It was really special, and it was really moving," he recalled. Peter, who went with his father to Germany a few years after Philip's trip, said their family didn't talk much about Abraham's childhood and the loss of family members and friends to war atrocities until his children were older.
"I think it was very painful," said Peter. "He may have thought that I couldn't handle it."
In later years, the family often traveled to Italy, for which his parents have a "tremendous love," Phil, a lawyer and lobbyist residing in Richmond, Virginia, said. Abraham and his wife also enjoyed throwing parties at their home, often inviting faculty members and hiring students to tend bar.
Kenyon also played an important role in the family, and both Phil and Peter would go on to graduate with bachelor's degrees from their father's alma mater.
"That place to him meant peace, tranquility and learning," Perry said. "I know how much he loved it."
Over the decades Abraham's politics shifted to the right, from voting in his first election for Franklin Roosevelt to becoming a Reagan conservative.
Although he pays attention to news and current events, Abraham is less engaged in analyzing particular cases now, noting that he devoted his professional life to writing about the court and is now finished with this work. He said, though, that perhaps the United States has not "gone the full mile" in educating people.
"Perhaps we haven't completed the educational dream. Perhaps we still rationalize certain things that we shouldn't be rationalizing," he said of the current immigration crisis. Everybody at one point thinks and sees there are many injustices, and why don't you do something about it?"
He was strongly disturbed by the white supremacist groups' rally in his former town of Charlottesville in August 2017. "It was very hard for me," he said, having left Nazi Germany in the 1930s and again being confronted by "these miserable creatures with their flags." He didn't go to the park on the day of the rally because he was in his wheelchair "and there was no point in going into the maelstrom. I knew I would have been in the way."
Abraham recalled being one of only eight Jewish students at Kenyon and being required to attend chapel (he volunteered on Sundays as a chapel monitor, taking up the collection plates), as well as hearing some anti-Semitic sentiments a couple of times while serving in the Army. "It was partly ignorance and partly nastiness. They felt we were getting special deals," he explains, because his counterintelligence unit was chiefly staffed by German immigrants, some of whom were Jews.
But he had not encountered anything on the level of the Charlottesville rally since arriving in the U.S. in 1937.
"To be attacked again all over again was painful," he said. "There's still such deeply ingrained hatred in people. That still bothers me a lot, and I don't see any strangling of that. There's so much hatred, so much misunderstanding still, so much anger in people."
Former student Perry noted that Abraham has expressed some fear about going to his local temple since the August 2017 Charlottesville violence, in part because extremists surrounded the synagogue while it was full of worshipers. (These fears were later realized, unfortunately, when a synagogue in Squirrel Hill, the neighborhood where he grew up, was the target of a domestic terror attack in October.) Still, "he doesn't show any anger or bitterness," she said. "He's very dignified."
After retiring from full-time teaching in 1997, Abraham taught a Supreme Court class for U.Va.'s Osher Lifelong Learning Institute until recently, when he began having some health difficulties.
"I think it's been the hardest thing for him, giving up teaching," Perry said. She teamed up with him in February to give a seminar on the Supreme Court at his retirement home, an event that drew a great deal of interest. "The old Henry," electrified at teaching once again, was present that day, she said.
---
Kate Andrews is a freelance writer based in Richmond, Virginia.
The College is campaigning to make wellness, and sleep, cool on campus. Will it work?
Read The Story
Ten alumni who work in local, state and national politics share how they got their start, the lessons they've learned…
Read The Story
A photo essay by Erin Schaff '11, who has been recognized as one of the top photojournalists working in Washington…
Read The Story