In the Halls of Power
A photo essay by Erin Schaff '11, who has been recognized as one of the top photojournalists working in Washington, D.C.
Story by Erin Schaff '11 | Photography by Erin Schaff '11
Photojournalist Erin Schaff '11 has spent the past decade in Washington, D.C., capturing political life on and off Capitol Hill for an ever-expanding list of national publications. The Kenyon political science major covered Supreme Court Justice Brett Kavanaugh's entire confirmation process for The New York Times, and was one of only eight photographers allowed in the room when Dr. Christine Blasey Ford testified in front of the Senate Judiciary Committee.
"We all come to our position as storytellers from different backgrounds and our lived experiences," Schaff told Wired magazine after her photos of Blasey Ford and Kavanaugh went viral. "We see things through different lenses; we all think one gesture or one emotion is more important than another. Having a diversity of perspective is important."
Here, Schaff shares a selection of her photos (originally shot while on assignment for The New York Times) — and tells the stories behind them. — Elizabeth Weinstein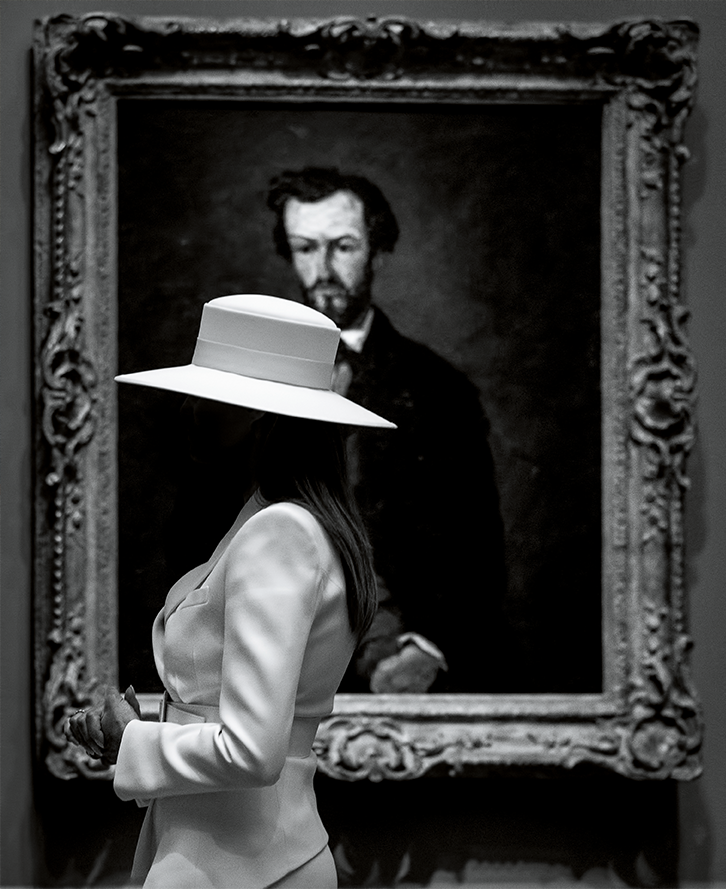 First Lady Melania Trump tours the National Gallery of Art in Washington, D.C., on April 24, 2018. A portrait of Antony Valabrègue, by Paul Cézanne, is visible behind her.
A large part of political photojournalism is anticipating the shot and composition in advance, since we often have only a few seconds to photograph people. I was part of the travel pool (a small group of photographers and other reporters who travel with the president or first lady) that day photographing for the Style section of The New York Times. We sprinted through the museum to get to the photo-op location ahead of the first lady, and when she walked into the room, I noticed how the wide brim of her hat cut off the overhead lights from illuminating her face. I thought it was an interesting, purposeful choice on her part given her background in fashion, and waited for a moment where I could frame her within one of the artworks. When I saw how the man in the Cézanne portrait almost looks as though he's looking down at her hat, I knew that was the shot.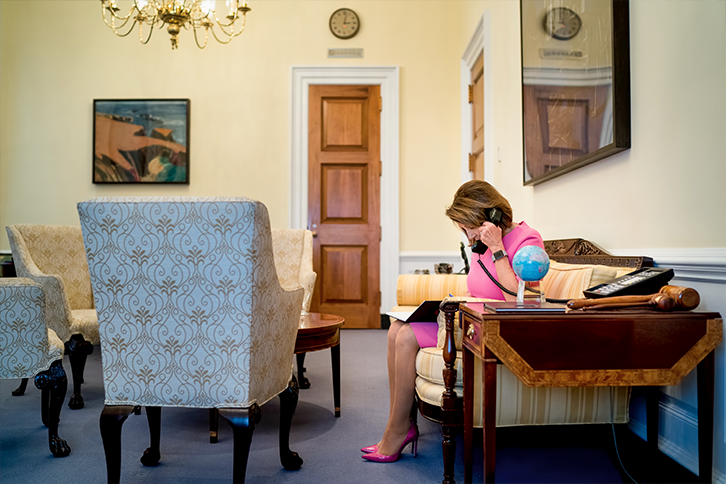 House Minority Leader Nancy Pelosi (D-Calif.) in her Capitol office on Nov. 7, 2018, as she speaks on the phone with Barack Obama, who called to congratulate Pelosi after the midterm elections.
For several months, I documented the transition of power in the House of Representatives, from Republican to Democratic majorities, and behind-the-scenes moments of now-House Speaker Nancy Pelosi's return to the speakership. Speaker Pelosi often says, "Know your power." The past few months have shown that she knows hers.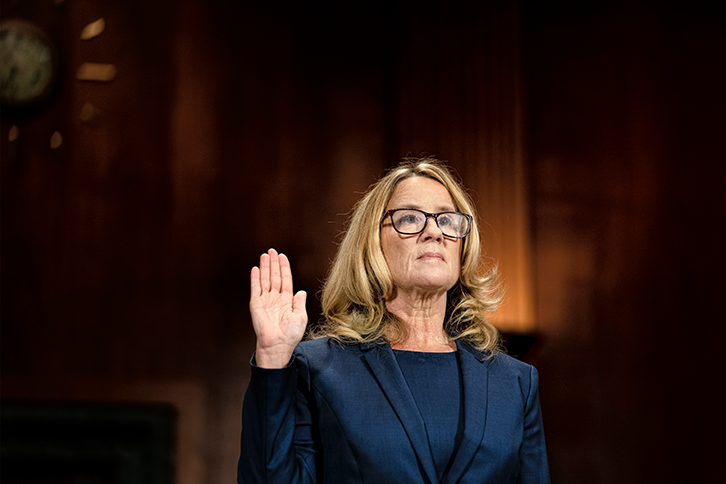 Dr. Christine Blasey Ford is sworn in to testify before the Senate Judiciary Committee about sexual assault allegations against Supreme Court nominee Judge Brett Kavanaugh, who testified later that day, Sept. 27, 2018.
I was one of eight photographers allowed in the room to photograph Dr. Blasey Ford's testimony (I later rotated in and out with one of my colleagues from The New York Times). It was a powerful moment, and I'm grateful to my editor for trusting me to document it. Out of eight organizations represented in the room, the Times and The Washington Post were the only ones who assigned women photojournalists to cover at least a portion of the hearing. Photojournalism — and political photojournalism in particular — is a male-dominated field. According to a New York Times story, "a 2016 World Press Photo report on the state of the industry found that just 15 percent of photojournalists surveyed were women."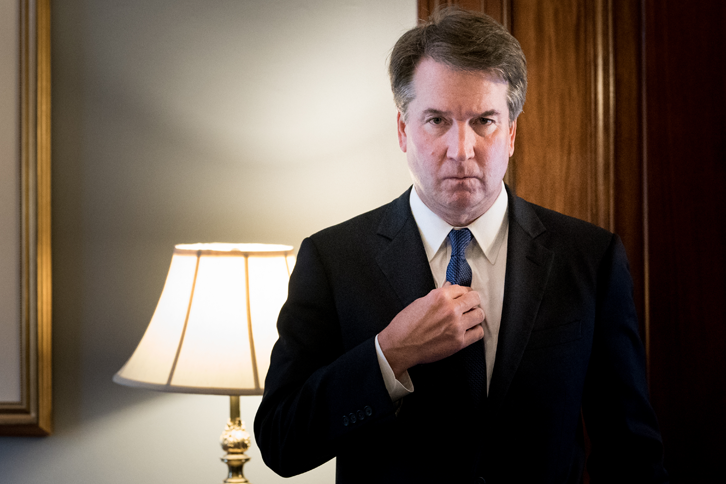 Judge Brett Kavanaugh, President Donald Trump's nominee for the U.S. Supreme Court, adjusts his tie while he waits to meet with Sen. Richard Shelby (R-Ala.) on Capitol Hill on July 30, 2018.
It's customary for Supreme Court nominees to have meetings and photo-ops with members of the Senate before their confirmation hearings. What's challenging is finding those unguarded moments between posed photo-ops that show elements of a nominee's character. It took about two weeks of covering photo-ops to find this moment. The image was later selected for The New York Times' "Year in Pictures" feature, and Time magazine's list of the "Top 100 Photos of 2018."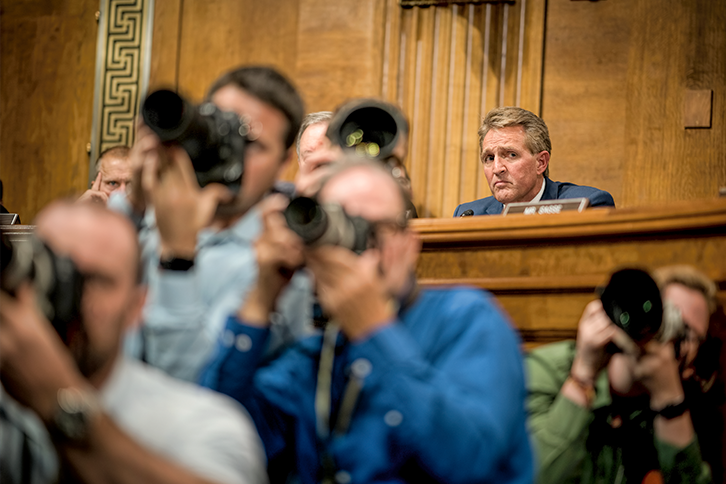 Senator Jeff Flake (R-Ariz.) after announcing that he would not vote to confirm Judge Brett Kavanaugh to the Supreme Court without an FBI investigation, during a Senate Judiciary Committee executive session on Sept. 27, 2018.
During hearings, photojournalists sit in what's called the "well," the floor space between the dais and whoever is testifying. I'd been sitting in the well, documenting the meeting all morning as senators went in and out of the anteroom, negotiating. It was clear that something unusual was going on and that Senator Flake was struggling with his decision on whether to vote Judge Kavanaugh's nomination out of committee. This photo was taken right after he announced his position. Other photojournalists had turned to photograph the next speaker, but I was struck by the emotion and conflict left in Senator Flake's face after he broke with his party in this moment. It's not often in politics that we get to see those moments where senators make backroom deals or show unreserved emotion.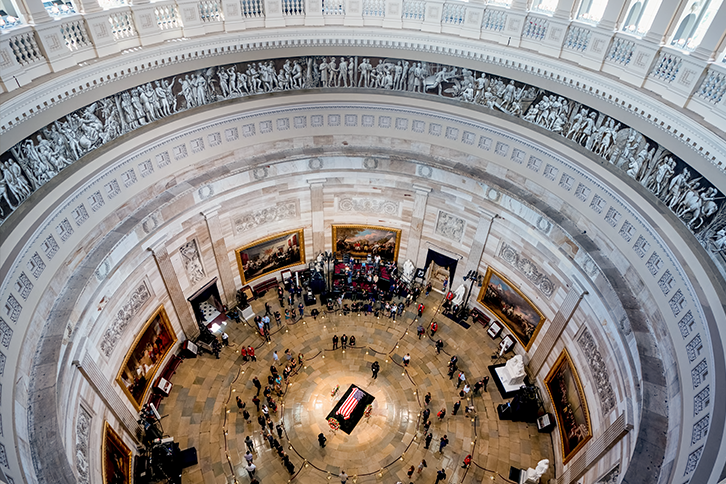 People gather to pay their respects as the late Sen. John McCain (R-Ariz.) lies in state in the Rotunda of the U.S. Capitol on Aug. 31, 2018.
To capture this bird's-eye view, photojournalists were allowed into the upper structure inside the Capitol dome for a unique vantage point.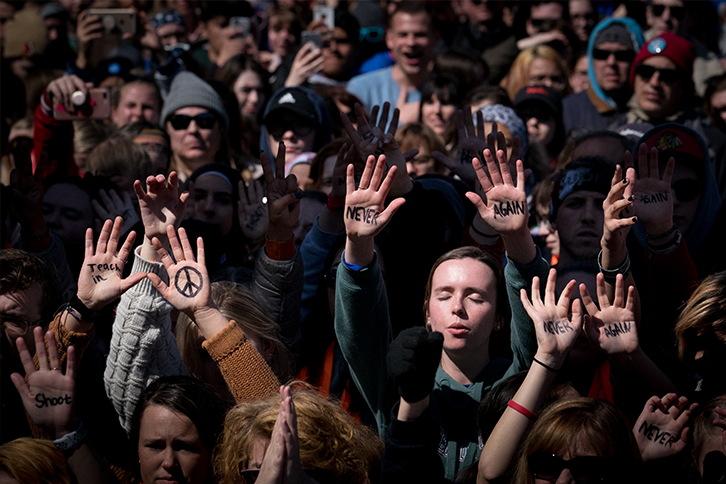 Demonstrators hold up their hands as they participate in the "March For Our Lives" rally in support of gun control in Washington, D.C., on March 24, 2018.
Thousands of people had gathered for the rally hours before it even began. I wanted to show the density of the crowd, but also the powerful emotion; when I saw a beam of sunlight illuminate the face of this one woman, and all the raised hands around her, I thought it would convey both things.
---
Learn more about Schaff's work at www.erinschaff.com.
Henry Abraham '48 has survived — and studied — key historical moments that changed the world. At 97, he reflects…
Read The Story
Ten alumni who work in local, state and national politics share how they got their start, the lessons they've learned…
Read The Story
The College is campaigning to make wellness, and sleep, cool on campus. Will it work?
Read The Story