A Listening Ear
As record numbers of students seek psychological help, Kenyon's counseling center expands its reach.
Story by Rose Shilling, photos by Greg Clarke
Katherine Connolly '17 has a fine ear for the sweep and delicacy of emotions. Last spring, as the assistant conductor of Kenyon's Symphonic Wind Ensemble, she led the group in a contemporary arrangement of the hymn Amazing Grace — coaxing the 50 musicians, during weeks of rehearsal, to deepen their sensitivity to the music's flowing power.
The experience, culminating in the ensemble's spring concert in April, reflected a confidence that Connolly, with her shy smile and self-effacing laugh, sometimes seems to doubt. And it certainly reflected the distance she has traveled since her emotionally roiled start at Kenyon more than two years earlier.
"I found the transition to college terrifying," said Connolly, an English and music double major from Chesterbrook, Pennsylvania. "I had been going to a therapist at home. I was really depressed and anxious. I was pretty sad and scared for a while."
Connolly began seeing Patrick Gilligan, director of counseling services, almost as soon as she arrived on campus for first-year Orientation. Before long, at Gilligan's suggestion, she was also seeking out a "peer counselor" as part of a new program in which specially trained students help others navigate emotional turmoil.
By her sophomore year, Connolly was a peer counselor herself, learning to lead group discussions and use her sensitive ear in individual conversations dealing with issues like depression, substance abuse, sexual misconduct and suicide.
If Connolly's path isn't typical — not every troubled first-year goes on to conduct group counseling sessions (or the College band) — her story points to an important reality at Kenyon: the growing demand for psychological counseling services, and the commitment to meet that demand in both traditional and innovative ways.
The number of students receiving counseling is skyrocketing both nationally and at Kenyon, where more than 40 percent of students see counselors. Gilligan said he isn't sure what's behind the trend, but he suspects that access to stimulating information and news 24 hours a day is affecting all people negatively.
"The college students are reflecting something that's happening in our culture, which is that many, many, many people are feeling really anxious and overwhelmed and inadequate," he said. "I don't think we have less functional people. I think we have a more pressurized society."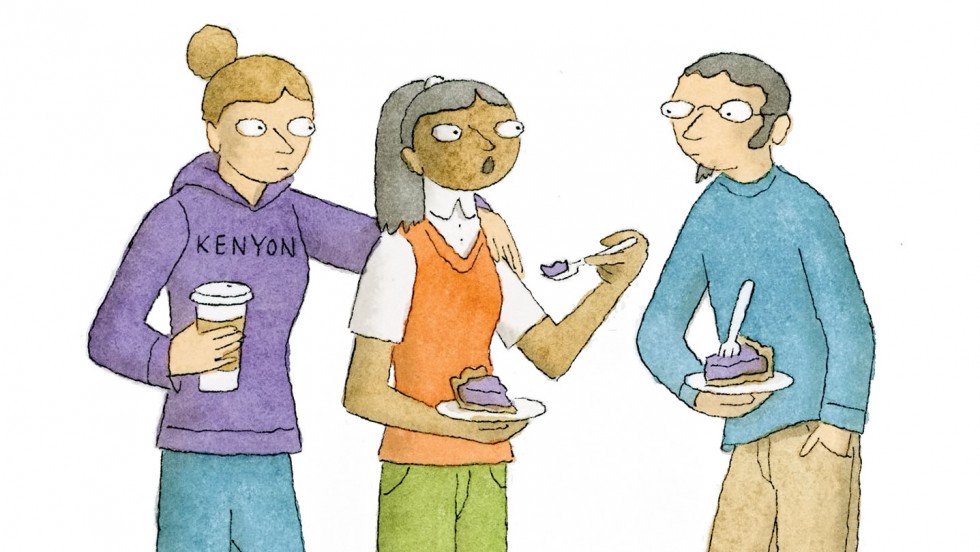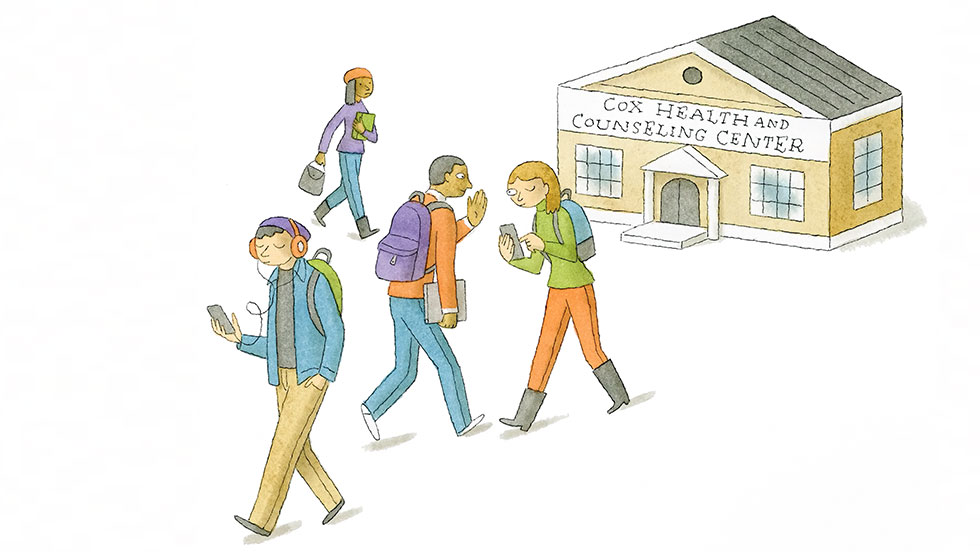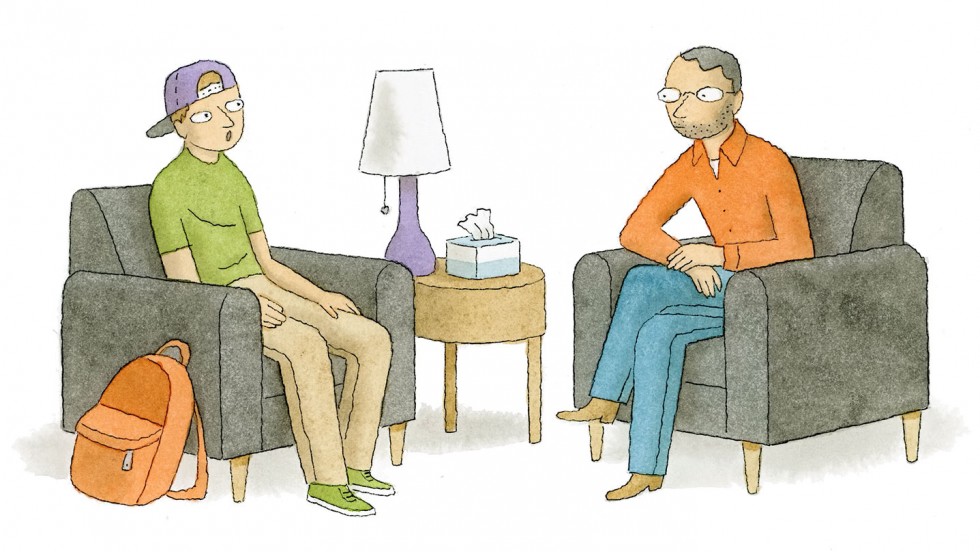 The picture nationally is complex. The Center for Collegiate Mental Health at Pennsylvania State University, analyzing data from about 140 colleges and universities (not including Kenyon), found that at least "some aspects of college student mental health are not 'getting worse.'" In the five years ending in 2015, students reported slightly more depression and anxiety. But the rates remained nearly flat for prior mental health treatment and for some types of distress, including academic or family concerns, substance abuse and issues with eating.
On the other hand, the desire for counseling has exploded. According to the Penn State center, the number of appointments at counseling centers during the last six years has grown by more than seven times the growth in college enrollment.
At Kenyon, the number of students seen at the Counseling Center from 387 in the 2001-02 academic year to 650 in 2014-15. Last year, 460 students reached out during the fall semester alone. Since 2012, the center has increased its counseling staff from 4½ to six full-time positions and has added group sessions based on students' evolving concerns.
The counseling staff hears daily from students who are worried about their friends, roommates and classmates, according to Gilligan. He responds by sending emails to the students who prompted the concern, introducing himself and asking if they would like to talk. They almost always do.
The center, which most frequently addresses anxiety, stress, depression, and marijuana and alcohol use, often gets students who feel overwhelmed and want to think out loud about how to have a good life at Kenyon, Gilligan said. "Kenyon students worry that they're going to have a mundane existence. They're more interested in having lives that really matter."
The college students are reflecting something that's happening in our culture, which is that many, many people are feeling anxious and overwhelmed."
Patrick Gilligan, director of counseling services at Kenyon
Gilligan welcomes the heavy traffic in the Cox Health and Counseling Center, which opened in 2014. The center actively promotes its services. Incoming students hear formal presentations about counseling during Orientation. During the year, counselors periodically eat lunch in Peirce Hall.
The counselors pride themselves on efforts to diminish the stigma that is sometimes attached to psychological therapy. The former health center had a private entrance for the counseling office; the new one doesn't. Many students, moreover, come from families that are sophisticated about mental-health issues; it's hardly unusual for parents to have sought therapy for their children prior to college.
"They're used to it; it's not strange," said Mike Durham, a counselor who specializes in substance abuse. Durham works with students who drink to escape anxiety or stress; he leads them to find alternative ways to cope, including meditation, prayer and lifestyle changes.
He and Gilligan don't approach students as having problems that need to be "fixed." Durham's goal is for students to learn not to need him. Gilligan always tries to look at students holistically, to help them "learn how to be alive in the ways that are most important to them."
This past year, Kenyon's seniors chose Durham to be their Baccalaureate speaker during Commencement Weekend — evidence of how visible the counseling staff is, and how well regarded.
Friendly Help
The peer counseling program that helped Connolly — and that she later joined — was started in 2012 as a way of expanding the reach of the Counseling Center. One goal, said Gilligan, was to make counseling "feel less like a service and [more like] something that's humane."
The counseling staff trains the peer counselors in how to facilitate group discussions, how to handle sexual misconduct allegations and how to tell when someone who is talking about suicide is truly in danger of taking the next step. "The most important thing we learn," said Connolly, "is 'active listening' — how to be a listening ear for someone who comes to you. It's not a matter of sharing your own experience or giving advice, but of reflecting their own ideas back at them and paying attention to what they're saying."
During the course of a semester, a peer counselor works three to four shifts, of two hours each, at the Counseling Center. In addition, the counselor takes a turn with a 24-hour hotline, carrying a phone for four straight days, fielding both calls and texts. The peer counselors may find themselves simply telling students how to make a counseling appointment, or listening calmly to someone with suicidal thoughts.
"They've done a remarkable job of augmenting what we do," said Gilligan. Research shows that students are most likely to tell other students when they're in distress, he noted.
[Peer counseling] is the product of a miracle: A large, always-changing group of concerned strangers have consistently reshaped themselves around the idea of "helping each other."
Tim Jurney '15, student organizer
Tim Jurney '15, one of the original student organizers of the program, said he got involved because friends did not know where to turn when struggling with issues that might include a suicide attempt, depression, failed classes and excessive drinking. It was sad to see the pain and isolation, said Jurney, who plans be a social worker in his home state of Minnesota, in part because of his experience with the peer counselor program.
"This thing is the product of a miracle: A large, always-changing group of concerned strangers have consistently reshaped themselves around the idea of 'helping each other' and in the process helped each other and an entire student body to grow and love together," he said.
Peer counselors have run various support groups, including sessions for anxiety, depression, sexual assault and coping with parents divorcing. They host a variety of less formal events that provide comforting, safe spaces to promote well-being. A "winter blues" gathering, for example, offers respite from seasonal bleakness through music, poetry and pie.
The peer counselors' hotline number is posted around campus. And because the student body is so small, everyone seems to know a peer counselor or to have a friend who knows one, said Laura Messenger '16, a political science and Spanish double major from Lexington, Massachusetts, and one of the program's officers.
Messenger has set up countless appointments at the Counseling Center for students who don't know how to get access to counselors or are hesitant to seek help in person. Connolly, also an officer of the group, added: "Sometimes people approach us; sometimes Patrick [Gilligan] gives my name to someone. Somebody who knows that I'm a peer counselor will refer a friend to me. Or I'll notice people who are acting differently and say, 'Hey, what's up?'"
The peer counselor who helped Connolly during her first year was Jurney, and it was his support that inspired her to join the program herself. Jurney's training enabled him to listen and help in a way her friends couldn't. "When I tried to seek support from people when I was doing really bad, they would immediately get very scared of me and that was awful," Connolly said. "Whereas when I talked to Tim, he would be just really patient and calm and kind."
Alexa McElroy '16, a psychology and Spanish major from Monument, Colorado, said that, even as a peer counselor, she has called the hotline several times. She had a rough transition to Kenyon because of grief she experienced her first year, and she saw the peer counselors as humbly offering themselves in the service of others. "To be trusted with that is a huge privilege," she said.
The peer counseling program is just one of several student-led outreach initiatives. The Counseling Center also supervises a group of "sexual misconduct advisors." Then there's the provocatively named "Beer and Sex" organization, which connects first-year students with upperclassmen who help them navigate the transition to college's more freewheeling social culture.
Counselors say that students become stewards of the campus when they have opportunities to be part of solutions. And the more personal connections that student advisors make, the more likely the staff will be to hear about a student who is struggling.
It helps that the small, intimate character of the Kenyon community sustains an ethos of personal caring. Gilligan said that professors sometimes walk students to the Counseling Center for help. Once, even a worker at the Village Market stopped him to express concern about how much beer a student was buying.
"We're a small place," he said. "Personal connections are what keep us psychologically safe."
Handling the Overload
Despite the growing demand, the Counseling Center does not maintain a waiting list and does not limit the number of individual visits, as is the case at some colleges. "If we have more kids than we can get to, we'll work longer hours," Gilligan said.
Moreover, debates at other campuses about how much mental health treatment an educational institution should provide do not seem to have a place at Kenyon. The College started counseling services well before most schools and had one of the first positions dedicated to substance abuse, Gilligan said.
Durham, the substance abuse counselor, oversees group sessions called "Choices and Consequences" for students with a first offense for drinking underage or using marijuana. He doesn't shame students; rather, he gets them talking about their experiences so they can learn from one another, with the goal of ending abuse and its harmful effects. "It begins to create some norms, where they realize, 'I'm not the only one who feels that way,'" he said.
No issue is too small to discuss, said Durham, who gladly meets with students who simply want to talk about the stress of their daily lives. In most cases, students don't need long-term therapy. He tries to taper off sessions as students become comfortable determining their own beliefs and making decisions independent of their families or peers. "But I don't kick people out the door," he said. "If you think you need to be here, you need to be here."
As for the more serious issue of suicide, controversies have emerged at other colleges about whether to pressure students to go home for treatment if they seem to be suicidal. Gilligan strongly believes in keeping students at Kenyon. Someone is talking about suicide every day on campus, sometimes passively and sometimes actively, he said. The college environment typically is safer for those students, according to Gilligan, citing research showing that the two main reasons people don't attempt suicide are that they don't want to hurt the people who love them and they want to finish college. "We want them to be able to say without consequence, here are my worst fears about my own life," he said.
Julie Cerel '94, an associate professor at the University of Kentucky College of Social Work, researches suicide bereavement and prevention, and is the president-elect of the American Association of Suicidology. She published a study in 2013 which found that knowing someone who attempted or died by suicide is common for college students.
Cerel said the number of individuals affected by someone else's suicidal behavior or actual suicide is greater than people generally expect, especially in a close-knit community like Kenyon, where students are familiar with peers who are not close friends. "It's such an interconnected campus that it becomes really important that everybody is considered," she said.
She is frustrated by criticism she hears about the growth of administrative services on campuses. "Why wouldn't we want to support more mental health clinicians? Why wouldn't we want to support having more programming that teaches people coping skills for what life throws at them? It seems not just part of the intellectual part of education, but the spirit of liberal arts and community."
Looking forward, Gilligan said he wants to start conversations about whether aspects of life at Kenyon provoke anxiety and need systemic attention. For example, counselors hear frequently about how the dining hall can be stressful for students who feel like they don't have friends to sit with during meals. Gilligan said a counter against the wall for solo diners might be helpful. He doesn't want to coddle students, making them think that every situation in life should be comfortable, but dinner shouldn't produce anxiety, he said.
A larger issue has to do with the pressure to achieve. Students feel that they have to be good at everything, Gilligan senses; they fear that the margin for error in college is slim if they want to attain success in life.
The challenge, Gilligan believes, is to look at "the ways we live together" and figure out how to incorporate habits of simply slowing down into the campus culture. "Somehow," he said, "we have to give the message that learning isn't about controlling the universe. It's about expanding our possibility."
"So . . . depressed . . . I've never felt closer to suicide," read a message posted to Yik Yak in the dwindling hours of a Sunday evening at Kenyon.
A barrage of concerned responses erupted.
"IDK the hotline number but call it," read one. "Also, keep living because I want you to, okay? We want you to. What you're feeling happens. It's real. It's recognized. But it will subside. I promise."
In an age when students not only expect, but need, mental health counseling on demand, social media platforms such as Yik Yak are filling the gaps between the minute a student expresses dark thoughts and the time it takes to walk through the Health Center's doors for a therapy session.
Yik Yak, a smartphone-driven app launched in November 2013, has gained wild popularity with high school and college students eager for another public venue to share their thoughts. The app sorts posts, or "yaks," from anonymous users based on their locations. People engage with posts by "upvoting," "downvoting" and leaving comments.
The app climbed to national fame in 2014 and quickly became known for cyberbullying and violent threats. The anonymous nature of the app attracts internet trolls seeking to cause turmoil through physical intimidation or hateful words. In one notable case of a threat made through Yik Yak, a user posting near Kenyon proposed a gang rape at the Crozier Center for Women. Kenyon students responded with #RespectfulDifference, a campus campaign promoting a more tolerant culture on social media. In another incident, a first-year at Michigan State University anonymously threatened to carry out a mass shooting on campus. (Yik Yak worked with local law enforcement to apprehend the student.) And in 2014, the Clemson University community grappled with an epidemic of racist posts.
But despite its occasional ugliness, Yik Yak holds some benefits. At Kenyon, while students use posts mainly to banter about their romantic interests or the food in Peirce Hall, the app also has served as a no-strings-attached form of counseling. Through Yik Yak, students discuss private mental health issues that they may not be comfortable sharing with their friends face-to-face, casting lines to see if they're alone in their struggle.
"I need a bit of reassurance here: other mentally ill people are here and do ok right?" read one message from February.
"This whole campus is either on Zoloft, Xanax, or both," a user replied. "You're in good company." The response, however exaggerated, made its positive point.
Students often take to the platform to glean advice on how to make an appointment at the Counseling Center or which counselor to see for their condition. Some yak about their mental health treatment regimens, swapping notes on the effectiveness of different antidepressants. And when users post doubts about the value of their lives, others bolt into action, reassuring their classmates of their self-worth, connecting the user with a peer counselor and sharing the phone numbers of suicide hotlines.
The phenomenon of Yik Yak's use as a suicide prevention tool is not unique to Kenyon. (The FAQ page for the company includes guidelines on how users should approach suicide chatter.) And the platform is not meant to serve as a substitute for professional treatment of mental health concerns. But for Kenyon students seeking an anonymous friend to open up to at 1 a.m., help is just a yak away.
— Mary Keister
With four best-selling novels, a popular YouTube channel and a cult following, John Green '00 H'16 is ready to…
Read The Story
The songs change, but Kenyon's deeply rooted singing culture continues to thrive and build bonds - voice to voice…
Read The Story