The Accidental Singer
Some chance encounters set singer-songwriter Jason Walker '91 on his musical path.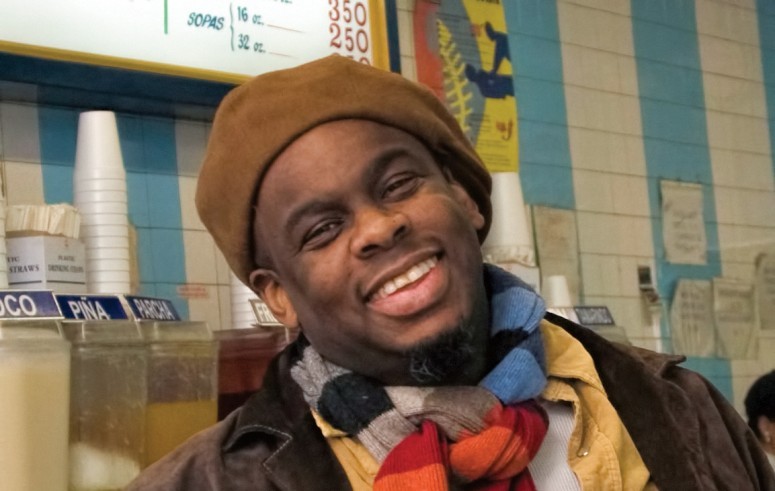 Jason Walker '91 could be excused if he seems slightly bemused over how his career has unfolded.
Walker, who lives in New York with his wife, Erin, and their son and daughter, has carved out a life as a singer. He sang in the 2012 production of the Philip Glass opera Einstein on the Beach, which was performed in the United States, Canada, Mexico, England, France, Italy, the Netherlands, Australia, China and South Korea. He also has traveled around the world in the cast of Bernice Johnson Reagon's gospel-music opera The Temptation of St. Anthony. All Alone, which he co-wrote and performed, was part of the 2014 Cuba Gooding Jr. movie Life of a King.
Last year, Walker sang with Elvis Costello on David Letterman's late-night talk show shortly before Letterman retired. Over the past year he has performed in multiple shows at Joe's Pub, the nightclub that is part of the Public Theater in New York; in February, he took his blend of blues, folk, jazz and gospel music to the nightclub of MASS MoCA, the contemporary art museum in western Massachusetts.
"Most of where I am right now is by accident. It sounds a little strange," he said.
Walker grew up mainly in Philadelphia. When he was in the 11th grade, his high school appointed him to a student panel that was helping interview prospective teachers. One young applicant was Jonathan Tazewell, an '84 Kenyon graduate (and now Thomas S. Turgeon Professor of Drama at Kenyon). Tazewell won the high-school job and also became assistant coach of the soccer team — which included Walker.
Rider University in New Jersey recruited him to play soccer, but he was unhappy at the school. A friend's mother reached out to Tazewell, who had joined the Kenyon admissions staff. Walker recalled that Tazewell "came to Philadelphia, told me I should come to Kenyon. Once I visited, I said let's do this.
"My main goal was to go to Kenyon, play sports and move on with life," Walker said. He had been surrounded by a musical family — his father was an organist, pianist and composer, his brother became an organist and his mother sang in church choirs — but when he joined a children's choir at church, he soon became bored and was kicked out. "In my early years I felt there wasn't a [musical] space for me; nowhere to fit in. I chose sports."
Fate intervened during his first year at Kenyon, in the form of Warren Lieberstein '90. Lieberstein (now a television writer and producer in Los Angeles) urged him to audition for the Kokosingers a cappella ensemble. Walker won a tenor position. He took a couple of music courses and he joined the Chamber Singers his senior year. He also took voice lessons, first at Kenyon and then, after graduation, for a year at Temple University in Philadelphia.
His major? Well, he started out in economics but enjoyed philosophy more, so he switched, even though "I had no idea what a philosophy degree would get you in the job market."
He returned to his high school, Abington Friends School in suburban Philadelphia, teaching philosophy and health, but he largely dropped singing. He moved to Washington, D.C., where, at a party, he sang some gospel tunes. As it happened, Reagon, founder of the renowned a cappella group Sweet Honey in the Rock, was in the audience. She urged Walker to study with her voice teacher, and eventually singing jobs came his way, including work with Reagon.
After recovering from surgery for a brain tumor in 2004 and wanting to recharge himself, Walker decided to make an album. The self-produced Just Like You was released in 2008 and can be found on the internet at cdbaby and iTunes. His current project, which he hopes to release this summer, entails two albums. One features sacred songs that have been important to him. The other comes from his live performances, showcasing his introspective songs tinged with gospel, blues and jazz.
"The point of my writing is to be able to express myself, and part of that is to acknowledge the different music genres that have been a part of me. Hopefully someone can hear it and identify with it."
A philosophical stance? "Yes. The two things, music and philosophy, are sort of partners. Philosophy allows you to see the world in certain ways and music allows you to express it."
Web extra: Listen to All Alone, by Walker and Jeremy Mage, which was featured in the film Life of a King starring Cuba Gooding Jr. Find out more about Walker's music at jwalkmusic.com.
The songs change, but Kenyon's deeply rooted singing culture continues to thrive and build bonds - voice to voice…
Read The Story
As record numbers of students seek psychological help, Kenyon's counseling center expands its reach.
Read The Story