Pets of Gambier: A Photo Essay
Drama cats. Presidential dogs. A flock of peacocks. Meet some of Kenyon's most beloved residents.
Story by Elizabeth Weinstein with photography by Greg Murray
Anatole France, the French poet, journalist and novelist, was correct when he said, "Until one has loved an animal, a part of one's soul remains unawakened," then Gambier is home to many awakened souls.
In and out of the classroom, Kenyon faculty, staff and students share an appreciation for the natural world and all of its living creatures. On any given day on Middle Path, students eagerly scratch the backs of waggly-tailed dogs passing by with their owners. A family of kittens discovered in a drain pipe find new homes with staff members. And when a large tortoise escapes from its backyard, someone always returns it to its owners. From calves to peacocks, Cleveland-based animal photographer Greg Murray captured intimate portraits of some of Gambier's best-known animals — and their doting humans.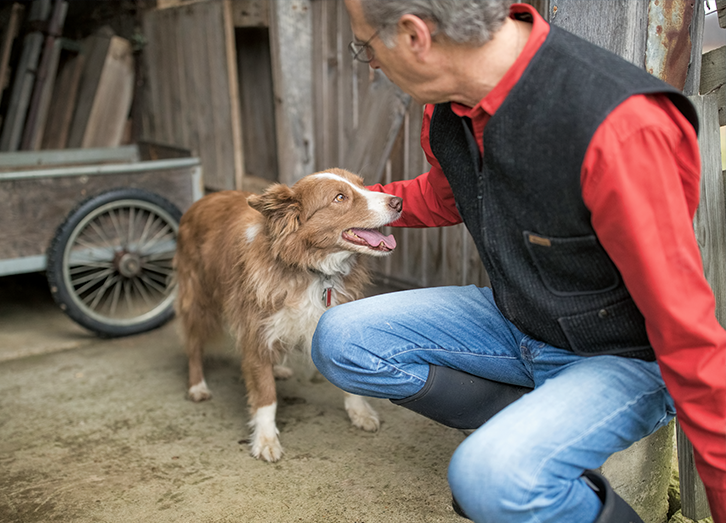 Professor Emeritus of Sociology Howard Sacks retired last year after more than 40 years at Kenyon, but his post-teaching life is anything but dull. Sacks, who directed Kenyon's Rural Life Center for nearly two decades, now luxuriates in the hours he's able to spend tending to his expansive farm on the outskirts of Gambier — and the animals that roam its acres. His four goats (two pygmy goats named after the 1950s country music duo Johnny & Jack, and Nigerian goats Henry and Popcorn); an English shepherd, Tucker, and a border collie, Lucy (with Sacks, above), keep him busy.
"Working with animals and the land gives me an immense sense of satisfaction and purpose that you don't necessarily get when you're running from meeting to meeting," Sacks said. "I like being a minority species. The beauty of living out here on the farm is that it gives you a sense of perspective. The world is not all about humans, or all about you."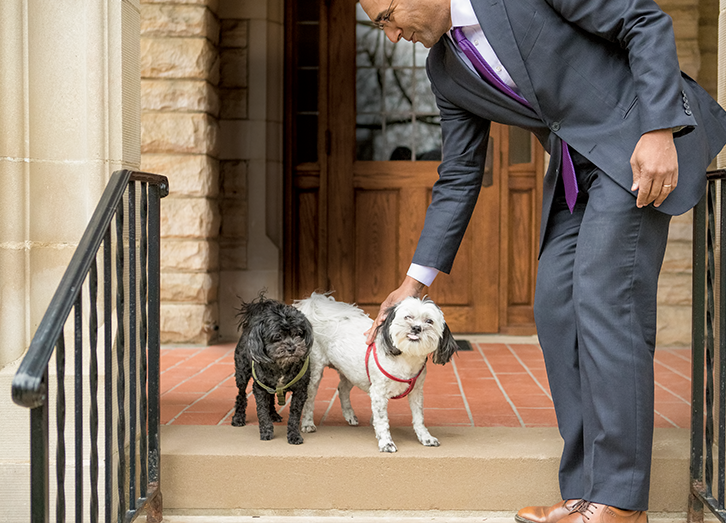 As Kenyon's most recognized canines, 8-year-old shih tzu-poodle mixes Skittles (right) and Roo (left) live quite the life in their house off Middle Path. "They get spoiled," President Sean Decatur said of the First Dogs. "They get a lot of attention from students, which they appreciate a great deal. Once in a while I will take them down to sports games on the athletic field. It's like a spa day for them. They just lie down on the grass on their backs and people come and rub their bellies for the entire game."
The escape artists regularly exit the backyard, only to run to the front door and wait to be let back inside. And they love sniffing for groundhogs in the front yard. On special occasions, like Halloween, Decatur and family dress the dogs in Star Wars costumes.
"Kenyon is a great dog community," Decatur added. "I was told that when I first came here, that this is a strong dog-loving community and campus."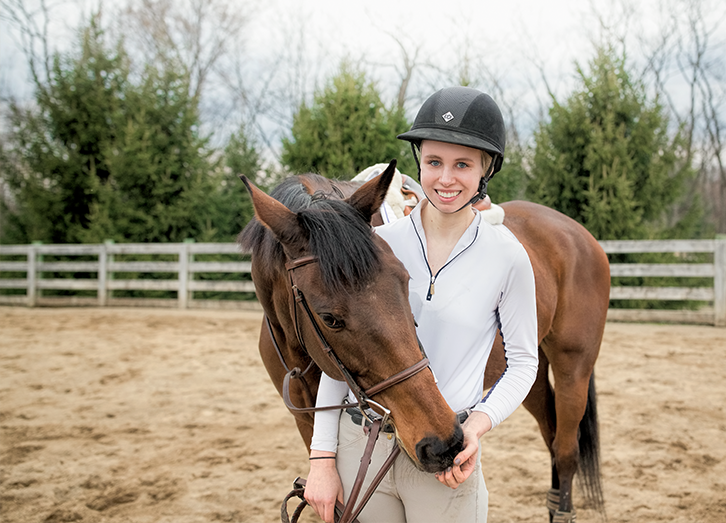 When Grace Royster '19, from Chicago, began her college search, she had an unusual stipulation: She would attend a school only where she could also bring her horse, Tucker. Royster began riding horses when she was 5, started competing at age 7, and has owned Tucker for about four years. At Kenyon, she is a show team member of the College's equestrian team, and she boards Tucker at Hickory Hill Farm in Mount Vernon with the other equestrian team horses.
"He's my best friend," Royster said of Tucker. "Riding has always been the center of my life, so when I got Tucker he also became the center of my life." As far as horses go, Tucker is "very high maintenance," she added, with a laugh. "I'm usually out here six days a week, and I brush him, ride him, check on him. If I need to call the vet I'll call the vet. I take care of all his medicine. It's a full-time job. He's like my child."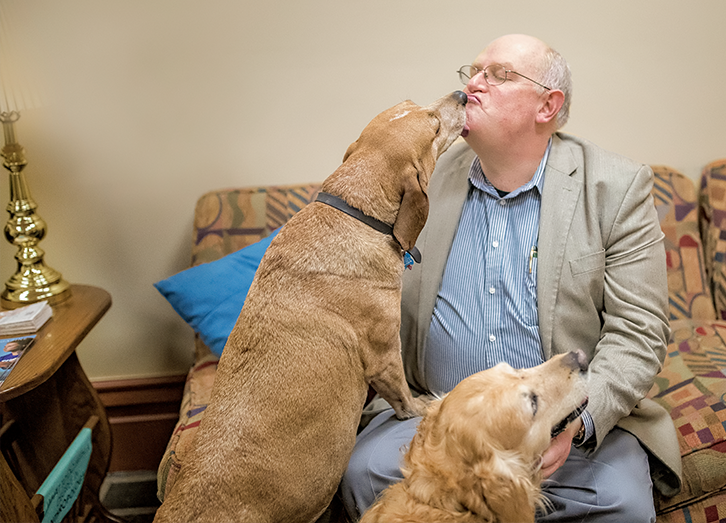 Professor of Music Dane Heuchemer likes to joke that if it weren't for his pack of rescue dogs, he would never have received tenure. Over the years, students have grown accustomed to visiting Heuchemer's lovable pack during office hours, and even note their love for the dogs on their evaluations.
"Students are often under considerable stress, and the dog will not ask them if they are ready to take their exam or if they are done with their paper," Heuchemer said. "Providing intersections between students and the animals is really important."
The pack has been hit by loss twice this year. Norwegian elkhound mix Luca died in April, and Golden retriever Chloe died suddenly in May, leaving behind hound mix Bentley — for now.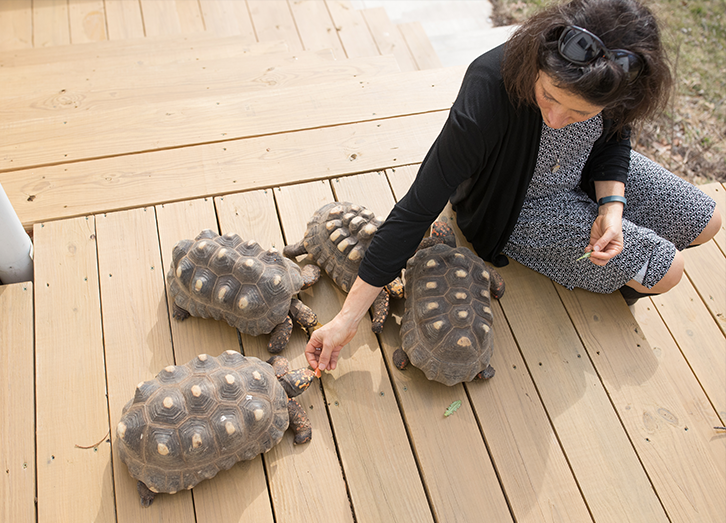 As a child in Venezuela, Professor of Dance Balinda Craig-Quijada loved playing with the tortoises in her family's yard. There, "everyone has tortoises like you would have chickens, and they are raised to eat," she said. Craig-Quijada, however, prefers to call them pets. She shares her Gambier home with four South American red footed tortoises named Wimpy, Dent (pictured), Penelope and Juke, that she brought from Venezuela, when they were small. The oldest, Penelope, is nearly 30. "They have come to have a symbolic meaning for me," Craig-Quijada said. "I'll have anxiety dreams with tortoises in them, like I forgot to feed. them. So they really have entered my subconscious and have come to symbolize my father."
Those anxiety dreams have occasionally become reality when an adventurous tortoise escaped from the yard by pushing through its pen. One time, Wimpy was found by a Gambier resident who, mistaking him for a turtle, "set him free" in the Kokosing River. Land tortoises like Wimpy can't swim, so he floated eight miles away from home and was eventually spotted by a father and son at a picnic shelter on the Kokosing Gap Trail. They recognized Wimpy from flyers Craig-Quijada had placed along the trail and returned him safely to her.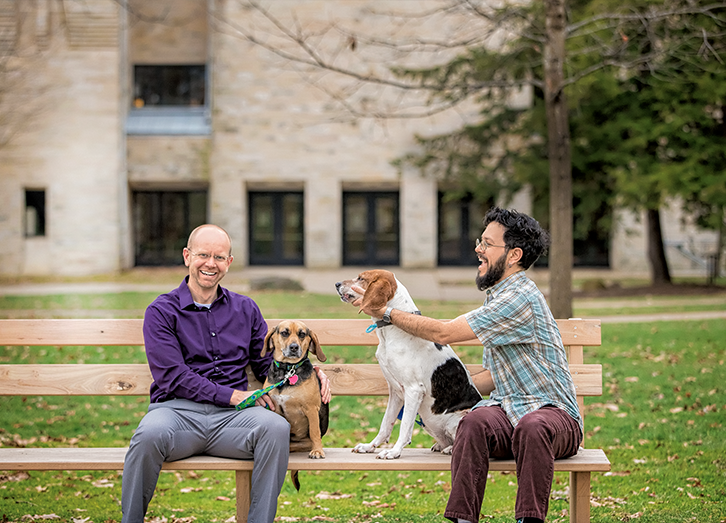 The chemistry of friendship is a curious and unpredictable thing. Bou Getzler, a 14-year-old hound mix, is not always a fan of other dogs, but when she met fellow hound-mix Willow several years ago, they forged an instant bond. The canine companions are neighbors of sorts. Their owners, chemistry professors John Hofferberth (left) and Yutan Getzler (right), occupy offices down the hall from each other in Kenyon's Science Quad.
"If I'm in the office when Yutan and Bou arrive to work, Yutan lets Bou off her leash, and she will run up the stairs, come to my door and howl until I open the door," Hofferberth said with a laugh. Seeing Willow, Getzler explained, is "the highlight of Bou's life." And for many students, visiting these dog friends is the highlight of their day.
"If you ask anyone who has gone to college which course has the most ire associated with it, it's organic chemistry," Hofferberth said. "Because that's what we teach, students are immediately maybe a little anxious about us. And when they see us in the office interacting with the dogs and with each other, it puts them at ease."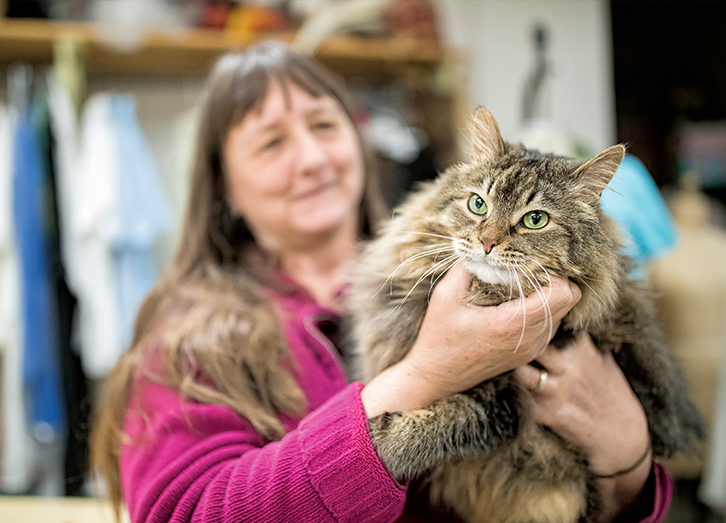 Eight years ago, a litter of stray kittens was born under the deck at the home of Bolton Theater costume shop manager Deborah Clark. She brought one of those kittens, Tallulah, to work with her, and Tallulah has lived happily in Kenyon's theater building ever since.
"When Tallulah was a kitten, my work study students at the time would wear their hoodies backward with her in their hoods," Clark said. Now, as students sew fabric together in preparation for upcoming shows, they entice Tallulah with cat treats and pet her for stress relief. "She's quite popular (on most days), but if you turn your back, she will unthread the sewing machines," Clark said.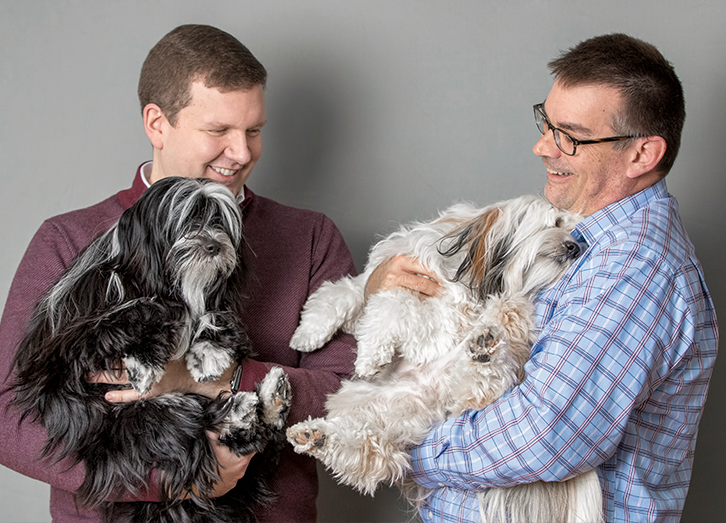 After Marc Bragin, Jewish chaplain and director of spiritual and religious life, and his partner Scott Baker '94, associate vice president of alumni and parent engagement, lost their beloved 12-year-old Tibetan terrier, Mason, in 2015, it took a few months before they were ready to bring a new dog into their lives. In early 2016, when they went to check out a litter of Tibetan terriers from a breeder in Pennsylvania, they fell for not one, but two, fluffy puppies: Tallulah and Gracie. "The breeder said that (Tibetan terriers) just want to be where you are, and that's completely true," Bragin said. "They are just happy sitting next to you."
Tallulah and Gracie are inseparable, but they are not immune to bouts of classic sibling rivalry. "If we give them two identical new toys, one will grab one and the other will go after that same one. You'd think they would both grab a toy and then go their separate ways, but no," Baker said, "they have to fight over one of them."
Web extra: See more photos of Tallulah and Gracie on Instagram @gracieandtallulah.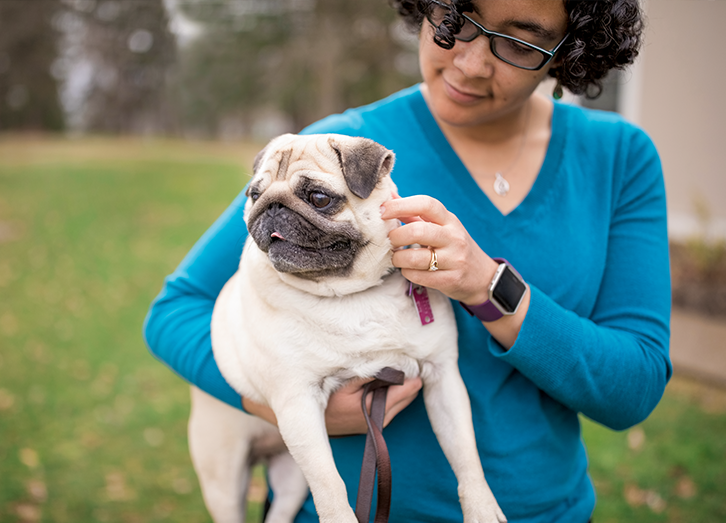 Walk past Associate Professor of English Jené Schoenfeld's Lentz House office on any given afternoon and chances are you'll be greeted with a friendly sniff and snort from her 3-year-old pug, Heppy. Like her namesake, Audrey Hepburn, Heppy has her own adoring fans. "Students whom I have never met will stop by after their classes and ask to visit with Heppy. They pet Heppy and she makes them feel better," Schoenfeld said.
"Heppy is so joyful that she helps keep me smiling," Schoenfeld said. "I'm lonely when she is not here. I really enjoy her company as an office mate."
Web extra: Heppy has her own Facebook page, @heppypug, which often features "Fan Club Friday" pictures of Heppy posing with students.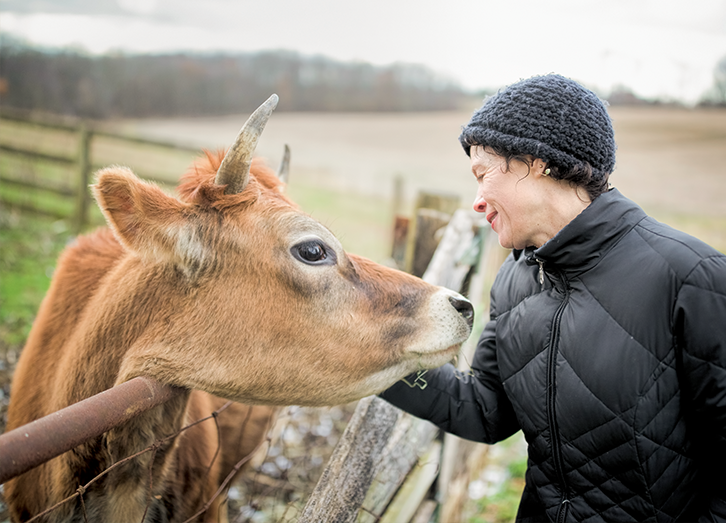 Professor of Dance Julie Brodie's Gambier farm is home to a cow named Pat, five barn cats, a dog, chickens — and 12 peacocks.
"We found this crazy bird guy a couple of years after we moved here and he was selling peacocks. We started with a couple, and we just really loved having them," she said. When it comes to caring for the birds, "peacocks are super easy," Brodie explained. "We just throw out grain and bread scraps for them and make sure they have access to water. And then they just hang around. They nest up in the upper barn a lot and then at night they mostly roost in the oak tree down by the pond."
While the birds are treated as pets, Brodie and her family also raise animals for food. They purchase unwanted young male dairy cows, like Pat, from auctions and raise them until they are large enough to use for meat. "We figure that they would not have had a life at all, otherwise, and so we try and give them a good life and a good home for as long as they are here," she said.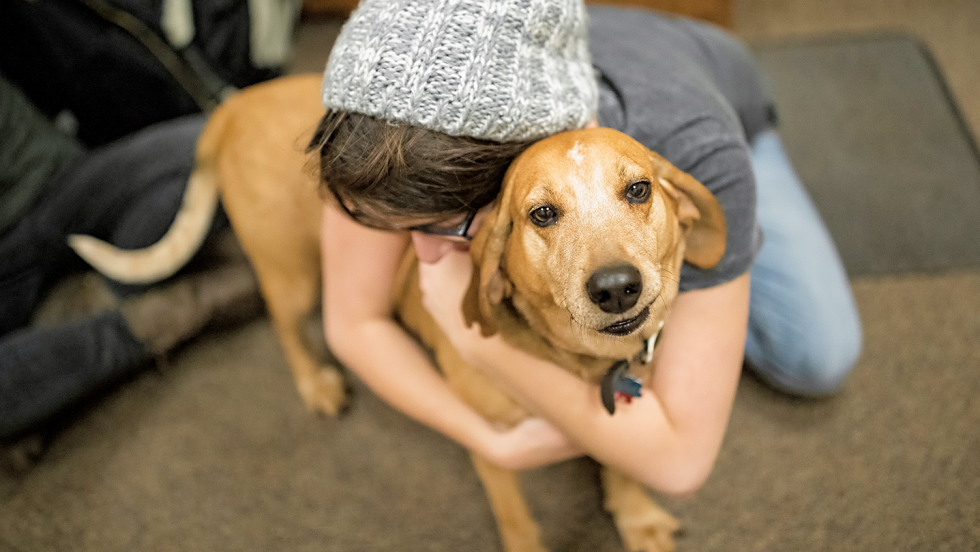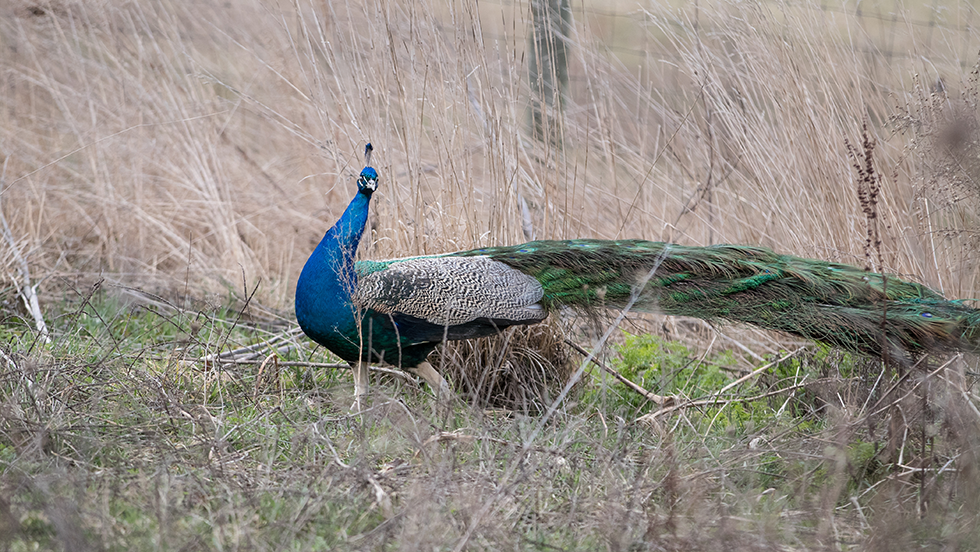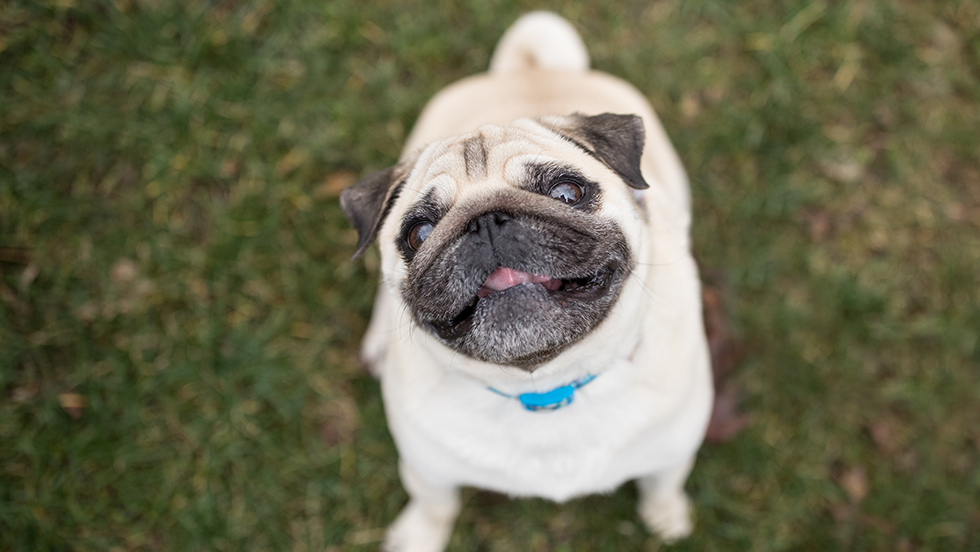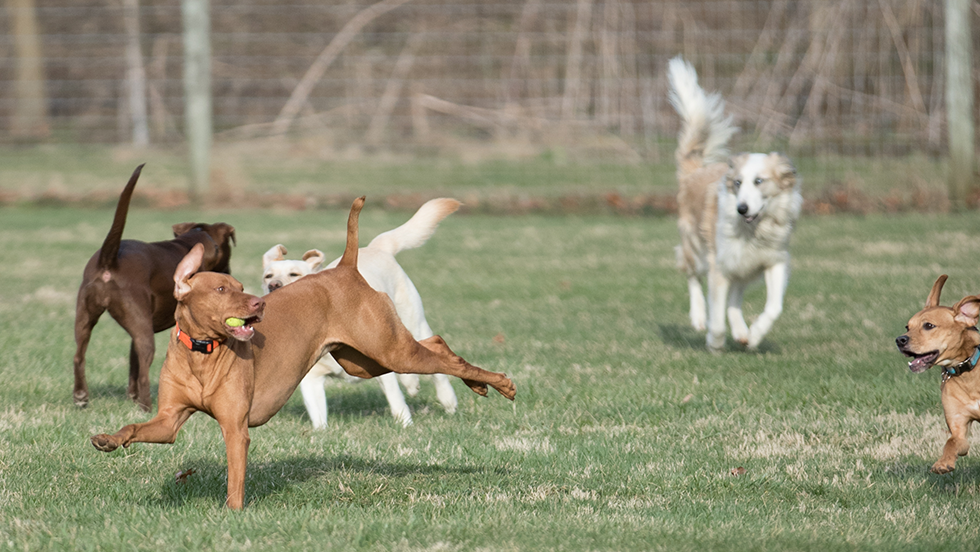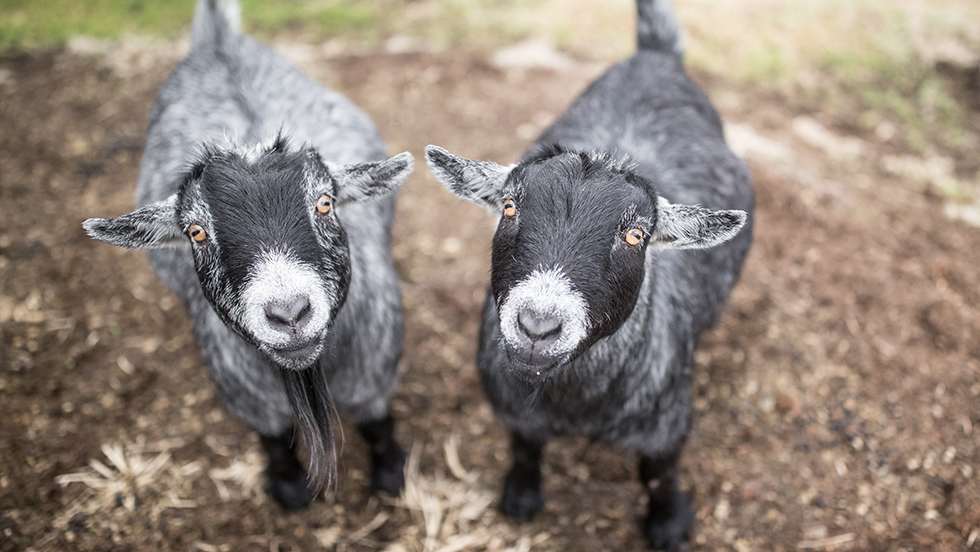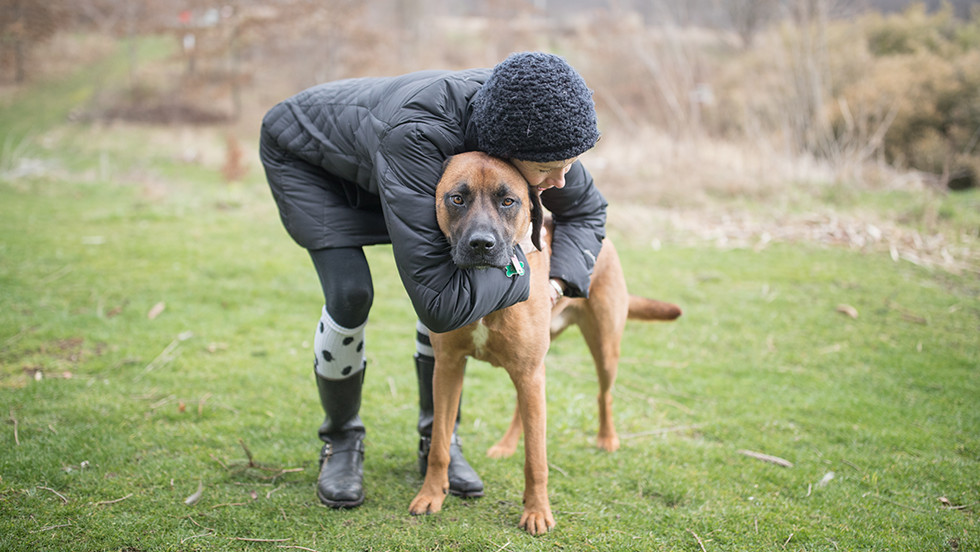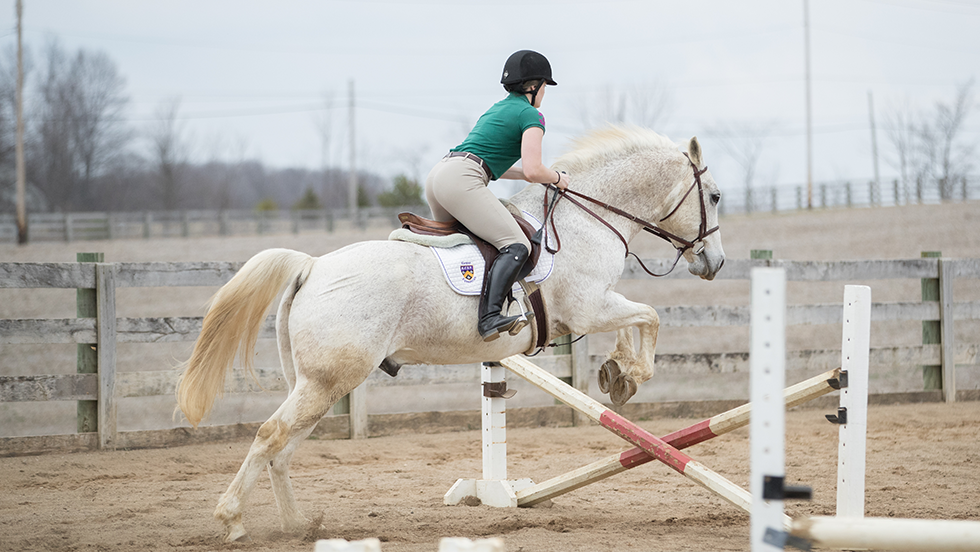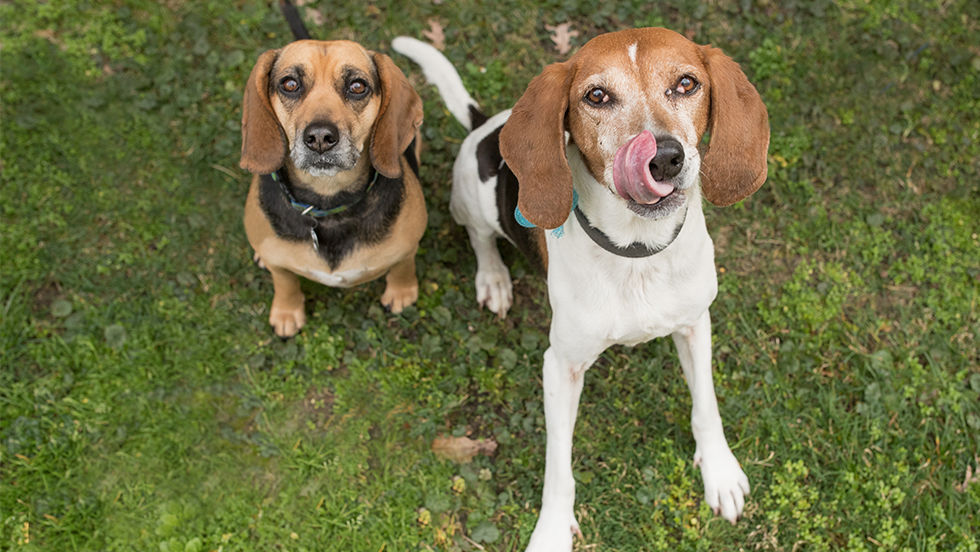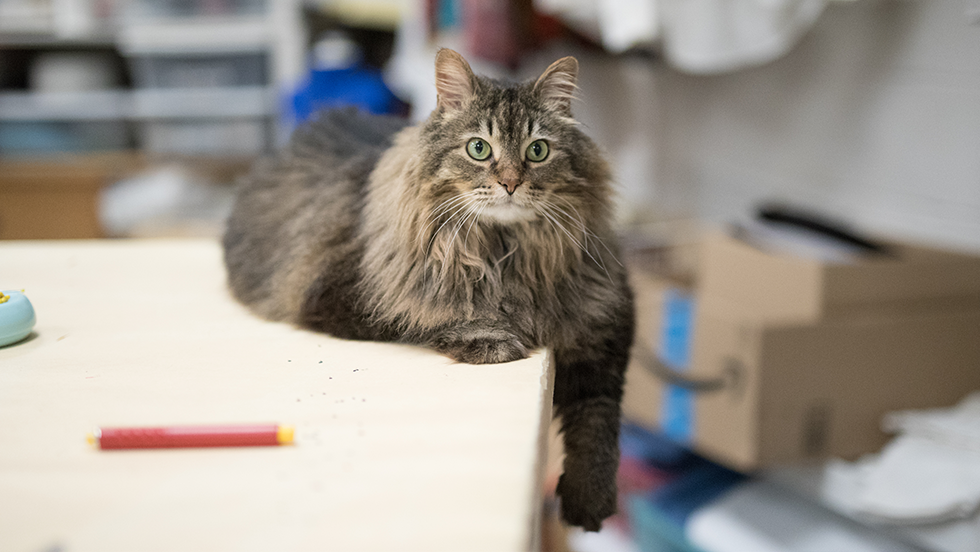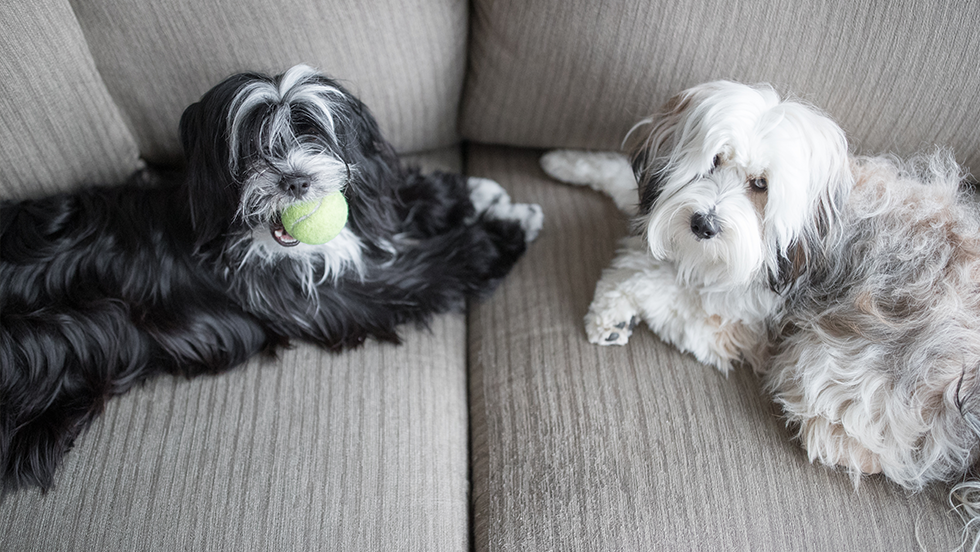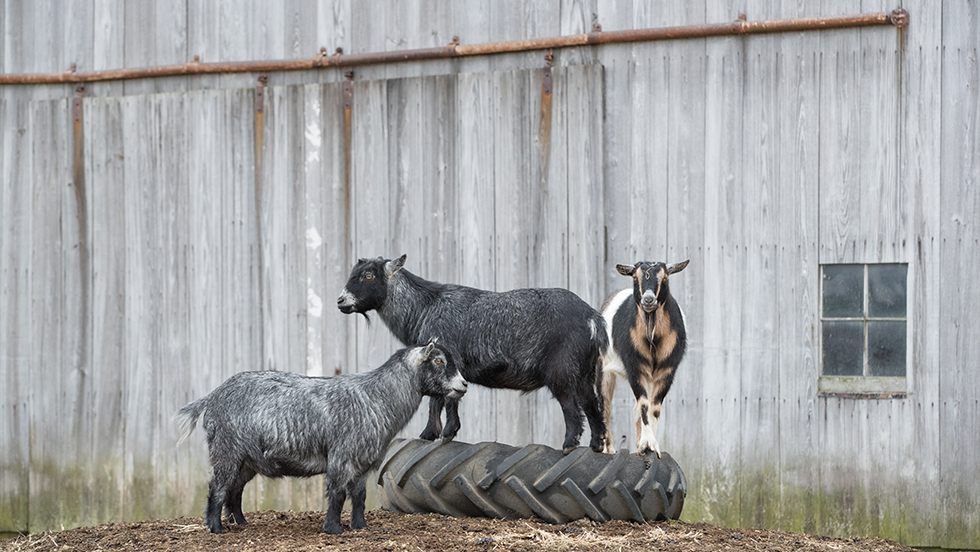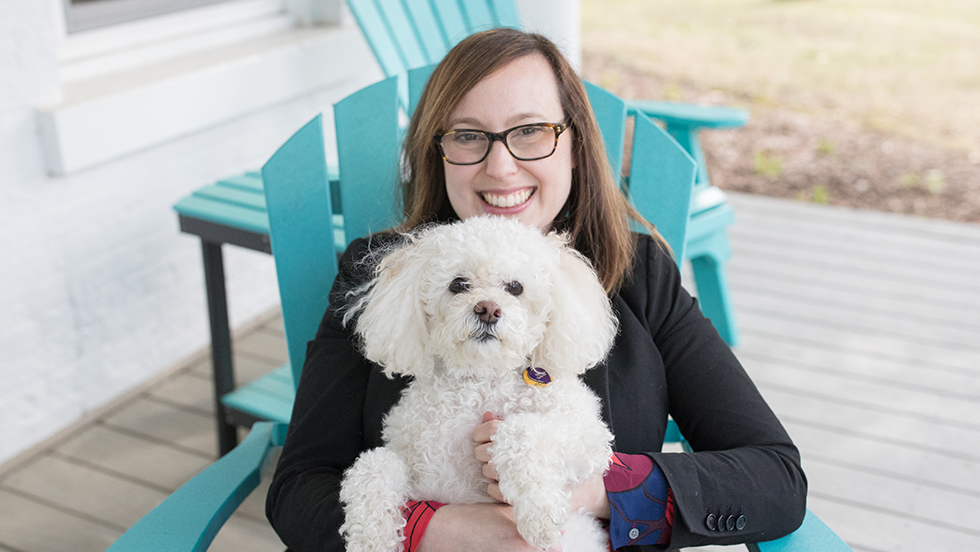 English professor (and dog lover) Jim Carson probes the significance of animals in literature, drawing on insights…
Read The Story
Six alumni who work with animals share their favorite tips, tales and tricks of the trade.
Read The Story
A conversation between Laura Hillenbrand '89 H'03 and Julie Barton '95.
Read The Story