Anatomy of an Athlete
Senior basketball player Ikenna Nwadibia focuses on "the idea of rhythm."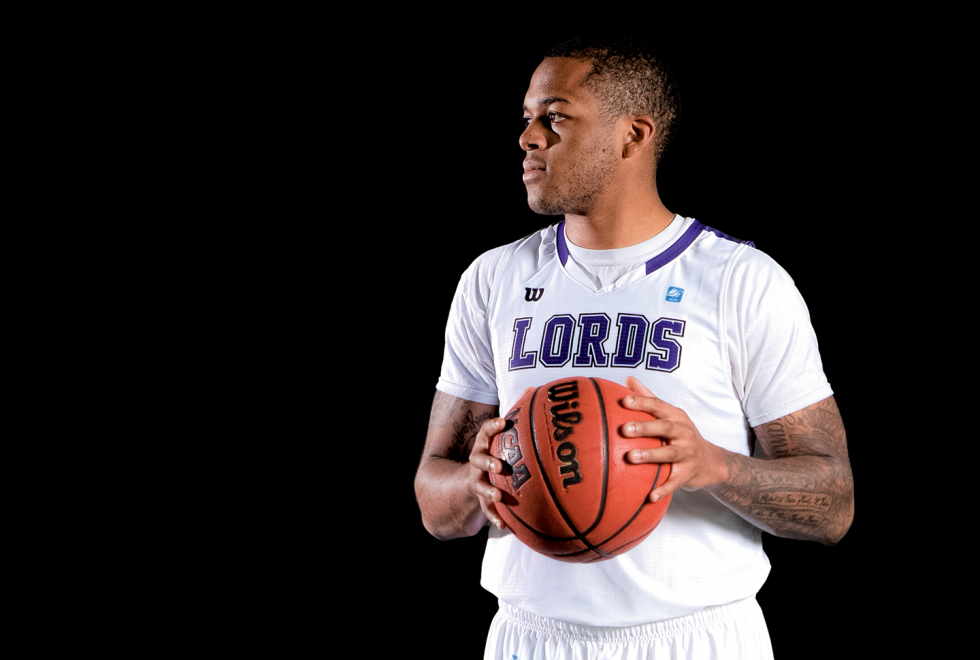 During a January basketball game last year at Allegheny College, senior Ikenna Nwadibia locked into a rhythm. He scored 19 points that night and topped things off by rocking the house. With just twenty-one seconds to play, the Lords faced a 69-69 stalemate. A teammate swung the ball around to the right wing, where Nwadibia collected it, began his dribble, stutter-stepped, drove to his right, and lifted the game-winning shot over two defenders.
"I think basketball is the sport that is most dependent on the idea of rhythm, and I've definitely had games where I've been in a rhythm," said Nwadibia, who's known on campus as Ike. "It's great because it feels like you just can't miss. You just get going and the energy translates from one side of the floor to the other."
One week later he did it again, scoring 22 points and orchestrating a buzzer-beating layup in a one-point triumph over DePauw University.
The surges of rhythm emerge spontaneously, but they're rooted in confidence and experience. As a first-year, Nwadibia wrote out a set of personal goals and taped them to the ceiling above his bed. The resulting motivation helped him to quickly mature into a starter, an all-conference player, and even a preseason All-American. His personal progress was mirrored in the performance of the team, which improved its record by seven wins over a three-year span.
Nwadibia has been able to take many of those goals off the ceiling. As a junior, he led the Lords in scoring and rebounding, and now, in his senior season, he has a very real chance of becoming only the fourth player in Kenyon history to register at least 1,200 points and 800 rebounds in a four-year career.
A different arena
Nwadibia still has athletic goals to achieve, but he knows he can't play hoops forever, so he's gaining traction in the political world. He chose to major in American studies and last summer interned on Capitol Hill for Illinois Senator Dick Durbin. In addition to giving tours and coordinating schedules, Nwadibia was a part of Durbin's health care team and spent time with So Others Might Eat (SOME), a nonprofit aimed at aiding the homeless.
Chairman of the boards
There are many facets to Nwadibia's game, but he takes most pride in rebounding. He says there's a certain feeling of strength and power when he goes up and grabs the ball before anyone else. He believes everyone on the court, no matter his size, has the ability to rebound. It just comes down to determination. "It's just how much you want the ball . . . how much value you think the ball carries. And, to me, it carries a lot."
The long and short of it
Nwadibia's style of play is a combination of small forward and slashing guard. His first year of high school, he checked in at 5'4" and 142 pounds. No one plays forward at that size, so he grew accustomed to the backcourt. Now at 6'2", 185 pounds, he's big enough to play forward but still possesses that guard mentality. The blend often flusters opponents who can't figure out quickly enough if Nwadibia will settle on the jumper or drive to the rim.
Family portrait
At age eighteen, Nwadibia started acquiring tattoos as his "entry into manhood." Many of his tattoos depict or remind him of the importance of family. On his left arm, he has the words "My Guardian Angel" accompanied by an image of his mother. On his wrist are two Cs, for his older brother and sister, Chukwudi and Chinaedu. Additionally, Psalm 23 is inked on his arm. It was his first tattoo, a prayer that his grandfather taught him to memorize when he was a child.
Shoes for athletic feats
Like most basketball players, Nwadibia is fond of footwear. He owns twenty to twenty-five different styles, with his favorite being the Nike Air Jordan Retro 8. His first athletic shoes were very different. Nwadibia was born in St. Louis, and his introduction to sports involved cramming his feet into a pair of hockey skates. When he moved to San Francisco in seventh grade, hockey, and the skates, gave way to hoops.
Happy Valentine's Day, dear reader. The Bulletin celebrates the season of roses, chocolate and cut-out hearts…
Read The Story
What would Kenyon be without student clubs? Here's a glimpse of what students are doing outside of class these…
Read The Story
… and yes, organ meats, too. Here's the latest news from the Peirce Hall servery, where sustainability coexists…
Read The Story