The Guitar Writer
The music, the history, the gear—Dave Hunter '84 writes, and writes, and writes about the wide world of electric guitars.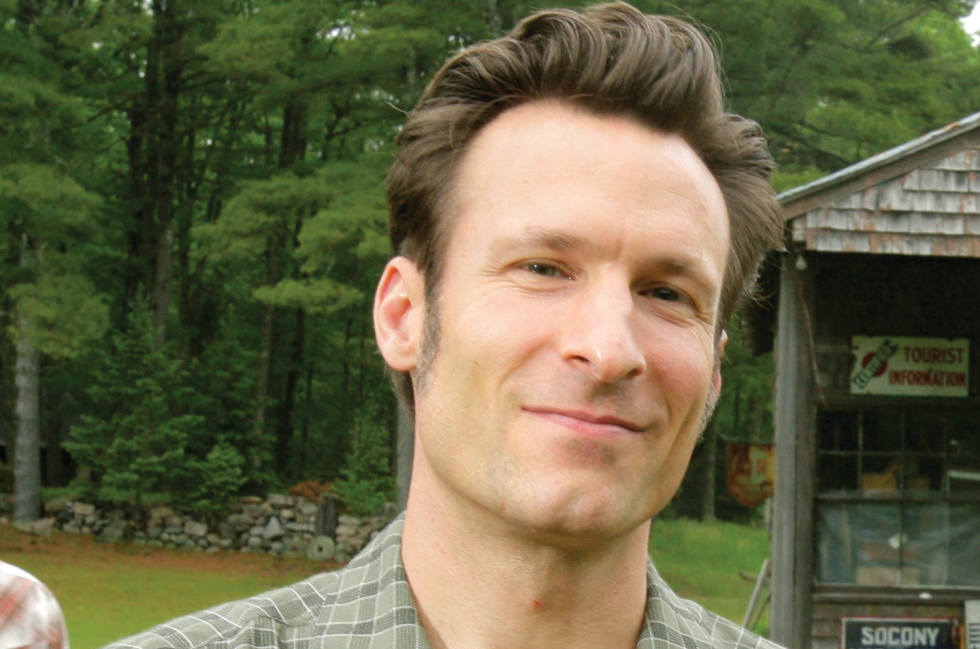 An accomplished rock musician, Dave Hunter '84 never quite hit the big time, but a number of well-known virtuosos may be familiar with his byline. Hunter combined his academic interest in English with his passion for popular music to become an oft-published music journalist or, more specifically, a guitar writer.
If you need to know about electric guitars and all their gear—amplifiers, speakers, pick-ups and effects pedals—he's your man. "Ever since I started playing at twelve or thirteen, I was interested in how stuff worked," Hunter said. "I was always taking things apart and trying to repair broken equipment."
Hunter, a lead guitarist, played a classic Fender Telecaster in his alt-country band The Molenes. Its live performances of Americana roots music—"rock 'n' roll with a twang"—have earned rave reviews from critics coast to coast, and its 2010 CD, Good Times Comin', cracked the Top 40 on the prestigious Americana Music Association chart. His new band, Giant Size, is completing its first album.
Nevertheless, Hunter makes his living mainly writing about guitars, not playing them. He's a regular contributor to magazines Guitar Player and Vintage Guitar, and the author of fifteen books, with titles such as The Guitar Amp Handbook, Star Guitars, Rough Guide to Guitars and The Totally Interactive Guitar Bible. Some are how-to manuals for players, while others are coffee-table books for collectors.
At present, he is writing a book about the legendary Gibson Les Paul. That's right, an entire book about one guitar. "An original vintage Gibson Les Paul, made between 1958 and 1960, is worth a minimum of $200,000 and goes up from there," Hunter said. "You can easily write a book about it."
The Cincinnati native laid the foundation for his career as an English major at Kenyon, where he played in various bands at venues such as The Pirate's Cove (now the Gambier Grill and Pizza) and events such as the Spring Fling. "My Kenyon education did a lot for me," he said. "It grounded me in a variety of writing styles, not just technical writing."
Hunter continued his education at the University of Exeter in England, where he earned an M.A. in English (modern fiction) in 1986. After a career as a general news journalist, he found his specialty and became editor of The Guitar Magazine, a post he held from 1998 to 2000. "Writing about guitars and gear seemed like a natural fit for me," he said.
While in the United Kingdom, he briefly flirted with fame as a founding member of the indie band Drugstore, which toured with headliners such as the Smashing Pumpkins, Radiohead and Flaming Lips. "I left the band pretty early in its success," Hunter said. "I was married and didn't want to be on tour all the time."
In 2004 he returned to the United States, where his career as a guitar writer continued to prosper. "Although I am working in a highly specialized field, it's bigger than most people think, big enough to make a living," said Hunter, who figures he has sold 500,000 books over the years. "I'm fortunate to have a steady stream of work. I'm always in the middle of writing a book."
Part of his success is due to the enduring popularity of the electric guitar, invented in the early thirties and popularized after World War II in the fifties. "It was born of the guitar player's need to be heard," Hunter said. "It meant that smaller bands could make enough noise to entertain people in dance halls. It probably put a lot of horn players out of work."
Aficionados feared the introduction of the synthesizer in the eighties would sound the death knell for the electric guitar, but the guitar not only survived, it thrived. "More guitars are being sold than ever," Hunter said. "One of the things that encourages me to keep writing is that kids are still interested in playing guitar. As long as kids want to buy a guitar and start a band in their garage, creative music will be made."
Although Hunter is an expert in the technical aspects of the instrument and its equipment, he sounds like a musician at heart. If it feels right and sounds good, play it. "I think it is more important to concentrate on the music you are making than the details of the gear," he said.
What would Kenyon be without student clubs? Here's a glimpse of what students are doing outside of class these…
Read The Story
Happy Valentine's Day, dear reader. The Bulletin celebrates the season of roses, chocolate and cut-out hearts…
Read The Story
… and yes, organ meats, too. Here's the latest news from the Peirce Hall servery, where sustainability coexists…
Read The Story