Book Review: Debuts
Two Kenyon writers have written noteworthy first novels.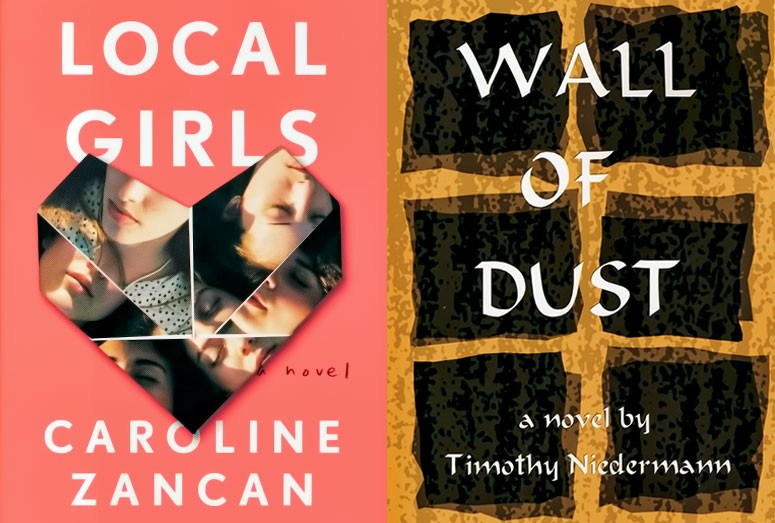 Two Kenyon writers have written noteworthy first novels, very different in setting, subject and tone, but similar in that they artfully convey a sense of place and astutely probe their characters' psychology.

In Wall of Dust (Deux Voiliers Publishing), Timothy Niedermann '76 has woven a tale of the Israeli-Palestinian conflict that is at once deeply personal and a kind of parable.

The novel centers on Aisha, a young first-grade teacher in a village not far from Ramallah, on the West Bank. Her little school is an island of security until one springtime day when militants fire a mortar into Israel from a nearby hillside and a retaliatory air strike accidentally destroys the school, killing 12 of Aisha's students.
In her despair, Aisha begins throwing stones at the massive concrete wall that divides communities in this part of the country. It's not an act of protest so much as an expression of hopelessness that becomes a ritual: Every day, as the afternoon ebbs, she faces the looming wall, calls out the name of each dead child, and for each lost life hurls a stone against the concrete, ending with a 13th, silent stone.

The ritual begins to draw a crowd; others join in. And, inevitably, it also attracts official attention, raising the prospect of violence. Even as the novel engages the reader through evocations of Aisha's inner life, moments of lyricism and resonant images — timeless olive groves, ghostly dust devils, pockmarks on the wall "like thousands of little scars" — much of the book's interest involves the way that the teacher's futile but relentless ritual disrupts the mental landscape of various others. These include an Israeli sharpshooter manning a turret on the wall, Aisha's rigidly religious brother, an Israeli peace activist and an aging terrorist who has begun to question the certainties that have guided his life.

The setting in Local Girls (Riverhead Books), by Caroline Zancan '05, couldn't be more different: a downscale bar in Orlando, Florida, where three longtime friends, now 19 and marooned in post-high-school "collective aimlessness," have come to drink. Nina, Lindsey and Maggie come from a working-class town an hour away whose drabness seems accentuated by nearby gated communities where construction has halted because of the 2008 recession.

Maggie, the narrator, recounts a night that becomes extraordinary, and fateful, when a B-movie actor named Sam Decker (whom the girls know from celebrity magazines) shows up at the bar. In town for a New Mickey Mouse Club reunion that his agent insists he attend, Decker joins the girls at their table.

Stories flow with the drinks — stories about the girls' troubled families, escapades, rivalries and pranks, and disillusioning anecdotes from Decker's Hollywood career. It is to be a night of loss, when the girls feel "the full weight of how young we were, and that we wouldn't always be."

The book teems with often humorous images that suggest youth and emotion while capturing place. Florida, says Maggie, is like "the sticky, annoying little sister I was always telling to get lost. But whom I would break teeth and draw blood defending on the playground if anyone tried to pick a fight with her."
Culminations
Recent books burnish the careers of three alumni who have made important contributions to literature and the nation's cultural life.
Bryan Doerries '98, acclaimed for using staged readings of Greek tragedies to help traumatized veterans and disaster victims, tells the deeply personal and very powerful story of his work in The Theater of War: What Ancient Greek Tragedies Can Teach Us Today (Knopf). Doerries has also published new translations of four plays by Sophocles and Aeschylus in All That You've Seen Here Is God (Vintage).
Daniel Mark Epstein '70 draws on work from almost fifty years in Dawn to Twilight: New and Selected Poems (Louisiana State University Press). The passage of time is a major theme for Epstein, who is also a highly regarded biographer, with books about figures ranging from Nat King Cole to Abraham Lincoln.
Ransom Riggs '01 brings us Library of Souls (Quirk Books), the eagerly awaited final installment of his trilogy about Miss Peregrine's "peculiar children." Once again, fantasy, suspense, linguistic inventiveness and eerie vintage photographs captivate young readers.
More Recent Books by Kenyon Authors
Christopher Bartley (Chris Frueh '85), Naked Shall Return
(Peach Publishing) In his latest Depression-era thriller featuring bank robber Ross Duncan, Frueh plunges readers into the heart of San Francisco's Chinatown.
Julie Barton '95, Dog Medicine: How My Dog Saved Me from Myself
(Think Piece Publishing) Barton's affecting memoir tells how a golden retriever puppy named Bunker helped her deal with terrible depression.
Emily Guy Birken '01, Choose Your Retirement: Find the Right Path to Your New Adventure
(Adams Media) Birken's information-packed guide offers sensible advice on everything from retiring early to changing careers in retirement.
Kelly M. Duke Bryant '01, Education as Politics: Colonial Schooling and Political Debate in Senegal, 1850s-1914
(University of Wisconsin Press) Bryant, who teaches history at Rowan University, shows how colonial schools reshaped African politics, leading to the election of Senegal's Blaise Diagne to the French National Assembly.
Paul Goldberger P'04, H'05, Building Art: The Life and Work of Frank Gehry
(Knopf) One of the most discerning and eloquent architecture writers of our time has written an essential book about one of our time's most distinguished and original architects.
Norman Hane '61, Outliving
(The Ledge Press) Hane's lovely collection, named for a poem about a brother who died too young, won the Ledge Press 2013 Poetry Chapbook Award.
Gretchen Henderson, Ugliness: A Cultural History
(Reaktion Books) An affiliated scholar in art history, Henderson examines the history of a concept that turns out to be far more complex and fascinating than one might imagine.
Ellen Jackson '86, Classic Cookies with Modern Twists: 100 Best Recipes for Old & New Favorites
(Sasquatch Books) Open, salivate, start baking. Pastry chef and food writer Jackson has also recently published "The Lemon Cookbook."
Kathleen Jordan '11, editor, A Boy from Georgia: Coming of Age in the Segregated South, by Hamilton Jordan
(University of Georgia Press) When Hamilton Jordan, President Jimmy Carter's legendary chief of staff, died of cancer in 2008, he left behind this memoir. His daughter completed and edited the book, which provides a window on Southern life in the Civil Rights era.
Kit Kittle '78, Drag Queens
Kittle's full-page color photos capture the flamboyance, self-indulgence and joy of New York's drag-queen scene in the 1980s, even as the AIDS epidemic raged.
Adam Lazarus '04, Hall to the Redskins: Gibbs, the Diesel, the Hogs, and the Glory Days of D.C.'s Football Dynasty
(William Morrow) More than 90 interviews underpin this vivid account of the Redskins' unprecedented championship run between 1981 and 1992 under coach Joe Gibbs.
Cammie McGovern '85, A Step Toward Falling
(HarperCollins) Jane Austen, disabilities, dating, coming of age — all figure in this widely praised young-adult novel by McGovern, who has also written a new book for middle grades, "Just My Luck."
Peter Rutkoff, Cyprus Portraits 2005-2013
(XOXOX Press) Centering on Rutkoff's personal encounters with both Greek and Turkish Cypriots, this journal/memoir examines political conflict and national identity in intimately human terms.
Lauren Goodwin Slaughter '99, A Lesson in Smallness
(National Poetry Review Press) Spare, arresting poems both fix and expand moments from life in this collection — delivering meals to shut-ins, contemplating the obituary of an old boyfriend, waiting in a hospital for the results of a mother's biopsy.
Timothy Whealon '88 with Dan Shaw, In Pursuit of Beauty: The Interiors of Timothy Whealon
(Rizzoll) With lush photographs of projects ranging from a Long Island country house, to a London townhouse, to a Monaco villa, this book showcases the "harmony and comfort" informing Whealon's work as a leading interior designer.
Andrew Welsh-Huggins '83, Slow Burn
(Swallow Press) A deadly house fire, a convicted arsonist who might not be guilty after all, the fracking boom and a deliciously real Columbus, Ohio — all play a role in this second, highly compelling Andy Hayes mystery.
Photographers document 24 uninterrupted hours of life on the Hill.
Read The Story