From Bookworm to Buzzworthy
After releasing her debut novel before graduation, Rioghnach Robinson '16 finds early success in the world of young-adult fiction.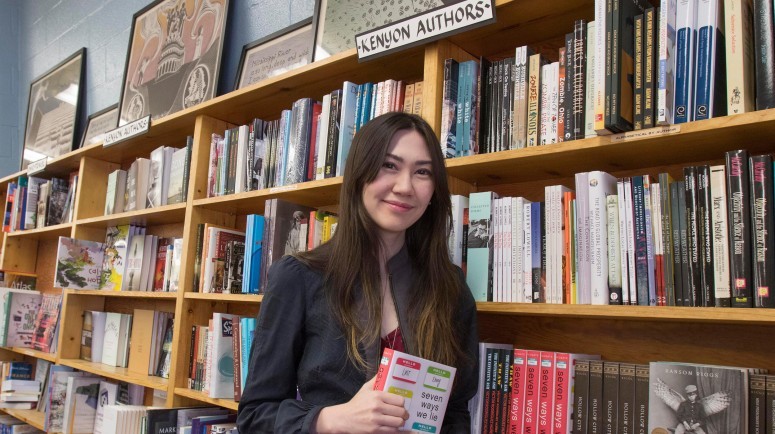 When Rioghnach (pronounced "REE-oh-nock") Robinson '16 walked across the Kenyon Athletic Center stage in May to accept her diploma, graduating from college was one of two major accomplishments she was celebrating that day.
Her debut novel, Seven Ways We Lie, was released — to considerable buzz — just two months prior to Commencement. Published under the pseudonym Riley Redgate, the young-adult book tells the story of a high school scandal from the points of view of seven characters, each representing one of the seven deadly sins. Landing on Barnes & Noble's list of the "most anticipated" young-adult books of the month, it has been praised for its "ingenious narrative structure" and for revealing the "hard edges" and "tender underbelly" of high school. It also has been optioned for film by a Hollywood producer.
Robinson began writing the novel around the time she arrived at Kenyon from Winston-Salem, North Carolina. Since then, finding an agent and publisher and drafting numerous revisions has been "quite a journey."
"There have been lots of rejections, but I am obsessed with improving, so I worked and worked until something was good enough to get published," said Robinson, who has compiled a "slush pile" of manuscripts since she began writing novels as a young teen.
She chose the gender-neutral pen name Riley Redgate around age 15, partly because she wanted to have an internet presence despite her parents being "incredibly paranoid about the internet," but also because, even as a teenager, she was sensitive to what she perceived as "a gender imbalance in literature at large." Plus, she said with a laugh, "my actual name is such an aggressively Irish mish-mash of consonants."
Her talent blossomed at Kenyon, where she won the James E. Michael Playwriting Award (for Mourning Sickness), given annually to a student playwright who exhibits exceptional talent. Though friends and family members expected Robinson, who is also a pianist and a songwriter, to major in English or music, she chose economics "because it exercises a part of my brain that writing does not."
"The culture here is one of openness and creativity, where people max out their personal potential," she said. "It is a stimulating environment. You can talk about writing and not feel pretentious because there are so many writers here."
Robinson grew up a bookworm. She's read each book in the "Harry Potter" series "hundreds of times." Her grandmother was a poet and her grandfather a journalist. As a kid, "I always had my nose in a book," she said. "I don't think you can be a writer without being a huge reader. You have to love books to make one."
Robinson's youth — she's 21 — helps her connect with young readers and stand out among other authors in the genre. "I think my age has helped me. But I get paranoid that in five years or so I'll lose the memory of what it feels like to be a teenager."
Her publisher, Amulet Books, is confident in Robinson's staying power, signing her on for two more books. However, Robinson is keeping her expectations in check. "I'm not obsessed with having a best-seller and making an absurd amount of money," she said. "I just want to find people who connect with what I write."
Robinson is at work on the first of those books, due out in 2017. The forthcoming novel, which she describes as " 'Pitch Perfect' meets 'Mulan,' " tells the story of a girl who attends an elite performing-arts boarding school. An alto, she concentrates her efforts on musical theater. "Altos really get short shrift in high school theater," Robinson said. "So, she keeps getting not cast in shows and decides to disguise herself as a boy and infiltrate the all-male a cappella group."
In addition to writing, Robinson's short-term post-graduation plans include possibly moving abroad to Ireland, "to reconnect with my roots," she said.
"The [young-adult] genre is experiencing such a massive boom," Robinson said, pointing to fellow alumni like John Green '00 (The Fault in Our Stars) and Ransom Riggs '01 (Miss Peregrine's Home for Peculiar Children), who have reenergized the genre. "There's a sense of excitement in the publishing world. It's not just money. There's a very high volume of [young-adult] work being purchased and with that comes the excitement."
Bruce Hardy counters the caricatures of Neanderthals by analyzing microscopic residues on stone tools - and making…
Read The Story
Campus sexual assault is a nationwide problem with no easy solution. Kenyon is not immune.
Read The Story
In the aftermath of this election season, it's worth taking a new look at Kenyon's very own U.S. president.
Read The Story