General Kenyon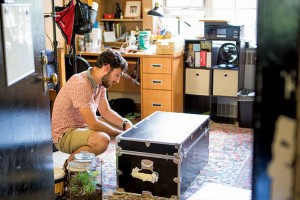 An oyster farm intern, a video-game coder and a disability counselor are among the newest class.
Read More
Science & Technology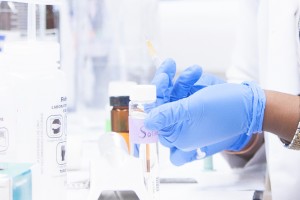 The NSF has granted Kenyon $999,195 to study how high-impact practices improve career success.
Read More
Alumni News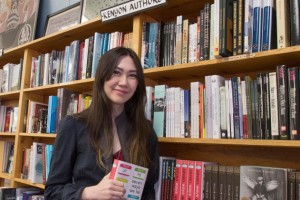 Rioghnach Robinson '16 finds early success in the world of young-adult fiction.
Read More
That's So Kenyon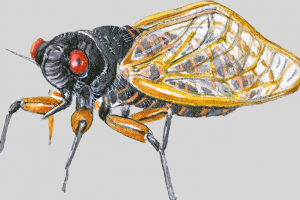 The cicada invasion evokes old delights for David Heithaus '99, director of green initiatives.
Read More
Society & Politics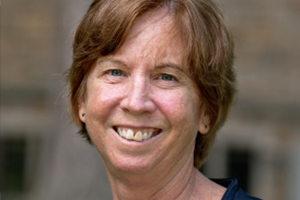 Why do bathrooms engender so much public debate? Professor Laurie Finke responds.
Read More
Alumni News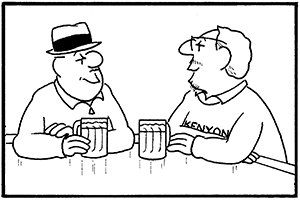 Cartoonist Chip Sansom '73 keeps comic lovers in stitches with an award-winning strip.
Read More
Alumni News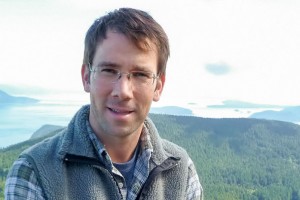 For George Stone '95, editor-in-chief of National Geographic Traveler, the world is his office.
Read More
Kenyon in Quotes
"This is not my little thing anymore; it's kind of a lot of people's thing. It's just a blessing. I wrote my feelings about my children, and people are reading it in Lebanon. I'm kind of like, 'Go, little poem, go. Enjoy your travels.' "
— Kenyon Review contributor Maggie Smith, in a Columbus Dispatch article.
The Things They Packed
As they arrived on campus in August, we asked members of the Class of 2020 what they brought with them that they couldn't live without. Some went for the practical (a laundry basket) and some were more esoteric (a positive attitude). Some were artistic (a harp) and some were sentimental (a lucky ring). A frog named Froggy, a triceratops named Trikey and a bison named Bison are also among the unofficial residents occupying first-year dorms this year.
Alumni News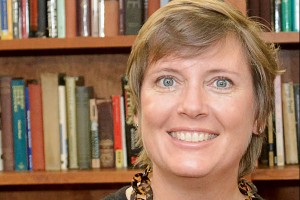 Aileen Hefferren '88 H'12 is on a mission to prepare students of color for top schools.
Read More
Arts & Culture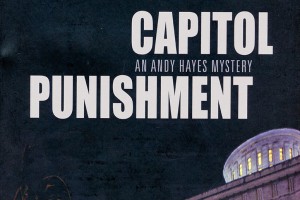 A new detective novel shows how all politics are local - and crazy convoluted.
Read More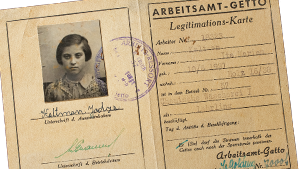 Treasures from Kenyon's Archives
The young face is all the more haunting because of where it appears — on an ID card and work permit for the Litzmannstadt Ghetto, in Lodz, German-occupied Poland, in 1943. Ita Marien Kaltman would perish in the ghetto, one of the millions of victims of Nazi brutality. This small remembrance of her life is part of the Bulmash Family Holocaust Collection, assembled by Michael D. Bulmash '66 and on loan to the Kenyon library.
The collection includes more than 1,500 documents, postcards, letters, photographs and other artifacts and is available in the Greenslade Special Collections & Archives and online at digital.kenyon.edu/bulmash.
Record Breakers
During Homecoming weekend, five alumni and one coach were inducted into the 25th class of the Kenyon Athletic Association Hall of Fame. The class represents seven sports, nine NCAA team championships, 13 NCAA individual championships and 37 All-America awards.
Since its inception in 1987, the Hall of Fame has celebrated the accomplishments of more than 200 alumni and coaches.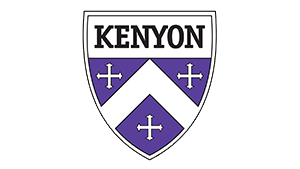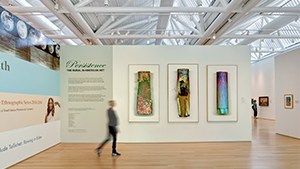 Happy Birthday, Gund Gallery
The Gund Gallery celebrated its fifth birthday Oct. 28. Here are some important numbers from the gallery's first half-decade of life.
303 artists and artist collectives represented in Gund Gallery exhibits; 143 Gund Gallery Associates who have completed internships; 73,336 visitors to the Gund Gallery since opening in October 2011; 300+ free film screenings, lectures and special events presented by the Gund Gallery; 1,849 students who used the gallery for a class assignment, representing 105 class sessions from 16 academic departments and programs; Gabillions of PB&Js made during the Gund Gallery's weekly lunchtime event.
'74
Jeffrey C. Brown, Bozeman, Montana, spent his summer "hosting guests, splitting firewood and building a garage." Son Dash graduated from Cornell and moved to Baltimore to work as a computer scientist at Booz Allen Hamilton. Jeff freelances investment stories to the Wall Street Journal and other outlets.
'62
Harvey F. Lodish, who began his 51st year on the faculty at MIT, held a reunion in November for 150 of his students and research fellows, including two who won Nobel Prizes. His latest biotech company, Rubius, had a July IPO and reached a market value of $2 billion. Travels this year included China four times and Hong Kong for business and lectures; a pleasure trip to Botswana, South Africa and Zimbabwe; and with three grandchildren to Bali, where he officiated for the fifth time at a wedding of one of his students. Harvey frequently returns to Gambier, where his granddaughter Emma R. Steinert '21 is a sophomore, and in October he spoke at the kickoff dinner for the Our Path Forward campaign.
'75
Arthur M. Marx and classmate Kevin J. Martin '75 have been working for Thomas A. Lucas '75 on his new enterprise, MagellanTV, "a subscription service offering a wide variety of video documentaries to discerning viewers," he informs. Kevin is lead writer of the website's blog; Arthur is a writer/editor; and Tom still calls Arthur "Artie," but Arthur has learned to call Tom "Boss." Living in Sarasota, Florida, Arthur "looks after his 101-year-old mother and asks random strangers if they know where the time goes," he adds.