The Traveler's Life
For George Stone '95, editor-in-chief of National Geographic Traveler, the world is his office.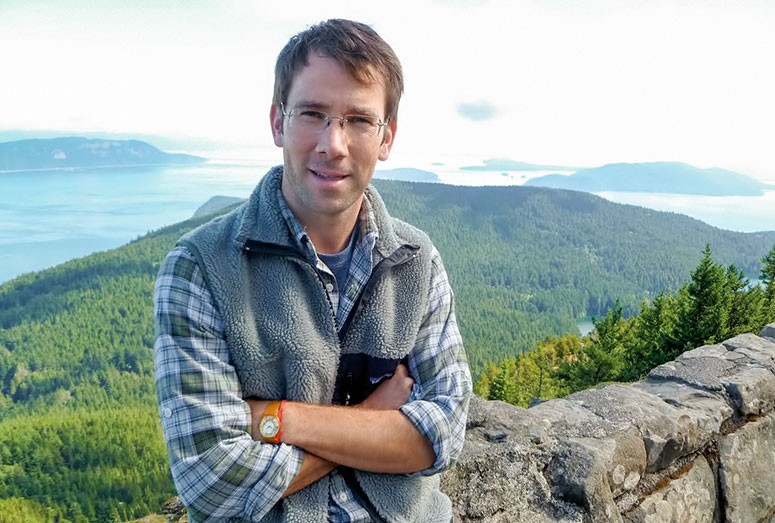 A wrong turn almost derailed George W. Stone '95 from his dream of ­attending Kenyon — literally.
Stone, who describes himself as "directionally challenged," said that on the morning of his high school interview with an admissions officer at Kenyon, he woke up early in a Mount Vernon hotel, "groggy and preoccupied," and drove all the way to Denison University, in Granville, instead of his intended destination of Gambier.
"It's amazing that I actually got into Kenyon," he said with a laugh. "It's even more amazing that I now run a travel empire that has to do with maps."
In January, Stone was appointed editor-in-chief of National Geographic Traveler magazine, in Washington, D.C. He also oversees National Geographic's digital and social media travel strategy. Previously, Stone worked as a writer and editor for the popular travel publication for 18 years —  most recently as an editor-at-large based in Singapore.
At Kenyon, Stone majored in English and lived down the hall from P.F. Kluge '64 the year Kluge was writing his book, "Alma Mater."
"He and I became friends and then he became my mentor and travel buddy, through today. In fact, he came to visit us in Singapore last year," Stone said of Kluge. "The Kenyon connection has really guided my life and supported me in all of these different ways."
Kenyon, after all, is where Stone jump-started his journalism career. "When I was a student, I started a magazine called The Gambier Journal, which was a community magazine celebrating the people and the issues of the community," he said. "Back then, I knew I wanted to be in publishing, and I knew Kenyon was the right place to be because of its focus on words and narrative.
"It was interesting to be in the middle of Ohio but to look out into the world," he added. "You could do that through your courses and through your friendships with teachers. And the bookstore, where they had racks and racks of magazines, back in the day. That was like a launch pad into thinking about the world."
Now, Stone is living the dream — traveling to exotic locales and editing a publication that exists, in large part, to inspire readers to think about and explore the world around them.
The beauty of travel, Stone explained, is that it can produce unexpected moments of personal transformation. Last year, for example, he visited a friend in Cambodia. After a few days of wandering around the village where his friend lived, he found himself at a Buddhist water blessing ceremony, during which an elderly Buddhist monk dumped gallons of cold water on him — and then invited him to a feast.
During the experience, "I went from absolutely zero, in my brain, to a complete full-on commitment and vision for how I was going to propose to my partner and become engaged — which I did two weeks later," he said. "You can't really search for some mystical element, but I do think travel creates a space by pulling back some of the restrictions of life, so that you can finally see things a little more clearly."
Stone and his partner, Chris Farmer, were married in July, in Asheville, North Carolina.
Looking back on his life and career path, Stone said, "I [often] come back to things like friendship, mentorship, community, discovery and learning, and daring and risk. All of those things are values that are celebrated at Kenyon — that as students we learned and embraced."
His Kenyon friendships, mentorships and memories, he added, "are like my home planet, in a way."
Campus sexual assault is a nationwide problem with no easy solution. Kenyon is not immune.
Read The Story
In the aftermath of this election season, it's worth taking a new look at Kenyon's very own U.S. president.
Read The Story
Bruce Hardy counters the caricatures of Neanderthals by analyzing microscopic residues on stone tools - and making…
Read The Story