Etiquette Everlasting
We examine the state of good manners, on our idiosyncratic Hill and in the wider world.
Story by Robin Davis, Henri Gendreau '16, Wendy MacLeod '81 and Madeleine Thompson '15
Letitia Baldrige had a lot to say about the niceties and common decencies that smooth life's complicated dance. As the social secretary to Jacqueline Kennedy and, later, the author of four books on contemporary etiquette, she became a household name on the subject. She was also a member of the Kenyon College Board of Trustees, then trustee emeritus, from 1976 until her death in 2012. For many years she came to campus to teach an evening of dining etiquette to graduating seniors.
We may live more casually than we used to, but rules of behavior — subtle and obvious, explicit and unspoken, imposed by authority or evolved at the grass roots — still shape our existence as social creatures. The Bulletin takes up this topic from a Kenyon perspective, gazing inward, at on-campus etiquette from Middle Path to the Kenyon Athletic Center locker room, and also outward, asking our own experts for answers to common etiquette questions involving restaurants, weddings, tipping, and even job interviews.
Oh, yes. You're most welcome. Our pleasure.
Letitia Baldrige is gone, but the Kenyon family still boasts some bona fide etiquette authorities. Here, their views on questions both social and professional.
On Weddings
Mindy Weiss P'13, founder of Mindy Weiss Party Consultants, a full-service event planner in Beverly Hills, California, has created weddings, parties, and showers for clients such as Ellen DeGeneres and Portia de Rossi, Gwen Stefani and Gavin Rossdale, and Channing Tatum and Jenna Dewan.
Q: When is it appropriate to send an evite versus a paper invitation to a wedding?
A: I don't mind an evite for the save-the-date, which really has become quite popular. But the wedding invitation should be a bit more formal in most cases, and I don't suggest an evite. But for some, it is such a huge help toward the budget, and, as I often preach, there are no rules. If an evite is a necessity, then there are so many lovely choices available now.
Q: Who can be a "plus one" at a wedding — does it have to be a significant other?
A: We use the phrase "No Ring-No Bring" most often. It's fine to bring a fiancé or spouse or to come as a couple if you have become regular social partners with the bride and groom. Otherwise, the invitations should be for singles.
Q: Is it ever appropriate to buy a wedding gift not on a registry?
A: Yes. While it is a convenient tool to buy a gift off the couple's registry, as a guest you have the choice to buy wherever!
Q: Is it ever appropriate to ask for money instead of wedding gifts?
A: On the couple's website, the bride and groom can put their registry as well as a nice note about the desire for money—many couples still live in small spaces and want to wait for gifts to fit larger living quarters. Many couples really could use the money for their future, too. Just do not put any notes in wedding invitations about any registry. That is what showers and the website are for.
Q: When you have guests with restricted diets (such as gluten-free or vegan), are you required to have food options for them or is it up to the guests to make sure they have suitable food?
A: Most high-end venues will have the option. But do not depend on that and always have an alternative plan just in case. Every place should have a nice steamed vegetable plate.
Q: What are good ways to defuse a conversation between two guests that is heading from unpleasant to heated?
A: Ask a good friend to ask them to take it outside.
Tripping on Tipping
By Robin Davis
Everyone knows that at fine-dining restaurants you should leave a tip of 15 to 20 percent. But other occasions for tipping — and more and more seem to pop up every day — provoke uncertainty. Today, tip jars confront you on counter tops everywhere from bagel shops to ice cream parlors. And when you swipe your debit or credit card at a coffee house or fast-casual dining spot, the screen often suggests tips that, even at a dollar or two, can total 50 percent of the bill.
Patrick Haggerty P'09, professional speaker on manners and author of Etiquette Expertise, feels that tipping is really about treating people well and showing your appreciation. "It's an individual choice," Haggerty said. "I try to make a value-based judgment."
If he picks up pizza at a local parlor to take home, for example, he's not likely to leave a tip. But if he gets delivery and the bill is $15, he'll often give the driver $20. "Yes, it's a 25 percent tip, but he found my house that's on a small road without any street lights. And the five bucks isn't so much to me, but it is to him."
Haggerty offers these tips on tipping in common situations:
• Restaurant server: 15 to 20 percent.
• Bartender: 15 percent.
• Valet: $2 to $5 per car; pay when the car is brought to you.
• Housekeeping in a hotel: $2 to $3 a day; leave it every day (not at the end of the stay), and don't simply leave change.
• Coat check: $1 per coat unless there is a fee; then the tip is optional.
• Bellhop: $2 a bag.
• Taxis: 15 percent of total cost.
• Hair stylist: 15 to 20 percent; ask if stylist tips any assistants or if you need to do that yourself.
• Manicurist: 15 percent.
The Cell-free Sanctum
By Henri Gendreau '16
No Kenyon commandment is clearer: Thou shalt not use thy cell phone on Middle Path.
Kenyon wouldn't be Kenyon without its taboos. Don't step on the seal in Peirce. Don't let the College Gates split a group of friends when walking together. And don't — whatever you do — use your cell phone on Middle Path.
Given the pervasiveness of technology, however, as well as laxer attitudes about its role, that last commandment may be going the way of the pager.
A poll conducted by the Office of Public Affairs found that two-thirds of respondents approve of texting on Middle Path, compared with only 52 percent approving of making calls. But even traditionalists yield to temptation. Fully 87 percent of those polled acknowledged they "frequently" or "sometimes" text on the path, with 64 percent admitting to making a phone call.
Maddie Hawkins '17, a modern languages and literatures major from Houston, called the no-cell phone rule "a neat little tradition" but said cellphone naysayers exert too much pressure. "I feel like when I'm on my phone on Middle Path and people are looking at me, it's a look of, 'Whoa. Why are you on your phone? This is Middle Path. Don't you know where you are?'"
The stigma — which tour guides sometimes tout, and which has garnered press attention — emerged as these things often do, organically.
"There was never any announcement that cell phone usage was banned or anything like that, but it just happened," said Tom Stamp '73, College historian. "As new classes of students came in, they saw that people stepped off Middle Path to take cell phone calls."
Those who like the rule say it's a matter of collegiality, of Kenyon's human, and humane, character. In a 2008 Collegian editorial, Dayne Baughman '08 skewered offenders as "cell phone wielding text-messaging clones with little more to offer than a 2300 SAT score."
Early on, one practical reason for not using a phone on Middle Path was the lack of quality reception. By 2005, David Flaherty '07, in a Collegian article about a new cell tower, said that more students were using cell phones since his first year, when he would be yelled at for talking outside Lewis Hall.
"It's sort of funny to look back and think that there are places to use your cell phone and places not to use your cell phone," said Flaherty, now a doctoral candidate at the University of Virginia. "It just doesn't seem like that's the way the world works today."
Still, "old" rules die hard.
"Frankly, it's a bit sad," Rebecca Saltzman '15 noted in the poll. "One time I saw President Decatur making a call!"
"Alas, I've been called out directly in the past ('D-Cat — no phones on Middle Path!')," Decatur confessed. He added: "One of the strengths of Kenyon is that this is a place where in-person, face-to-face communication is still central, and we should work to preserve that."
Dress code: Experts say that what's appropriate for on-the-job wear depends a great deal on the job. For dress-for-success tips, we turned to alumni in a wide range of professions.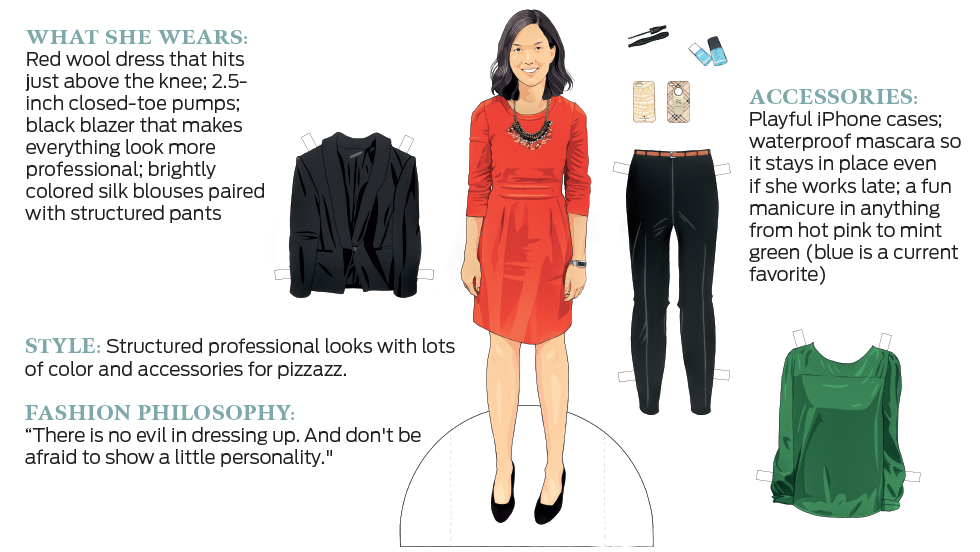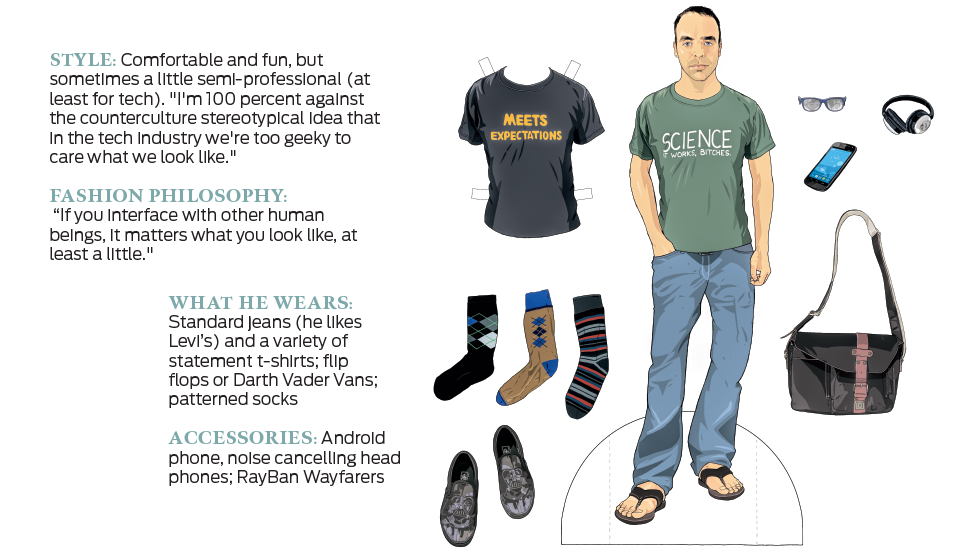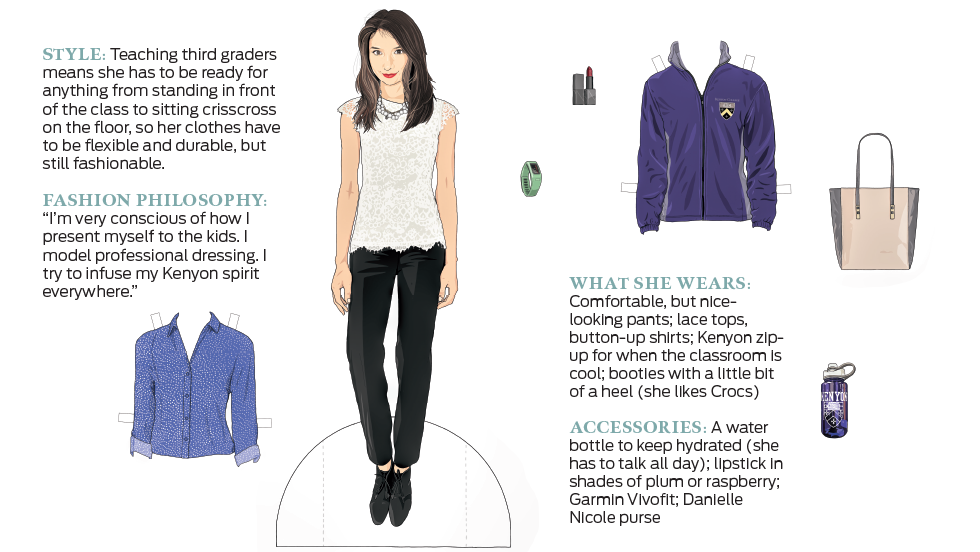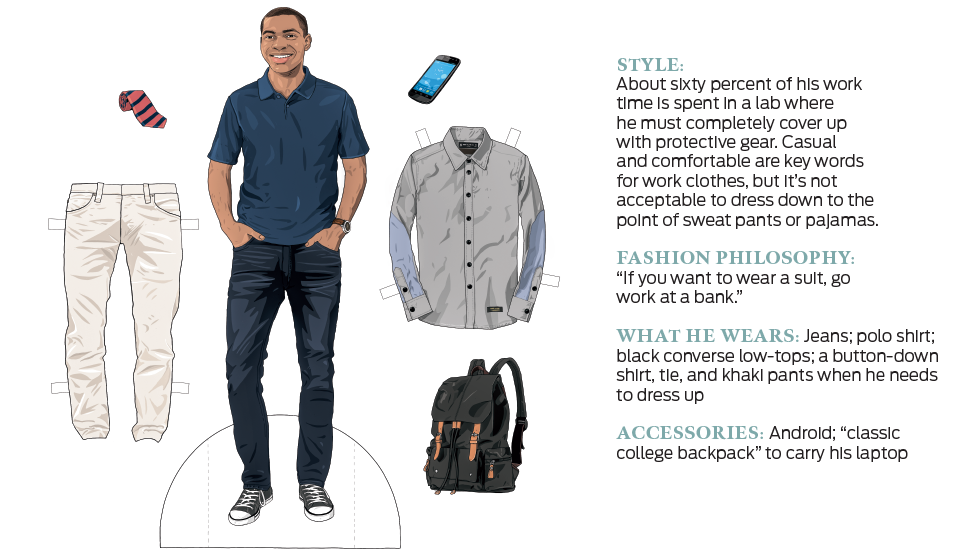 Civilizing the Servery
Madeleine Thompson '15 shares some basic rules of behavior for feeding time in Peirce.
Ah, the servery, where Kenyon students exist in their state of nature, also known as "hungry." For me as an innocent first-year, the servery seemed an Everest of unspoken rules and potentially embarrassing spills that I had to conquer in order to gain official status as a student.
At first, I felt clueless. I can remember the first time I walked into the servery. I was with some friends from orientation, and I remember wondering aloud if the dining hall would have grits, only to have one of my friends ask tentatively, "Aren't those a prison food?" At that moment, I knew I wasn't in Georgia anymore.
Like an anthill, the servery upon casual observation appears to be seething in chaos but is actually a highly ordered system. Here's how it works: there are various stations for different kinds of food (like salad or dessert), and lines form at these stations, where you either serve yourself or pick up a plated concoction. Silverware is available at an island in the middle of the room, and cups are next to the drink machines. Sandwiches and salads can be personalized to your heart's content at their respective stations.
Simple? Not when you add hundreds of students during a few peak feeding times. Kenyon may be a small school, but at noon on Mondays, Wednesdays, and Fridays it can feel like every human within a five-mile radius has arrived to single-mindedly pursue a meal.
All of which makes etiquette important. Here are some crucial rules I've learned for how to be an ideal servery citizen. In no particular order:
• No backpacks. Okay, sometimes this is unavoidable if you're grabbing a quick bite in between classes, but for the most part they are an unnecessary weapon of accidental destruction. I have personally had a plate smacked out of my hand by a flying water bottle that was attached to someone's backpack.
• If the supply of a certain food is dwindling and there's a long line, don't take way more than you should. Leaving eight french fries for the next person is just cruel.
• Do not stand and chat with your friends in the high-traffic areas, which are pretty much all the areas. There are so many people. You need to clear out.
• If there's a crowd around the cream cheese/butter, put some cream cheese/butter on your plate and spread it on your food after you sit down. The crowd will not be amused if they have to wait while you perfectly proportion your shmear.
• Do not eat what's set out for food-sensitive people unless you are food- sensitive! This should be a no-brainer.
• Always thank the food service workers. They're just as stressed out by the rabid masses as you are and are probably being a lot nicer about it. In a similar vein, if you spill something, clean it up.
• Saying "sorry" or "excuse me" will forgive just about any gaffe. Be polite and mind ya business.
Our Etiquette Experts Opine: On Work
David Pasahow '74 is the founder of Blue Line Advisors in Dallas, an executive search firm that specializes in the aerospace industry.
Q: When is it appropriate to tell your current employer that you're looking for another job?
A: Rarely. The only time is if the business operation you're involved in has been slated for sale or divestiture, and everyone is on borrowed time.
Q: What's the biggest mistake people make in job interviews?
A: They don't do the research. Do a little reconnaissance the day before: drive to the location (so you know your way) and watch people go in and out of the building (so you have an idea what employees wear). Don't be late for the interview, but don't be more than ten minutes early, either. Don't ask baseline questions; think through topics and issues facing the company.
Q: Should a post-interview thank-you note always be handwritten, or is it ever appropriate to send an email?
A: I think you have to make the decision based on the recipient. A nonelectronic message is appropriate for people of my vintage, but if you just interviewed with a chief technology officer at Apple, you would not be helping your cause with a handwritten note. Think about the audience.
In the Matter of the Foresaid Unmentionables
By Wendy MacLeod '81, the James Michael Playwright-in-Residence and Professor of Drama
Dear Unknown User of the Women's Recreational Locker Room:
Regarding the pair of underwear that has been hanging from one of the scarce locker room hooks since January, we have some questions. Have they been worn? Have they been worn more than once? At what point will they be taken home and laundered? How is it you feel entitled to take up an entire hook when the rest of us search in vain for a place to hang our coats and towels?
There seems to be a failure to understand the community ethos, a willful disregarding of shared space. When, in a fit of pique, we once used a distancing pencil to fling said cheekies to the floor, we found them returned to the hook the very next day. So it seems this is not a case of abandonment. We were sorely tempted to adhere a scolding message to a nearby cinderblock, but we could never remember to bring our Post-it Notes.
Our hygiene concerns prevent us from hanging our items atop your item, as by now they are almost certainly contagious. Given their once-sporty fabric and design, these saggy beige panties do not conjure up Parisian trysts. We might have simply thrown out the offending undies, but we were raised to respect others' personal property.
Help us to understand. We wear our underwear on our body. Did you miss the email about how to get a locker? Or perhaps you didn't feel that you deserved a locker? If it's the former, let us go together post-haste to see the athletic facilities manager. If it's the latter, we urge you to visit the beautiful new campus health center, where they have some excellent counselors. There, you might also explore your exhibitionist tendencies.
We would ask if you were raised in a barn, but the barns we know are in fact very orderly. In a tack room, you will find tack. In a locker room, you will find lockers. Use them.
Given that this is a liberal arts college, perhaps metaphor can serve us. What if you were to offer us a ride home in your new car? What if we were particularly grateful for the offer because we were coming down with a cold? What if on the drive home we repeatedly blew our noses and tossed the Kleenexes on the floor of your new car? How would you feel about those tissues? Would you want to touch them? Or would you think to yourself, "My passenger should pick up her own dirty tissues!"
Perhaps you are not of a literary bent, and we'd do better to approach this mathematically. There are approximately 160 professors at Kenyon, half of whom are women. There are at least as many female staff members, and, given Title IX, we now have many female coaches for our myriad women's sports teams. What if each of these women were to hang her undies on one of the nine or ten hooks available? It would transform the locker room into a Freudian dreamscape or, more accurately, a nightmare!
In case neither of these scholarly approaches has persuaded you to collect your undies, let us turn to memoir. When we were children visiting the home of George Washington, we wanted to pick a flower. Our mother explained that if everybody who visited Mount Vernon picked a flower, there would be no flowers.
To be fair, you are not the only offender — others monopolize hooks with their graying towels, and the limited shelving teems with generic 2-for-1 shampoo/conditioners — but you are the worst offender. If this were a reality television show, we would have no choice but to vote you off the island.
Since that is not an option, we the female faculty, staff, and coaches must ask you to cease and desist in bogarting the hooks, which are at a particular premium given the house architect. Barring that, we suggest that, in the future, you go commando.
Sincerely,
A faculty member whose initials are W.M.
Respecting the Classroom
By Robin Davis
Glenn McNair, associate professor of history, starts his first class of the semester the same way. He projects his syllabus onto the screen behind him, then proceeds to spend almost a full hour lecturing—not on required readings and test dates, but instead on classroom etiquette.
"I take roll every day. Class begins at 8:10. I start talking at 8:10," he says to his Contemporary Black History class. "If you're late, I'll stop class, and you'll apologize."
He goes on to note that he doesn't answer the phone in his office ("Phones disturb me."), and he won't respond to emails about something he's already covered in class. ("That information is already in your universe. Look around. Figure it out.")
All of his courses, from introductory to upper-level, have the same rules. If it sounds pointlessly strict, it's not. None of his rules is arbitrary. "This course is designed to teach you the subject matter, but also to transition you into the real world," he says to his students on the first day of each semester.
His students quickly get the point. "The first day, I thought 'This is going to be intense,'" said Matt Williamson '18, who took Early Black History his first semester at Kenyon. "But he's not going to come down on you. It's about respecting the classroom."
And that respect, McNair points out, isn't just something he insists on for himself; students also owe it to one another. "One of the secrets of success is working with other people," he said. "Education is not a solo exercise. Classes are very intimate. You have to trust the people in class with you."
Once the ground rules are established, McNair's classes settle into a comfortable routine. "There's not a feeling of fear of breaking the rules," said Williamson. "It's more you want to do the right thing because you enjoy the class. He's such a relaxed presence in the classroom that you feel compelled to follow the rules because you don't want to ruin the atmosphere."
McNair's Musts
• Be on time. "On time" means in your seat and ready for class, not walking through the door. If a student comes in late, McNair stops class and makes him or her apologize. "Punctuality tells a lot about you," he says.

• Set up face-to-face appointments. McNair does not answer questions about tests or assignments via email. "You spend a lot of money to have interactions with professors. The answers I can give you in person are more detailed than anything I can write in an email," he says.
• Consider the time. McNair does communicate via email, but only between 9:00 a.m. and 6:00 p.m. weekdays. "It saves me from answering emails twenty-four hours a day."
• Turn off and unplug. He doesn't allow technology (cell phones or laptops) in class because the point of discussion isn't to find the "right" answer on the Internet; it's to participate and debate. Plus, he feels that when students take notes on their laptops, often they're not actually processing the material. "This generation can type what they're hearing without listening. They basically take dictation."
• Call him professor. "The relationship between teacher and student can get blurry," he says. But he sends all of his students an email after they graduate, inviting them to call him Glenn. "It shows a change in the relationship," he says. "I think that's important."
Our Etiquette Experts Opine: On Wine
Lettie Teague '83 is the wine columnist for the Wall Street Journal and the author of three books on wine, including her most recent, Wine in Words: Notes for Better Drinking.
Q: When you're taking wine to a dinner party, do you take something the hosts like (assuming you know) or something you enjoy and would like them to try?
A: If you know what the host likes, bringing that would be the right thing to do. If you have something you're convinced is interesting, that's laudable. But I never bring one bottle; I bring two. Then you could do both.
Q: If a guest brings a bottle of wine to your home, are you required to open it?
A: I've brought very nice bottles to people's homes and watched them put it away and serve horrible stuff. But it is the host's decision. The best thing to do is to ask ahead what they're serving and pave the way for the wine to be opened. But ultimately, you can't get too attached to it.
Q: When is it appropriate to send back a bottle of wine at a restaurant?
A: Before you send it back, ask the wine director or sommelier (assuming the restaurant has one), especially if it's a wine you don't know. Maybe it's not corked. Maybe it's just a wine you're unfamiliar with. Let the wine director confirm. A good sommelier is the gatekeeper.
Q: Should you tip the sommelier or wine steward separately at a restaurant?
A: Nobody does that anymore. Tip on the bottom line. If you get great service, tip 25 percent. But if you bring wine [as many restaurants allow] and you have special service, then a cash tip is never unappreciated.
As the director of South by Southwest Interactive, Hugh Forrest '84 presides over one of the world's most buzzworthy…
Read The Story
Kenyon alumni create a pioneering online library to help breast cancer patients cope with changed lives after treatment…
Read The Story