A Perfect Balance
Between three stints in the White House and two decades in business, Joe Hagin '79 has managed his life's work in both the public and private sectors.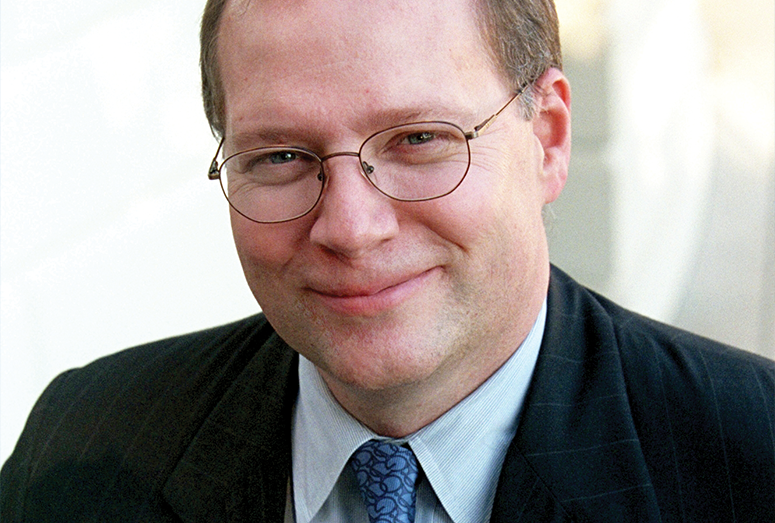 Those who follow political news have likely read about recent changes in the Secret Service, including the replacement of a number of top officials and the appointment of a new director. Kenyon has a connection to these changes in Joe Hagin '79, who served on the independent panel that investigated the agency.

"I was honored to be asked to participate," said Hagin, who has worked in the White House under three administrations. "In most of my various jobs at the White House over the years, I have been in a position where I worked very closely with the Secret Service, so I have a fairly intimate knowledge of how they operate."

As a member of the four-person bipartisan panel, Hagin helped conduct 170 interviews with members of the Pentagon, security officials, and military officers. At the conclusion of the investigation, the panel suggested a number of changes in a report sent to the Department of Homeland Security at the end of last year: comprehensive budget reform, increased training, a new fence around the White House, and the selection of a new director. The panel "was in full agreement," Hagin said. "It was a very positive experience, and nice to do something in a bipartisan way in Washington today."

Hagin, born in Lexington, Kentucky, and raised in Cincinnati, jump-started his political career immediately after graduating from Kenyon with a degree in English by working for George H.W. Bush's presidential campaign. When Bush became vice president to Ronald Reagan in 1981, he asked Hagin to serve as his personal aide, which allowed him to travel the world with the vice president. "You're the right-hand guy," Hagin said of the position. "It was maybe the best job I've ever had in my life."

Halfway through Reagan's term, Hagin was appointed assistant to the vice president for legislative affairs, making him the vice president's representative on the Hill. Bush offered Hagin career advice as well. "You ought to get some private sector experience," Hagin remembers the vice president telling him. Hagin took the recommendation to heart and spent the next fifteen years focused on building a career in business as director of public affairs for Federated Department Stores (now Macy's) and vice president of Chiquita Brands. He kept his hat in the political arena, however, aiding Bush's successful 1988 presidential campaign and serving as appointments secretary to the president from 1988 to 1991.

In 2000, Hagin was asked to return to politics full time as deputy manager for George W. Bush's presidential campaign. When the younger Bush was elected, Hagin was named his deputy chief of staff with responsibilities ranging from managing the president's schedule to overseeing Oval Office operations and organizing foreign travel. "It was an all-consuming job," said Hagin. "Seven days a week, fourteen hours a day."

His desire to return to private business changed after the terrorist attacks in New York and Washington, D.C., on September 11, 2001. "I just didn't feel that, during the midst of a war, it was right for me to go back to the cushy private sector job," he said.

He recalls being particularly moved by President Bush's strength during the crisis. "I will always admire how steadfast and strong he was in those really horrible days," Hagin said. "When the cameras were off, he was great at rallying people who were frightened and whose spirits were down."

Hagin eventually did leave the White House in 2008 and became a founding partner of Command Consulting Group, a global security and intelligence firm in D.C. where he remains today, working on both public and private sector projects.

Hagin recently returned to the Hill — this time the one in Gambier — to speak with students about his experiences. He attributes much of his professional success to his Kenyon education: "Kenyon really does teach you how to think and analyze," he said. "I felt prepared for the world."

With his Secret Service committee work now complete, he feels satisfied to stay in the private sector, dividing his time between his home in Cincinnati and his work in D.C., at least for the time being. "Maybe towards the end of my career I'll do one last tour in the government," he said, chuckling. "Something fun — like being an ambassador."
We examine the state of good manners, on our idiosyncratic Hill and in the wider world.
Read The Story
As the director of South by Southwest Interactive, Hugh Forrest '84 presides over one of the world's most buzzworthy…
Read The Story
Kenyon alumni create a pioneering online library to help breast cancer patients cope with changed lives after treatment…
Read The Story