On a Mission
Richard Dickey '59 uses his retirement years to help Haitians with medical care.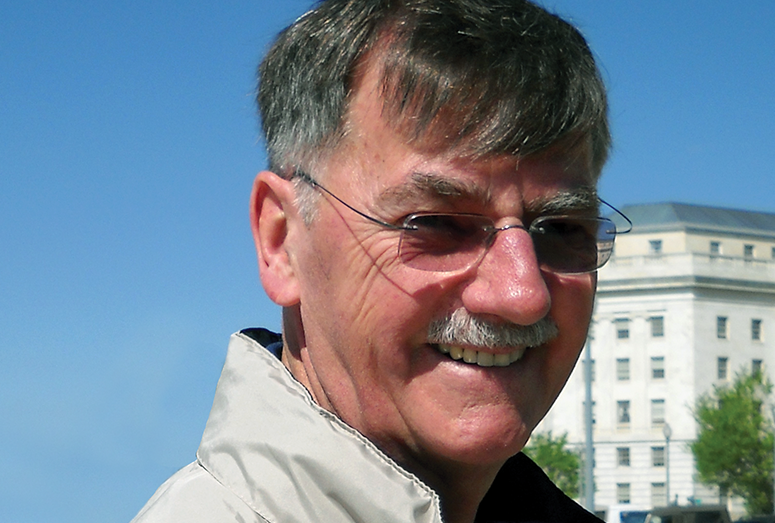 Zoom in on a satellite view of the Haitian island of Gonâve, and all that's visible is a small city and a handful of villages dotting the Caribbean shores. The island hosts few roads, no farms, no industry. But for retired endocrinologist Richard Dickey '59, Gonâve has become a travel destination in recent years — not to enjoy sun-kissed beaches but instead to bring much-needed medical services to impoverished residents.

Dickey made his first visit to the island in 2012 after his church, St. Alban's Episcopal Church in Hickory, North Carolina, adopted the village of Gros Mangle. He made the trip with several nurses and physicians and his wife, Margaret. "When we went on our mission trip, there had been no medical services of any type to that village in the preceding seven years. There was a lot of need," Dickey said. He and others returned in 2013 and again in September.

Dickey and other medical volunteers, each paying their own way, have conducted minor surgery, treated diseases, and distributed medication, eyeglasses, and dental-care products, serving nearly 300 people each trip. "In this village, we take over a couple of school buildings and a chapel, concrete-block buildings with no furniture or amenities, very bare bones. Our challenge was how do we set up a medical clinic in such a situation.

"We can't do anything complicated because there is no operating room. If we see someone with a particular problem, we try to figure out how to get them to a hospital," Dickey said.

One issue leads to another. "We recognized the first year the problems with hygiene, the (shallow) wells. We have raised money to drill two wells to get clean water in the village. We also support the teachers at the school; we raise money for that."

Dickey had an active medical career, so it's no surprise he is having an active retirement. He was a co-founder of the American Association of Clinical Endocrinologists in 1991 and later served a term as the group's president. He retired from his medical practice in 2001 but kept his hand in medicine by working at a free clinic in his hometown.

Much earlier in life, he made his career choice the old-fashioned way: "Actually my family had decided that."

One of his grandfathers worked for the late Cleveland businessman, Robert A. Weaver 1912, who, as a Kenyon trustee, recommended the school for the young Richard Dickey. "Kenyon had a pre-med program at the time," Dickey said. "Kenyon's pre-med was tough, and that's why all of us ended up getting into medical school and graduating from medical school.

"It was such a strong program. I loved it."

The church plans more trips to Gros Mangle in 2015, and Dickey says he will participate if his services are needed.

"I've been to Mexico, the Philippines, many countries I thought were poor, but nothing as poor as Haiti," Dickey said. Haiti is considered the poorest country in the Western Hemisphere, with 80 percent of its people living beneath the poverty line and more than half said to be living in abject poverty.

"There are tremendous needs, health and education needs you cannot believe," he said. "This island is as poor as you can get. There are no paved roads on the island except one or two paved with concrete blocks. A few villages have fresh water."

Dickey's reasons for participating are simple: "Because I'm a physician, and I was asked by my (parish) rector. I've gotten the satisfaction of being able to help people be healthier, help people raise their children, and take advantage of education opportunities they wouldn't have had otherwise."

And the Haitians? "They are wonderful people. That's the saving grace of it all; the people are just spectacular. They are so thankful and nice. It's what brings us back."
As the director of South by Southwest Interactive, Hugh Forrest '84 presides over one of the world's most buzzworthy…
Read The Story
We examine the state of good manners, on our idiosyncratic Hill and in the wider world.
Read The Story
Kenyon alumni create a pioneering online library to help breast cancer patients cope with changed lives after treatment…
Read The Story