The Garden Crew
How Writer-in-Residence P.F. Kluge '64 and his wife, Pamela Hollie, became surrogate parents to a generation of Kenyon students and grew lifelong relationships.
Story by Molly (Willow) Vogel '00 | Photographed by Nancy Andrews
The white house on Ward Street sits behind a thick row of tall arborvitae, which shields it from the passage of traffic and time. You could almost miss it, tucked back there. Each item inside has a story: the elaborate wooden birdhouse, rescued when it fell off a truck in the Philippines; the leather ottoman bought as a surprise in Morocco; the solid wood bar, shipped twice in international waters, which weighs almost a literal ton but is a great spot for sipping cognac. Built in 1827, the house is almost as old as Kenyon College itself. It didn't have a porch back then, or a sun-drenched sitting room addition, with a ceiling like a ship built upside down, modeled on a Balinese pavilion, with a view to the yard and garden in back.
Depending on the season, the garden might not be much to look at, but with dozens of hands tending to it over the decades — shared ownership and struggle (read: deer) — this garden has stories, too. It is also a plot device, which is appropriate for a home that has been owned by writers for more than 25 years.
As with any story about a garden, this one involves a fair amount of manure; whether everyone knew what they were doing in the dirt is beside the point. Roots were planted, friend-ships grew, and it became the perfect center of two well-spent lives.
The Transplant
George Stone '95 and D. Matt Voorhees '95 met in Lewis Hall on move-in day in 1991 and immediately became best friends, living in the same dorm every year and spending all four spring breaks together. And they've more or less been following each other around the country in the nearly 30 years since. Both now live in Washington, D.C., where Stone sometimes drops in on Voorhees at work and tries to drag him out for a hike (knowing full well that Voorhees will decline because the weather is bad and he'd rather be in Florida, anyway).
Like any good Kenyon best friends, Stone and Voorhees love to tell stories about their shenanigans as students: Playing gin rummy for pennies, working on papers for their common Perry Lentz class, and even hosting an "Eddie and the Cruisers" themed birthday party for reasons that will become clear.
Initially, the 18-year-olds weren't sure what to make of the curious old man who lived down the hall from them. Okay so he wasn't really old yet — a few months shy of 50 — but he didn't exactly blend in with the students. For starters, he had a glamorous and worldly wife. Their neighbor, of course, was P.F. Kluge, embedded in his old first-year dorm while he wrote "Alma Mater: A College Homecoming," the memoir that chronicles his year of returning to the college from which he graduated in 1964, from Convocation to graduation and everything in between. Like any first-year student, Kluge also made lifetime friendships — with Stone, Voorhees, and their other hallmates. Over the years, the circle would expand as different generations toiled in the garden on Ward Street, at the house Kluge shares with Pamela Hollie, his wife and chief protagonist.
In the intervening years, Kluge, Hollie, Stone and Voorhees have traveled together to Mexico, Austria, the Czech Republic, all over Bali and Asia, and, most recently, Hawaii. They are a family of sorts, where love and mockery can be a matter of inflection. And Kluge started it. In "Alma Mater" he wrote of his return: "Coming to Kenyon is as close as I can get to coming home. Like salmon to spawning stream, like eagle to nest, like dog to vomit, I return."
Voorhees remembers how taken he and Stone actually were with Kluge back then. "The dude wrote 'Eddie and the Cruisers!' He might as well have been Robert DeNiro."
The pair set out to befriend the "famous writer living up the hall." He ordered a clean-up of the then-all-male dorm — no puke, no beer cans — before his wife visited. Then they met Hollie, and the bond was sealed.
"We thought that he couldn't possibly have a wife," Stone said. "There is no way someone would marry this man. We were just humoring him."
"Then Pamela comes in from Chicago," Voorhees added. "Full-length mink coat. Scooting down the hall of Lewis. You're like, 'Oh my god, that's why he didn't want anything on the floor, she's wearing this gazillion dollar coat.'"
Stone: "She looked like Jessye Norman, the opera singer. Our jaws were on the floor and we were like, like, surely you've got the wrong address."
Voorhees: "We were like honestly —"
Stone and Voorhees, together: "Flabbergasted."
"She commands a certain sort of respect," Stone said. "We were fascinated by Kluge, but she's the one who created this structure for our friendship to flourish for 30 years."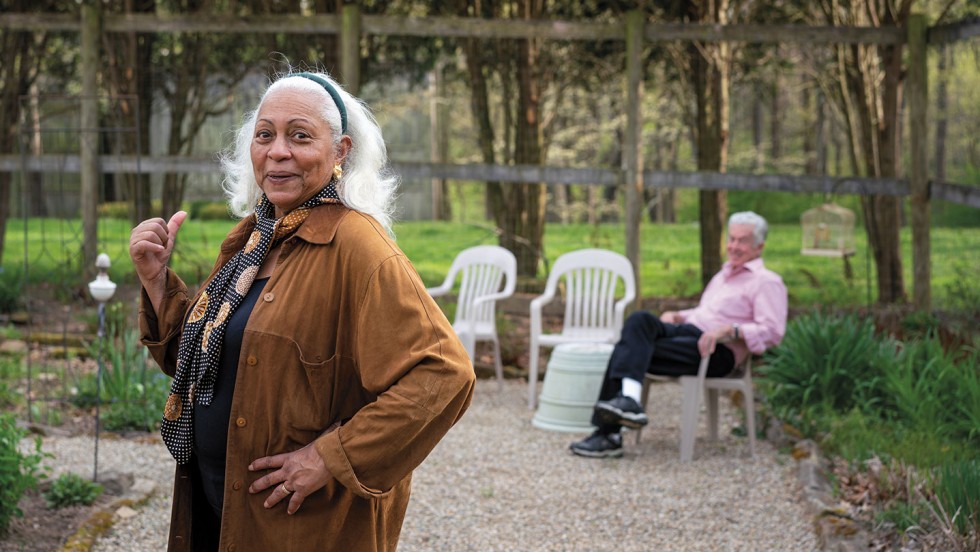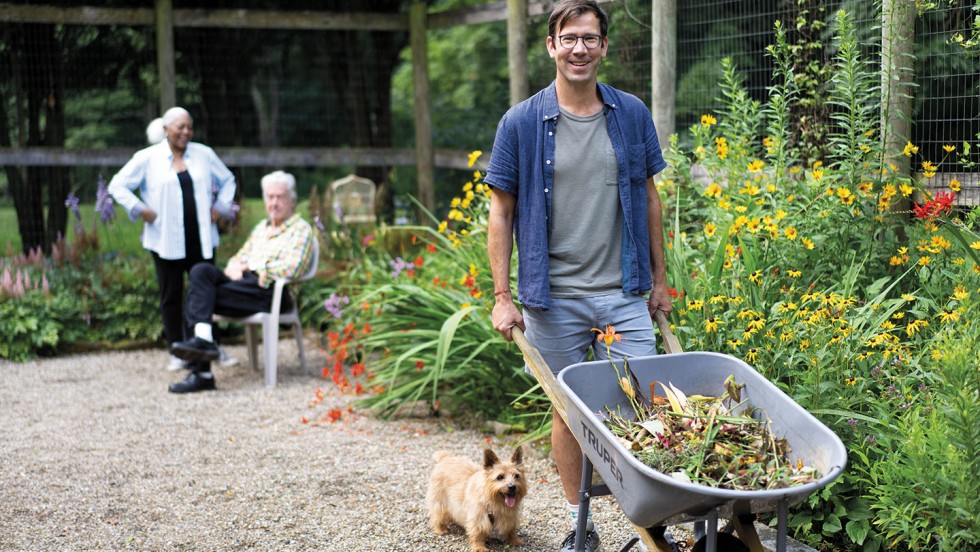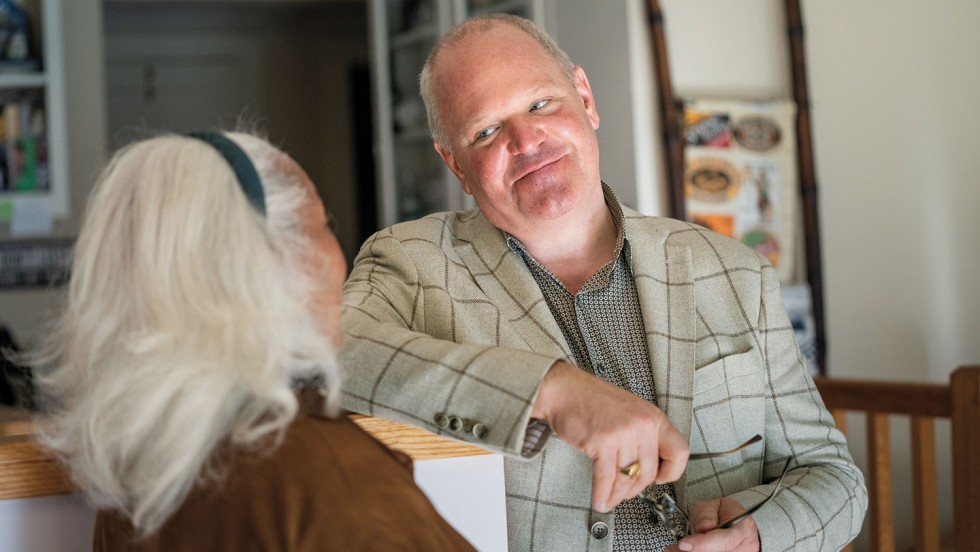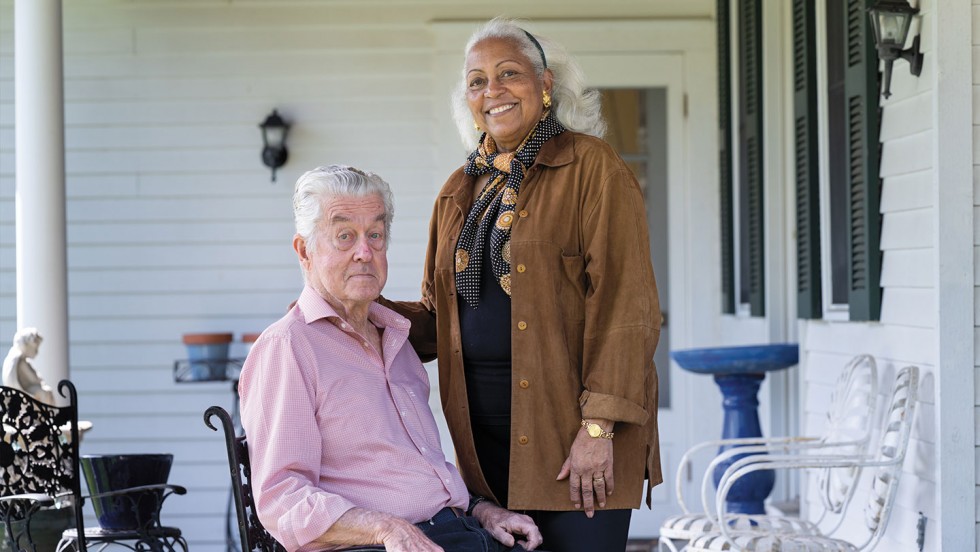 Germination
Kluge and Hollie first met in an elevator in 1970, in the offices of the Wall Street Journal in Los Angeles, where he was a cub reporter and she was a summer intern. She was 22 and he was 28. Next came a stint in New York, where he worked at Life magazine, and she was at the Journal, now as a reporter. In "Alma Mater," Kluge cites his own college application, where he listed "foreign service work or foreign correspondence" as his life's goals — both of which he accomplished. By Hollie's count they've lived more than 20 places, often with long stretches on opposite sides of the world, pursuing their chosen professions, including semesters at sea for him and three Fulbrights between them. (Him: Bucharest, Romania; her: Malaysia and Prague.)
After Kenyon, Kluge joined the Peace Corps in Saipan, Mariana Islands, where Hollie later worked as a consultant for the United Nations Development Program. Together they had a stop in Micronesia, where he helped write the preamble to that nation's constitution, and she covered its constitutional convention for the Honolulu Advertiser. They married in Honolulu in 1977, when she had a fellowship in Asian studies there. They lived together first. "Because I don't like making mistakes," she said.
Hollie worked for the New York Times from 1977 to 1987, as a national correspondent, financial writer and foreign correspondent, and Kluge wrote numerous articles and books while also lecturing and teaching abroad. She was working in Chicago as the director of corporate contributions for Kraft General Foods when Kluge became a Kenyon first-year — again.
When "Alma Mater" came out in 1993, Kluge was teaching at the University of Pittsburgh's Semester at Sea program; he was in the Suez Canal when the book hit campus. He came back for the spring semester, to a warm enough reception. He took trips to New York and D.C. with Stone and Voorhees on jaunts they called the "Kluge study-abroad program," where they showed Kluge all the good bars, cigar shops and bakeries.
In 1995, Voorhees and Stone graduated from Kenyon and Hollie took a position in Manila with the Asia Foundation. Kluge stayed in Gambier part-time, becoming Kenyon's writer-in-residence — a position he held until his retirement in 2020. He'd teach for half the year and then join Hollie in Manila, or wherever, and write. After Hollie left Chicago for Manila, they needed a home base. But where?
Kluge certainly seemed happy living life in constant motion. As Stone explained it: "Pamela's like, 'No, we are going to commit. We are going to put down roots.' The fact that it was this house, with lots of land with lots of potential — potential that wasn't remotely realized at that point — that is a very Pamela space to be in. She can think big and do it."
Kluge and Hollie bought the house on Ward Street in 1997 and got to work, inviting Stone and Voorhees back to help them put in the garden. Or maybe that wasn't part of the invitation, if there even was one. No one is sure. Regardless, Kluge said he came up with the name "Garden Crew," which sounds right.
Voorhees is careful to cite Stone's horticultural bona fides. "George was one of the country's fore-most editors of our country's finest garden magazine," he said, mulching the tale slightly. (Stone was an assistant at Garden Design magazine.)
"Yes, so naturally I became an instant expert and knew everything," Stone laughed. "And also at that point we had zero dollars." Who were they to turn down a vacation with free room and board?
To garden, they first had to evict the deer that had been making a home there. The assertively tall fence around the garden is a testament to Kluge's eternal battle. "That's his struggle in life," Stone said. " Compared to his struggles with deer, writing books is easy."
Voorhees was put in charge of boulder relocation. "He's always been a strong guy and in good shape, he would move the biggest rocks," Hollie recalled.
"For me it was great to lift rocks and slam them down, because I was frustrated with maybe how things were going at work or something," Voorhees said. "They used us for different things."
"Matt is very strong and so he was the earth mover," Stone said. "And I was there. … Why was I there?"
"Your fine point of view," Voorhees offered.
"Oh yeah, fine details. I could do weeding work, detailed weeding work. I can do edging."
"And you can talk a lot."
"And, more importantly, I can listen. And I make lots of jokes about hostas; if there was an ugly patch of the garden that had tons of hostas that was 'hosta territory.'"
Hollie undersold their gardening aesthetic as "whatever sort of appeals to us, we stick it in the ground." They're not afraid to start over. Stone and Voorhees will never forget laboring over raised beds one summer only to learn after they left that Hollie had always intended to have them torn up to build that Balinese pavilion addition in 2003. They came back anyway and dug again.
Gardening aligns with Kluge's disciplined approach to life, in Voorhees' view, whether that's in running or writing. "He likes to see that progress. The garden is a place where that effort really pays off — until the deer eat everything."
The guys' labors were rewarded with day trips to greenhouses, breakfast stops and dinners — steaks or Muscovy duck — and with ironed cloth napkins, forks arranged tines down à la française, and an air of elegance that isn't standard for 20-somethings. In his book, Kluge quotes his friend Lentz waxing nostalgic about the faculty of yore, saying they took seriously the idea of providing a social world for students, including access to "adult conversation." The Garden Crew had this and more.
Stone remembers how special it felt to be taken seriously by successful, established people who shared their perspectives. "They are natural educators and communicators and they give you the gift of attention and caring. You rise in your outlook, and you learn a lot talking to them, but you sort of elevate yourself by being able to talk to them and hoping to emulate them in some way."
"They became a kind of family over time — not immediately," Hollie said. "That's part of what being at Kenyon is, the relationships you build. Because it's such a small community, the greater chances of getting to know someone really well — and not just someone who lives down the hall from you in the dorm — but people in the community."
Cross-Pollination
Voorhees and Stone came back to Ward Street at least twice a year for a decade (in addition to Reunion). Then the group shifted more
to taking international or tropical vacations together, aligning nicely with Stone's position at National Geographic Traveler, where he started in 1998 and has since risen to executive editor. Still: "There hasn't been a year where I haven't worked in their garden in 30 years," he said.
For his part, Voorhees eventually hung up his garden gloves. "Pamela and I would just cook and drink wine, and then go out and we would go sit in the garden while Fred and George kibitzed and dug."
That left plenty of gardening to the next classes, including Barbara Kakiris '97, Matt Cabrera '03, and Katie Tully '04 — around 30 alumni in all — digging in the dirt over the years. Tully is now the most qualified of the bunch: she's an associate professor at University of Maryland, where she teaches agro-ecology and runs an urban farm in Washington, D.C.
She remembered initially sitting in the back of Kluge's classic "American Novel" class, intimidated. Then she met Hollie at their end-of-the-semester dinner party, and you can probably guess the rest. "In their way, they sort of adopted me," Tully said.
She housesat for the couple during her junior year, when Kluge's work for National Geo-graphic Traveler took him and Hollie to Austria. In later years, Tully helped move banana plants and hostas, and planted bunches of lilies. She remembers trips to garden centers for vegetables and mulching and weeding, along with a breakfast at Wiffletree Restaurant in Butler, the one Kluge wrote about in his 2019 non-fiction essay collection, "Keepers: Home & Away."
During one visit, Kluge commented on the attached country store and its many kitschy costumed ceramic geese. "He's like, 'this is the most niche market.' You know how Fred loves the texture of a place."
So Tully left money in the mailbox and spirited "Gabby the Goose" home to Ward Street (mostly to appall its residents, who failed to be appalled). Her mother even sewed a graduation outfit for the goose, who also enjoyed Fourth of July and Halloween costumes. Then someone (no one will confess to knowing who) stole the goose, "Amelie" garden gnome-style, and sent photos of it framed in scenes around the world.
"I just love them so much," Tully said. "When I go to Gambier and I go 'home,' I go to their house. That's what feels like home. Kenyon would not be Kenyon without them."
Bethany Lye '03 echoed the sentiment. "They're like Kenyon to me more than anything else," she said of the people she calls her "fairy godparents," who took an interest in her and dreamed bigger for her than she ever did. They encouraged her to apply to Columbia University's journalism graduate program, where Hollie earned her master's and later directed a fellow-ship program in the late 1980s. Lye pursued health and science journalism then took a fork when she got a job as the executive assistant to Larry Hackett, then-editor of People Magazine, where she went on to become a writer.
"I always felt like they had the purest intentions for me, thinking the very best of me and wanting the very best of me. It's really special," Lye said.
The feeling is unquestionably mutual. "Our 'kids' are probably better than if we'd had our own kids," Hollie said. "They are incredibly generous with their time, energy and love, and it's really, really lovely."
This summer, Kluge and Hollie traveled to Austria with Rohini Pragasam '90, who took the first class Kluge ever taught at Kenyon. He made a big impression and then she met Hollie. "I was like, this is the kind of person I want to be when I grow up: world-traveler, journalist, self-assured."
Pragasam reconnected with Kluge when he visited New York a decade or so after she graduated. She told him about her unconventional path from financial sales and trading before transitioning to public relations (PR), then working her way up to running PR for a large investment bank. His response was so perfectly Kluge, she wrote it down: "So, R. Maxine, without any real formal training or know-how you've managed to flim-flam your way into a life of flackery!"
Today, Pragasm says the relationship she has with them is one of unconditional acceptance and guidance, with a healthy dose of skepticism. "They're not this sappy, treacly couple. They will tell it to you straight. That's what I love."
Brutal honesty is a recognizable trait to anyone who ever took a Kluge class or received his weekly "winners and sinners" assessment of The Collegian, for which he served as an advisor for years, and remains advisor emeritus. James Sheridan '00 remembered deeply valuing Kluge's feedback on his movie reviews, even when it came shouted at him across a lawn and colorfully called out his misspelling of director Martin Scorcese's name. That was 25 years ago, but Sheridan can still quote it, stays in touch and always spells the director's name right.
Propagation
For the Garden Crew originators, "Kenyon went from being about the school and my classes, and Gambier being about Kenyon, to Gambier being about Kluge and Pamela, with Kenyon being very important but secondary to the friendship," Stone said.
Voorhees agreed, adding: "I'll use a garden word: more perennial."
Voorhees, in addition to his earth-moving abilities, co-founded and serves as CEO of Any-bill Financial Services, a Washington, D.C.-based provider of tax payment services. He's a member of Kenyon's Board of Trustees and has given generously to Kenyon, putting Kluge and Hollie at the center of his philanthropy. He created an endowed fund in Kluge's name for The Collegian and, in giving to dedicate Keithley House for his mother, Marilee Keithley Roche, in 2018, he also named the P.F. Kluge and Pamela Hollie Seminar Room within. (The Morrocan ottoman in Ward Street is also from him.)
Earlier this year, he made a multi-million dollar gift to endow a chair in honor of Hollie, making her the first solo woman and first woman of color to receive such an honor at Kenyon. The Pamela G. Hollie Chair is awarded on a three-year basis to support "a tenure or tenure-track faculty member in any discipline whose teaching and research programs address global challenges including (but not limited to) climate change, immigration, food security, access to justice and civil rights." The inaugural holder is Professor of Chemistry Yutan Getzler, whose work focuses on sustainability in materials science, particularly plastic waste.
Hollie is looking forward to seeing Kenyon play an ever-increasing role in the global conversation for good. She sees the chair as recognition of the role the broader community plays at Kenyon, and how Kenyon needs that community to sustain it. She also understands well the role that giving plays, having worked in what's now the Advancement Division at Kenyon from 2005 to 2013 — in a position created to encourage young donors to become philanthropists.
Kluge retired in 2020. He and Hollie made it back from Micronesia that March just before the borders closed due to the pandemic, and spent more time at the Ward Street house than they had in years. "We did a lot more gardening," Hollie said.
Kluge also recently completed his 15th book, a nonfiction work about being a writer and teaching at Kenyon. It's called "Wordman," the name of the narrator in his second novel, "Eddie and the Cruisers" — and the theme of his 50th birthday in Lewis Hall. Pragasm and Tully make appearances in the book, as does novelist John Green '00 and Megan Dobkin '95, a film and television producer at Big Kid Pictures.
You could fill a book with all of these Ken-yon stories, and Kluge has, several times over. In "Alma Mater," he described Kenyon as "an island, with all the island qualities: a sense that everything is connected, nothing is ever over, and everything that happens ought to be taken personally. The kind of place that, on its good days, can feel like the heart of the universe, the perfect center of a well-spent life."
He wrote those words 32 years ago, planting the seed for exactly that.
---
Molly (Willow) Vogel '00 works at Kenyon and is the current advisor for the Collegian. She got a B in Kluge's "Intro Fiction Writing" class.
"There's very little artifice to the American story when you look at how we treat the dead," according to…
Read The Story
20 things to know about Kenyon's twentieth president that you won't find on her resume.
Read The Story