One of Us
Carla Birnberg '91 shares the nontraditional path that led to her work with a foundation that supports young Kenyans with disabilities.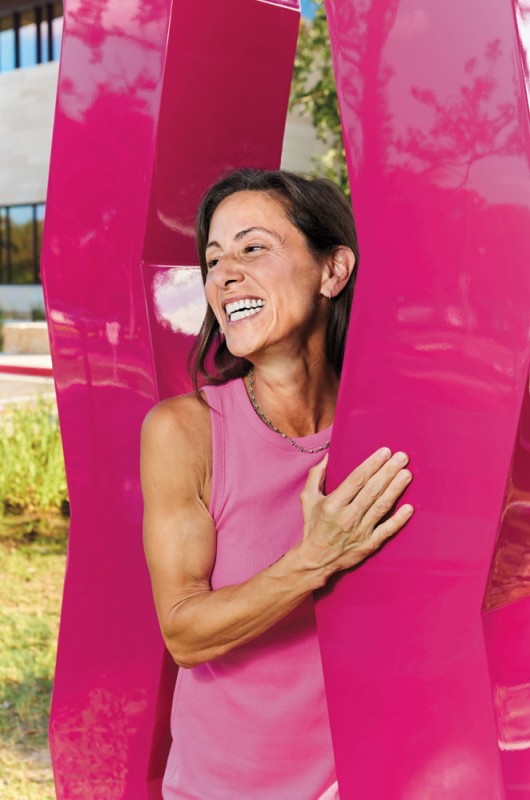 Carla Birnberg '91 once planned on becoming the dean of students at a small, private liberal arts school (inspired in large part by Kenyon's dean Cheryl Steele). Ever the accidental non-traditional path-taker, she earned a master's degree in education and, in 1993, pivoted. Following her growing passion for bodybuilding and fitness, she opened a personal training studio in Chapel Hill, North Carolina. She became part of the inaugural group of online influencers with her MizFit blogging and brand, working with companies like Birkenstock, being named the Fila brand's first "Spokesmom," and partnering with tennis star Venus Williams (who provided a blurb for Birnberg's 2019 book, "What You Can When You Can: Healthy Living on Your Terms"). Now, she works with a foundation based in Nairobi, Kenya, using technology to help people who have been historically marginalized take their next steps toward economic independence. "It's work I never imagined doing with my liberal arts degree," she said, "and it's phenomenally rewarding."
Major: English
Born in: Pittsburgh, Pennsylvania
Current residence: Austin, Texas
Occupations: My East African work has expanded now, including serving as chief storyteller for the Next Step Foundation, which is based in Nairobi, Kenya. In this role, I amplify the stories of the historically marginalized, mainly people with disabilities.
What I've been up to since Kenyon: I launched a family blog to share the story of getting "stuck" in Guatemala during my daughter's adoption — an endeavor that grew into a robust and lucrative personal brand. I competed in bodybuilding shows, always the smallest, but also having the most fun.
Motto: In all I do, from work to friend-ships to parenting to coaching, I show up as authentic and flawed, and create space for others to do the same.
Proudest accomplishments: I live my life against the backdrop of the Hebrew idiom tikkun olam — the idea that Jews are called upon to make the world a more just and tolerant place through restorative acts of kindness. From my decade spent online writing about fit-ness and personal development, to the work I do today in East Africa, I'm tunate to have the opportunity to an impact on a daily basis. My most recent endeavor, the Upili Project, ties these all together. Mentoring, impact storytelling and DEI work in a global capacity — Upili taps into the power of targeted giving to enable young Kenyans with disabilities to graduate secondary schools and take the next step toward living an independent life.
The most surprising thing about life post-Kenyon: Everything? I think I surmised that my post-Kenyon life would be solidly predictable. It's been anything but, and I'm grateful for it.
Anything else? Spending so much time in Kenya, I probably laugh about the "Kenyon is not near Uganda" tee more than any other alum.
"There's very little artifice to the American story when you look at how we treat the dead," according to…
Read The Story
How Writer-in-Residence P.F. Kluge '64 and his wife, Pamela Hollie, became surrogate parents to a generation…
Read The Story
20 things to know about Kenyon's twentieth president that you won't find on her resume.
Read The Story