Book Shelf
Explore new releases from members of the Kenyon community.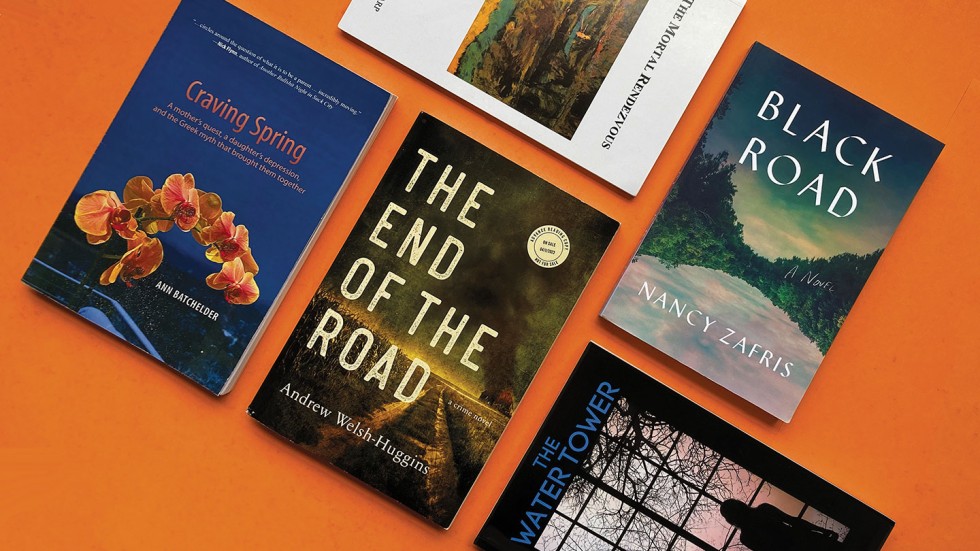 Black Road
BY NANCY ZAFRIS '76
In a small Ohio town, the star quarterback's pranks are legend. But one prank goes too far, leaving students injured and the town reeling from the consequences of that night. Part courtroom drama, part Greek chorus, and part ode to rural America, Nancy Zafris' posthumously published novel, "Black Road," is a testament to how one decision can change everything. Readers may remember Zafris as the long-time fiction editor of Kenyon Review, as well as the force behind the generative model of Kenyon's writing workshops, which she taught for many summers. (Unbridled Books)
The End of the Road
BY ANDREW WELSH-HUGGINS '83
Do the crime; serve the time. But for bank robber Myles it's not that simple. Some-times the only way to leave a life of crime behind is to kill the one person who could drag you back to the lifestyle you want to quit. When the murder-gone-wrong leaves Myles in critical condition, his girlfriend Penny, who just wants a normal life with the man she loves, takes matters into her own hands. But does she have what it takes to stop the biggest heist their small Ohio town has seen? (Mysterious Press)
The Mortal Rendezvous
BY WADE NEWMAN '78
Wade Newman's fifth collection of poetry showcases his keen eye for detail. Oscillating between free verse and more traditional poetic forms, "The Mortal Rendezvous" is an exploration of all the complicated meaning embodied in relationships, from friends and family to lover and stranger. (White Smudge Books)
The Water Tower
BY AMY YOUNG '01
On the surface, Josie has accomplished her dream of becoming a successful actress in Hollywood. But on the inside, she's battling demons, and one day those demons surface in the form of a breakdown on set. She returns to the small Ohio town where she was raised to recover and takes a teaching job, though the respite is short-lived when one of her students dies under mysterious circumstances. (Level Best Books)
Craving Spring: A Mother's Quest, A Daughter's Depression, and the Greek Myth That Brought Them Together
BY ANN BATCHELDER '75
Ann Batchelder's "Craving Spring" has been described as a memoir that "elegantly illustrates the relevance of the ancient Greek myth of Demeter and Persephone to modern-day mother-daughter struggles." As her daughter battled depression and addiction, Batchelder confronted her own related battles. Through a loving exploration of love and family, both seek answers in ancient myths, showing readers how the stories we tell ourselves and each other can make all the difference. (Legacy Book Press)
---
Additional Releases
Russell A. Carleton '02, "The New Ballgame: The Not-So-Hidden Forces That Shape Baseball"
Kim M. Straus '76, "Raising Chickens in Santa Fe: The Artistic Life of Randall Davey"
Dr. Beth A. Sutton-Ramspeck '76, "Harry Potter and Resistance"
Have you published a book in the past year? Email editor@kenyon.edu and tell us about it.
How Writer-in-Residence P.F. Kluge '64 and his wife, Pamela Hollie, became surrogate parents to a generation…
Read The Story
"There's very little artifice to the American story when you look at how we treat the dead," according to…
Read The Story
20 things to know about Kenyon's twentieth president that you won't find on her resume.
Read The Story