Love at First Tweet
Bijan Khaghani '23 on his social media meet-cute with Kenyon and his most memorable moments.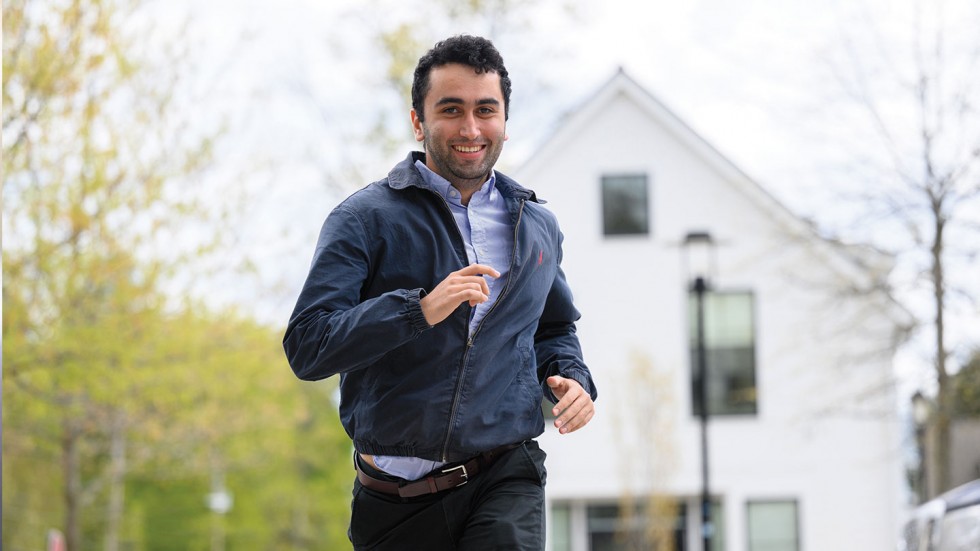 If a rom-com were made about Bijan Khaghani and his Kenyon experience, it would likely be titled "Love at First Tweet." When the sociology major from Chicago first visited campus as a prospective student, he knew little about the College. But he opened the Twitter app on his phone and typed in the words, "Coming to Kenyon." To his surprise, "the College tweeted back, saying, 'Can't wait to see you.'"
"I made it a game to keep tweeting at Kenyon as I was on campus, and they just kept tweeting me back," Khaghani said. "And it really made my experience. And when I got to see the campus, it was just so, so beautiful. It was so different from my experience when I was in high school. Going from a big public high school to a place where my tour guide quite literally was going around and pointing at people that he knew was such a magical experience."
But there was just one problem: money. "And that's when I tweeted, 'Hey, Kenyon. You're a little out of my price range, and moving to Ohio was never the full plan. What can you do?'" he said. "And the same person tweets at me again from the Kenyon account and sends me a link. In the course of 24 hours, that person was able to help me get a merit scholarship, which helped me come here."
After enrolling, Khaghani made it his mission to give "enough back to the community to be worth that kind of money." He immersed himself in all aspects of college life, serving as a leader on Student Council, organizing student fundraising events and working in the admissions office, where he finally met the person responsible for bringing him to Kenyon. "I asked, 'Who runs the Kenyon Twitter?' It turned out the admissions staff member who'd been tweeting at him five years ago, Mackie Avis '13, was right in front of him.
As he prepared to begin working as a para-legal at the New York law firm Groombridge, Wu, Baughman and Stone LLP, we asked Khaghani to share some of his most memorable Kenyon moments.
On the Gund Gallery
Through its popular art loan program, the Gund Gallery gives Kenyon students the opportunity to bring art into their living spaces and make it a part of their everyday lives.
There's this one art loan piece that I keep getting. It's called "Stacked Crossed Boxes (Purple)" by John Gibson. "Boxes" is a giant painting of two boxes stacked on top of each other. Every single time I've gone for it, I'm the only one gunning for "Boxes." And they're like, "He can just have it."
In my apartment, we used to have ferns, one chair and a couch. It looked like a late-night comedy show set, and "Boxes" was the perfect backdrop.
On Market Dogs
During his senior year, Khaghani helped coordinate Market Dog Day: for one day only, the Village Market returned the price of the Market Dog to 50 cents.
My first year at Kenyon, one of the big things that me and a few of my friends would talk about was the Market Dog; specifically, the price of the Market Dog and how it had changed. During the pandemic, if my friend Will Engel '23 and I couldn't see each other one day, we'd send each other pictures while eating Market Dogs. Having Market Dogs is what kept us so close even during the hardest times.
(New owners of the Village Market) Nick and Betsy Jones used to make jokes that I was their number-one customer because I would come in every day and chat with them about what used to be at the Market — fry pies, hot dogs. I ended up meeting with them so many times that they finally invited me to come when they made their first pizzas. I was in the room and I ate the first Market Pizza with them, and that was such a beautiful moment.
On Getting Involved
When I was in high school, I didn't talk very much. When I got to Kenyon, I wanted to get out there and be a part of this community that was already giving so much to me.
Even when I wasn't in a leadership role, I loved asking students questions like, "Do you feel like this is working? Do you think the administration's doing this there?" I got to be the person to stand for students.
When the pandemic started, I joined the student life committee, and 13 other committees as well.
20 things to know about Kenyon's twentieth president that you won't find on her resume.
Read The Story
How Writer-in-Residence P.F. Kluge '64 and his wife, Pamela Hollie, became surrogate parents to a generation…
Read The Story
"There's very little artifice to the American story when you look at how we treat the dead," according to…
Read The Story