New York State of Mind
A jazz-loving octogenarian's guide to New York City.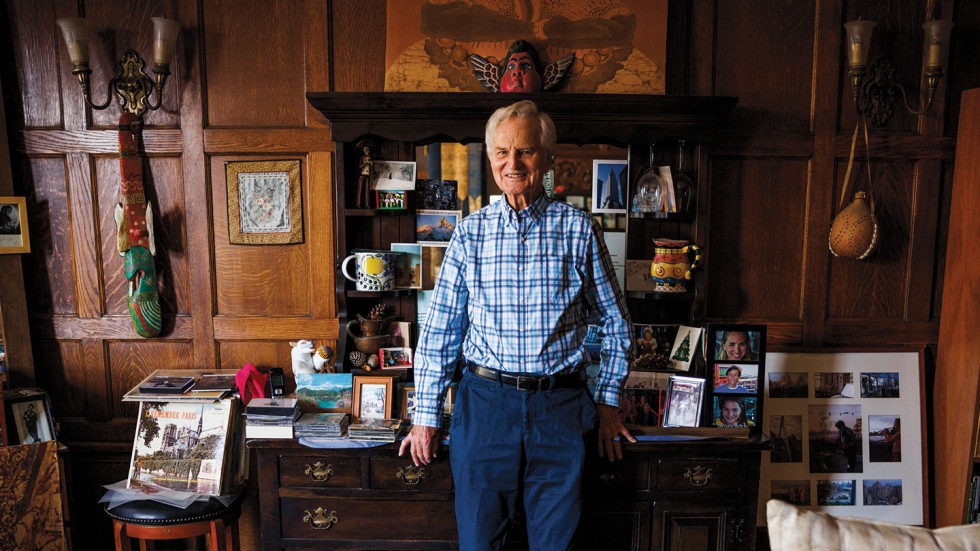 Many of the things Robert "BeBop" Palmer '59 P'81 loved about New York City shut down during the pandemic, including Broadway theaters and the New York Philharmonic. But one afternoon on a walk through Riverside Park, he spotted a drum kit. It turned out that David Ostwald's Louis Armstrong Eternity Band was giving free concerts in the park during the long lockdown months. Soon a crowd gathered, and the sound of the trumpet revived memories Palmer has cherished for seven decades.
Palmer played the trumpet in high school and was part of a six-piece dance band. When he was 16, he sneaked into the city and altered the date on his draft card to see Armstrong perform at the Basin Street East nightclub. He later collected autographs from Big Band legends Gene Krupa and Glen Gray. He offered them to Ostwald and his bandmates, and a friendship began. Now Palmer tries to catch the band on Wednesday nights at the Birdland in Midtown. His other pals, the Grammy award-winning twin brothers Peter and Will Anderson, perform there, too. Palmer met them after they played a tribute to Armstrong at Symphony Space, a performing arts center on the Upper West Side.
If anyone is surprised to see an 85-year-old man become a jazz groupie, they don't tell Palmer. "Keeping up with him in New York when I was young was hard," said his daughter, Michele Fracasso '81. "It just really energizes him, the city." That energy extends to waiting in line for discount tickets to Broadway shows. Last December, when theaters reopened, Palmer scored a $49, fourth-row orchestra ticket to see Hugh Jackman in "The Music Man."
"The theater is very important in my life," Palmer says. "That's my day job."
Before the pandemic, Palmer would leave his apartment on Riverside Drive nearly every day to hear jazz at Saint Peter's Church or attend a movie at the Film Forum. He would walk through Central Park, see a show and eat lunch out whenever possible. There are Turkish, Chinese, Latino and Italian restaurants within seven minutes of his home, and "due to all my travels, I have memories of meals in all these places," Palmer said.
Palmer spent many years after college abroad, working as a librarian
in Afghanistan and Zanzibar, and as the first Fulbright librarian in Wuhan, China. Fracasso attended eighth grade in Kathmandu and her senior year of high school in Bangkok.
Back in New York, Palmer served as director of the Barnard College Library for 13 years. He now lives in an apartment building overlooking the Hudson River, where his neighbors have included comedian Amy Schumer and actress Téa Leoni.
For much of 2022, his favorite night out was hearing an eclectic group of opera singers perform at the Greek restaurant Telio, a neighborhood fixture on the Upper West Side. They sang their favorite arias, and Palmer sometimes sang along, feeling "as though I was transported to a piazza in Rome." Unfortunately, the party ended when Telio lost its lease, a fate that has befallen many smaller cafes since the pandemic hit.
Most days, Palmer likes to grab lunch on his way to the Film Forum or the Metropolitan Museum of Art. He and his friend, David Grogan '59, try to have lunch weekly near Grogan's apartment on the Upper East Side. "Bob has a great sense of humor," Grogan said. "We have a lot of laughs." Grogan is president of Sweet Sam's Baking Company, a Bronx-based wholesale bakery that ships products nationwide, including a crumb cake that Palmer loves. He's also a landlord. Years ago, Grogan helped Palmer negotiate to stay in his apartment building. Grogan marvels at his friend's drive to keep exploring the city. "For his age, Bob is young and still going strong," he said.
Palmer's favorite day trip is to Governors Island, a 15-minute ferry ride off the tip of Manhattan. He first visited in the summer of 1956, when a friend was stationed on the island with the U.S. Army Band. Now he enjoys attending the Jazz Age Lawn Party, where people in flapper dresses and straw hats dance to the Great Gatsby-era music his high school band used to play.
Palmer has no plans to slow down anytime soon. "New York is people and action and electricity," he said. "My nature is to want to plug myself back into the electrical socket."
"There's very little artifice to the American story when you look at how we treat the dead," according to…
Read The Story
How Writer-in-Residence P.F. Kluge '64 and his wife, Pamela Hollie, became surrogate parents to a generation…
Read The Story
20 things to know about Kenyon's twentieth president that you won't find on her resume.
Read The Story