The Long (Book) Goodbye
The art (and math) of building a bookshelf bucket list.
Story by Andrew Welsh-Huggins '83 P'17 | Photography by Rebecca Tien
Recently, a bit out of character, I stopped reading a book. The volume in question, the American classic "Dog Soldiers," by Robert Stone, is a gritty 1960s novel about Vietnam and the drug-running culture it abetted back home. No offense to Stone or the book's place in U.S. letters; with its themes and prose, I can understand why its reputation preceded it. But for better or worse, it just didn't hold my attention. So I moved on.
My decision had less to do with literary critique than with necessity. There's a reason I have to be judicious in my reading these days. Having now turned 60, I recently realized I only have about 1,800 books left to read.
Growing up, I was the kid who always had his nose in a book — a back of the cereal box reader, my mom called me — and not much changed through my life. Even at Kenyon, I occasionally snuck a "pleasure" book or two in between all the required course reading. During that time, though, I couldn't have told you how many books I read each year. Then, after moving to Youngstown in the mid-1990s to take a job at The Vindicator (the family newspaper of Mark Brown '81), I met Morris Slavin. The retired Youngstown State University professor — he and his wife, Sophie, were our next-door neighbors — explained how he'd kept a book journal since age 13. Given that he was over 80 then, that meant he had a record of every book he'd read for well over six decades. I didn't need further convincing, and started my own book journal in 1998.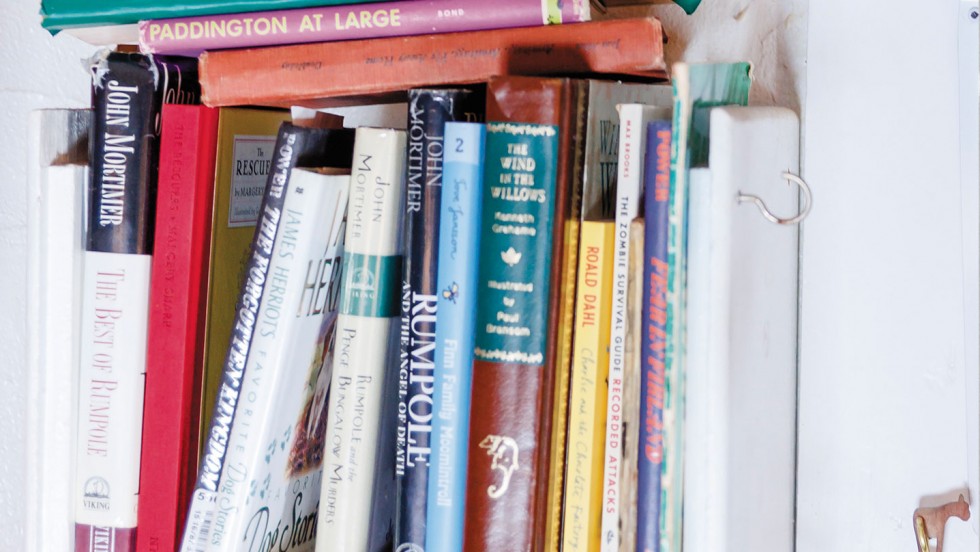 My first entry, from May 30 of that year, was "Hotel du Lac," by Anita Brookner, a Booker Prize-winning novel about a romance novelist staying at a Lake Geneva resort. Among the 14 other books I recorded that year: Roald Dahl's "Matilda," Michael Shaara's Gettysburg Civil War novel "The Killer Angels," Richard Ford's "The Sportswriter" and — this was a fun discovery, looking back — P.F. Kluge's Kenyon memoir, "Alma Mater," recorded in my journal on Nov. 21, 1998.
We had young children then and my reading was somewhat limited given the obligations of parenthood (though the arrival of the "Harry Potter" series helped keep my quota afloat). My records from the first decade of my journal tally an average of about 30 books a year. Gradually, that number crept up, and now, a certified empty nester, I average around 55 books a year, give or take.
Looking ahead to retirement, I'm confident that number will rise to about 60, which is how I arrived at my back-of-the-envelope calculation of 1,800, assuming I breathe my last around age 90. (It's not lost on me that among many reasons to hope for a longer life is the chance of pushing my book totals higher.) Naturally, this realization begs the obvious question: how ruthless should I be with a finite number of titles left? Is it time to spend our children's inheritance on the Library of America collection? Should I make one last attempt to finish "Ulysses" or "Gravity's Rainbow"?
The short answer is that my reading habits are unlikely to change, with apologies to James Joyce and Thomas Pynchon, respectively. I'm a journalist by trade and a crime fiction writer by avocation, and my book choices reflect those inclinations. Among recent titles I recorded in my book journal: Sue Grafton's private eye classic
"B is for Burglar;" the Akashic Books crime anthology "San Juan Noir;" journalist Brian Alexander's nonfiction book "The Hospital"; Don Winslow's drug war thriller "The Power of the Dog"; and Kathryn Miles' true crime narrative "Trailed," about the search for answers in the 1996 slayings of two women in the Shenandoah National Forest. A nearly perfect reflection of my taste in titles.
Still, my reading habits aren't completely set in stone. I often think of the response of crime novelist Walter Mosley to the question of his next read: "I find books the way a cow finds a new pasture, by looking to see where the other cows are headed." Mining the literary zeitgeist is what led me to discoveries like Emily St. John's eerily prescient pandemic novel "Station Eleven;" Christopher McDougal's insightful nonfiction book about the sport of burro racing, "Running With Sherman"; and James McBride's witty 1960s-set New York novel "Deacon King Kong." The last was also a selection for my book club, which often exposes me to reads I can't put down — everything from Kazuo Ishiguro's "Klara and the Sun" to Willa Cather's 1922 classic "One of Our Own" — but which I probably wouldn't have come to on my own.
So there you have it — the bucket list approach I've chosen for the books left remaining to me. A continued embrace of my love of reading, heavy on mysteries and nonfiction, with a nod to mortality. And now, if you'll excuse me, it's time for my daily crossword. I estimate I only have 10,795 left to do.
Recommended books for your reading bucket list
When I polled the Kenyon community for "bookshelf bucket list" books — that is, lifetime must-read titles — the response was heartening, especially in an age when so many conversations start with, "What are you streaming right now?" From fiction to nonfiction, from literary novels to memoirs, the recommendations shared with me spanned the spectrum of reading. Best of all, I have several new titles for my personal TBR pile.
Here are some of the many suggestions I received.
"We Measure the Earth With Our Bodies" by Tsering Yangzom Lama, recommended by Ira Sukrungruang, the Richard L. Thomas Professor of Creative Writing
"The novel speaks to the often-forgotten tragedy of Tibet and focuses on individual and cultural trauma that follows over an ocean and into the lives of people who know only of loss."
"Straight Man" by Richard Russo, recommended by Jeff Kallet '90, English major
"'Straight Man' is hilarious, includes great characterization and wonderful observations."
"Beloved" by Toni Morrison, recommended by Mark Tuel, Kenyon College Bookstore associate
"I often describe her prose as the closest thing a reader can get to poetry that is not actually written in poetic form."
"The Ethics of Immigration" by Joseph Carens, recommended by Nancy Powers '83 (like me), professor of political science
"It makes a strong case for immigration policies that put individual human rights above sovereign claims to control territory and it does so in clear prose, honest consideration of alternative arguments and memorable examples."
"Pale Fire" by Vladimir Nabokov, recommended by Adam Samet '22, a history and political science double major
"Both through the sheer complexity of its structure and its existential theming, 'Pale Fire' caused me an almost-overwhelming amount of introspection upon first reading."
"Albion's Seed: Four British Folkways in America" by David Hackett Fischer, recommended by Jeff Webster '84, political science major
"Transformed how I understand American history and its regional differences."
"Origin" by Dan Brown, recommended by Amanda Kurlee '01, political science major
"Brown researches scientific theories and unveils them in a fascinating and thought-provoking way. And you really just don't want to put the book down, which makes for a fun read."
"Gathering Moss: A Natural and Cultural History of Mosses" by Robin Wall Kimmerer, recommended by Becky Sicking '89, English major
"Looking deeply into a small but vast world of interconnected beings and making connections from micro to macro I found especially meaningful and reflective."
"The Secret Lives of Color" by Kassia St. Clair, recommended by Charlotte Woolf, visiting assistant professor of studio art
"The history of specific colors is unexpectedly vast. Enjoy vignettes about colors from Dragon's Blood to Tyrian Purple."
"Living a Feminist Life" by Sara Ahmed, recommended by Gilda Rodriguez, visiting instructor of women and gender studies
"First in my own feminist survival toolkit. Although I assign it in one of my courses, I also recommend it to pretty much everyone I come across."
Homer's "Iliad" and Plato's "Symposium," recommended by William McCulloh, classics professor emeritus (and one of my professors)
"Plato's Crito, though brief, is a gem. I should not fail to cite Vergil's 'Aeneid' on the Latin side!"
"The Seven Moons of Maali Almeida" by Shehan Karunatilaka, recommended by Pashmina Murthy, associate professor of English.
One of a trio of titles recommended by Murthy, including "The God of Small Things" by Arundhati Roy and "Butterfly Burning" by Yvonne Vera, that, as Murthy says, "pries open repressed pasts (whether of the individual's or the nation's) in a way that is simultaneously haunting and deeply humane."
–Andrew Welsh-Huggins '83 P'17
A conversation with outgoing president Sean Decatur about science, higher education and his groundbreaking new…
Read The Story