How to Breathe Underwater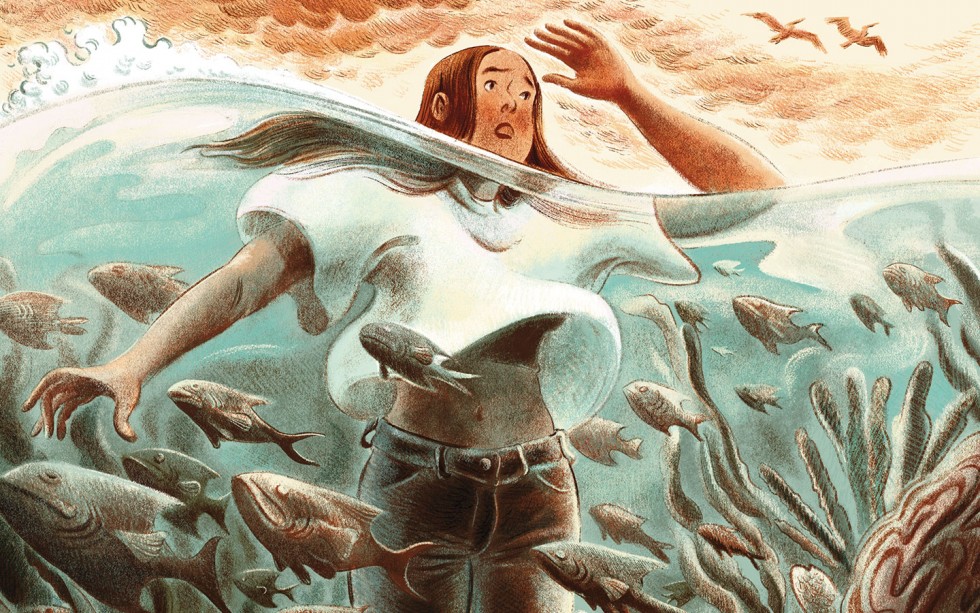 How far would you go to find your missing child and the troubled father, your first love, who took him?
Emma (Mueller) Fedor's debut novel "At Sea" (Gallery Books) hinges on that question. The novel follows Cara, who's newly graduated from college and spending time with her aunt and uncle on Martha's Vineyard while grieving her mother's death and figuring out what she wants to do next.
There she meets the charming, charismatic Brendan, a captain in Army Special Forces who, due to experimental surgery, claims he can breathe underwater. They fall in love and must quickly build a life together when Cara discovers she's pregnant. However, spending more time with Brendan exposes Cara to a darker side of him: violent mood swings, paranoid delusions and disappearances for days on end. One night, the baby has disappeared from his crib and Brendan is nowhere to be found.
Five years later, Cara is married to someone else and working to heal, but when a rumor of a man and a boy swimming far into the ocean makes it to her ears, her hope that her son is alive thrusts her back to the old haunts of her first love to find him.
In a starred review, Publishers Weekly called the book a "mesmerizing fantastical debut … that will hook readers," and Goodreads included "At Sea" in a list of the "105 of the Buzziest Debut Novels of the New Year."
Fedor '09 spoke with Kenyon Alumni Magazine writer Mandy Shunnarah about "At Sea," Kenyon meet-cutes and more. Their conversation has been lightly edited for length and clarity.
I loved "At Sea." I read it in two days because I couldn't put it down. How did the novel come to be?
After I graduated from Kenyon I lived abroad for a little while, then I came home and was living with my parents and I had all this time on my hands. I'd always wanted to write a novel, so I thought, why not now? Every night when my parents went to bed I'd get on my laptop and start typing. It was pre-smartphone and my parents didn't have Wi-Fi in the house, so it was distraction-free.
I spent a year working on this one manuscript and I finished it at 90,000 words. I worked on that first book for five years after that, tweaking it and trying to adjust my query letters to agents. I'd promised myself I'd never give up on it, but the day finally came when I was ready to move on, put that book in the proverbial drawer and start from scratch. Using what I'd learned from writing and pitching that book, I was able to start "At Sea."
What was the inspiration behind it?
I had just been reading "State of Wonder" by Ann Patchett, which tells the story of a researcher who finds a tribe in the Amazon, who discover this tree bark that enables the women to conceive and bear children well past the typical child-bearing age — like into their 60s and 70s. It had this fascinating sci-fi hook to it, but the book itself was more character-driven, and more about the personal journey of the protagonist. I loved this concept, and a few days later, the idea for "At Sea" came to me while I was snorkeling. I was underwater and had this moment where I thought, "It's a whole other world under here. What if I could spend hours underwater without a snorkel or any breathing equipment?"
You captured the head rush of first love especially well. What was it like putting yourself in the head space of this young woman who is so overcome by this man?
I love writing stories about those early days of a relationship because there's no feeling like it. Some of my favorite scenes to write were the banter between Cara and Brendan. I'm such a sucker for the kinds of books where you follow a relationship from the beginning and see how it evolves over time. When Cara meets Brendan, she doesn't know what she's going to do post-​college, and she's still mourning the death of her mother, so she's in this really vulnerable state. Then Brendan comes in and loves her with no questions asked. For her, it's comforting because she doesn't have to try. It's refreshing and it's just what she needs — to find this person who is so into her so unconditionally that she falls really hard really fast — which sets the stage for the push-and-pull dynamic of their relationship.
And they're having this tumultuous relationship on Martha's Vineyard with its gorgeous summers and brutal winters. When did you fall in love with the island?
I actually grew up going to Cape Cod. My extended family has had a house in the Falmouth area since around 1912. We were so close to where the ferry leaves for Martha's Vineyard, but we never went. It wasn't until I met my husband — we met at Kenyon — that I started going. He's from Cleveland, but his family has always gone to Martha's Vineyard. It's been 15 years now that I go for a few weeks every summer with them.
Having gone to Cape Cod my whole life I thought, how different could it be? I had this vision of it being overrun with tourists and kind of kitschy, and of course it does get crowded in the summer and areas where it's touristy, sure. But I was blown away at how it had its own personality and vibe compared to where I'd always summered. Part of that was where his family goes, which is where the book takes place, on the southwest end of the island. It feels much more remote. There are artists everywhere, and there's this laid-back vibe.
I have to hear the Kenyon meet-cute!
Before I tell you how I met my husband, I have to tell you my whole Kenyon connection. My grandfather graduated from Kenyon in 1936, and while he was there he met my grandmother. It was all men at the time but she was working as the president's secretary. Then my parents also met at Kenyon. My dad, Eric Mueller, was Class of '75 and my mom, Jan Lenkoski-Mueller, was Class of '77. Plus, both of my dad's brothers went to Kenyon. One of them ended up marrying his Kenyon sweetheart as well. My mom's sister went there, too. We're a Kenyon family.
During the first week of Orientation I met my husband, Nate Fedor '09. He made friends with some other people on my hall, and we were going to an a cappella concert. The first night we made it official was at a sorority highlighter party. It's a party where there's a blacklight and you draw on each other's T-shirts in highlighter. It was very classy and romantic. I was 18 then, and I'm 35 now. We've been married for eight years and recently welcomed our first child.
I'd love to hear about some of your favorite Kenyon professors.
No surprise, my favorite classes I took were the creative writing seminars. I took "Introduction to Fiction" with P. F. Kluge '64 — you had to apply to get in and I was so excited when I was accepted. The class was in the old Sunset Cottage around a seminar table at night. I was excited to do the homework, excited to go to class. I'd never felt that feeling before where things click and you think, "Oh my gosh, this is what I'm supposed to be doing. I love this." I'll always remember that. Then I took an advanced fiction writing seminar with David Lynn '76 and loved that. I got in as a junior and felt so cool.
There's a legendary Kenyon professor, Perry Lentz '64 P'88, who was there when my parents were students. He was just about to retire so I wanted to take a class with him. But the only class he was teaching was Shakespeare's "Henriad," which I'd read in high school and hated, but I signed up because it felt like a rite of passage. Sign of a good professor: I came to love Shakespeare's "Henriad" through taking his class. He was really tough. He'd give reading quizzes every day, and you constantly had to do written responses to the work, but I've never had a professor spend so much time and attention on my written work. He gave me the most thorough feedback I've ever received and he'd do it that night and would have it back to you the next day. I remember being really inspired by that. I wanted to do well because I thought, "He's going all in, so I'm going to go all in."
What are you working on now?
My next novel is totally different. It follows a group of rock climbers in the American West and you learn at the beginning of the novel that this up-and-coming rising star rock climber has fallen to his death, and it's a little suspicious. The book starts a few months before his death and it's multi-POV, so it's told through the perspectives of four people who were close to him. It's similar to "At Sea" in that I wouldn't necessarily call it a thriller or a mystery, but it has suspenseful elements.
A conversation with outgoing president Sean Decatur about science, higher education and his groundbreaking new…
Read The Story
The art (and math) of building a bookshelf bucket list.
Read The Story