My Generation: 1960s
Celebrating Kenyon pride, one decade at a time.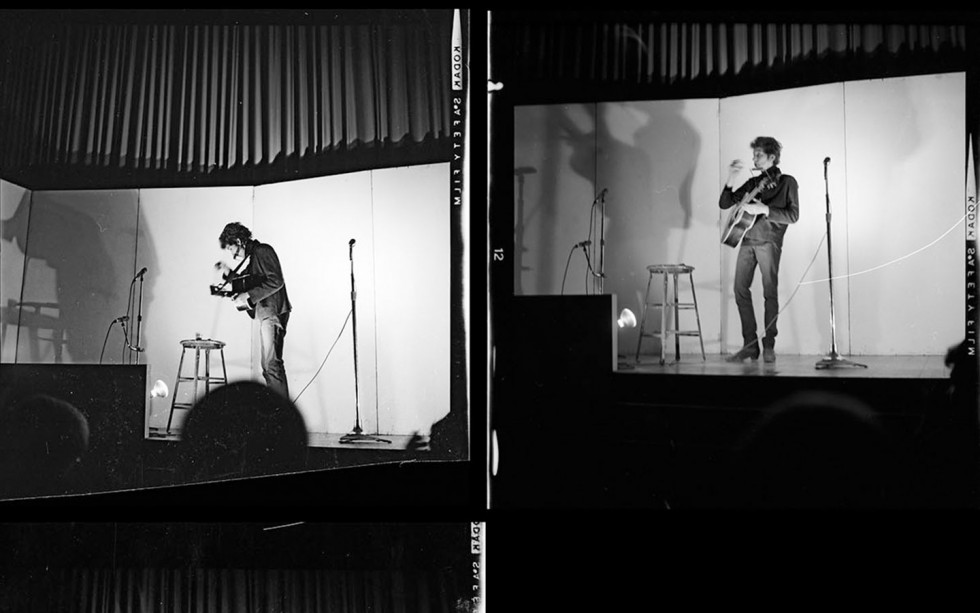 On Nov. 6, 1964, 23-year-old folk singer Bob Dylan performs a concert in Rosse Hall. Jay Cocks '66 spends a day with the rising star and writes about it in a Nov. 20 Collegian article. "We talked a bit more then about Kenyon," Cocks writes. "'They really have to wear ties and stuff to the concert,' Dylan asked, 'ties? Well, I'm gonna tell them they can take them off. That's what I'm gonna do. Rules — man, that's why I never lasted long in college. Too many rules.'"
Highlights from on and off the Hill
1960s
The 1960s are a decade of new buildings at Kenyon, including Phillip Mather Science Hall, Dempsey Hall, Chalmers Memorial Library, Gund Hall, Farr Hall, Bushnell Hall and Manning Hall.
1963
President John Fitzgerald Kennedy is assassinated on Nov. 22, in Dallas.
1965
President Lyndon B. Johnson sends U.S. combat forces to Vietnam.
1967
Kenyon hosts a civil rights conference, and the Rev. Jesse Jackson attends.
1968
F. Edward Lund, Kenyon's 16th president (1957-68), retires. A story in the Collegian summarizes his presidency: "If the Lund administration is to be characterized in its effect on the Kenyon community, it was a time of putting a firm financial and economic foundation under the already well-established academic tradition.
1969
On Sept. 8, Kenyon marks the official opening of the Coordinate College for Women and the unofficial end of single-sex education on the Hill. The Collegian notes that although "many Kenyon men welcomed the presence of girls on Middle Path, the majority still viewed the addition with clearly mixed feelings."
Harlene Marley, a new assistant professor of drama, is the second woman (after Sylvia Barnard) to be hired into a tenure-track position at Kenyon.
The first Black women to study at Kenyon — Barbara (Lee) Johnson '73, Doretha (Smallwood) Leftwood '73 and Glory (Wolfe) Schuler '73 — arrive on campus.
The Woodstock Music Festival takes place in Bethel, New York, and features performances from 32 bands and musicians, including Richie Havens, Janis Joplin, the Grateful Dead, Jefferson Airplane and Jimi Hendrix.
We Were There
"In 1960, I and about a dozen others were housed on the third floor of Bexley as an overflow dorm. Maids made our beds and tidied up — the last year for that! — and plenty of study rooms were on the floors below. There were bats in the attic. Ledges outside the windows provided a convenient way to get from room to room if you didn't want to use the hall." —Jeffrey C. Breaks '64
The art (and math) of building a bookshelf bucket list.
Read The Story
A conversation with outgoing president Sean Decatur about science, higher education and his groundbreaking new…
Read The Story