60-Second Syllabus: LGLS 191
Students in "Gender, Sexuality and the Law" explore topics from abortion rights to hate crimes.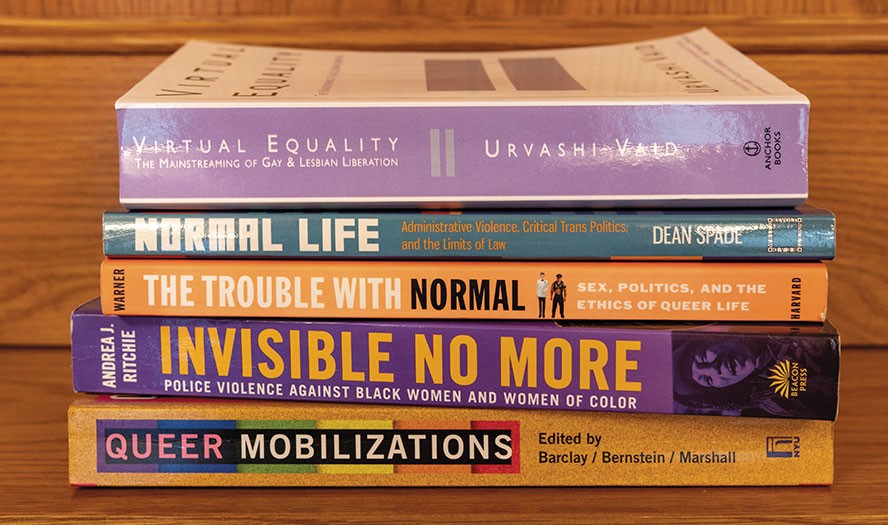 WHEN & WHERE: Tuesdays and Thursdays, 2:40 - 4 p.m., Lentz House 204
What's a professor to do when fast-changing current events directly impact the content of a seminar they are teaching? Visiting Assistant Professor of Legal Studies and Sociology Kyla Bender-Baird faced this issue head-on at the start of her special topic course "Gender, Sexuality and the Law," which was offered this fall as part of Kenyon's program in law and society.
After an introduction to legal rights and norms, students dive into case studies tracing the history of marriage equality, reproductive rights, and laws against employment discrimination and hate crimes.
"We look at the role of courts in the democratic process, and part of that is the precarity of rights — that most of our rights have been secured through a court case, which only takes another court case to overturn," Bender-Baird said.
The Supreme Court's recent ruling overturning Roe v. Wade scrambled Bender-Baird's syllabus as half a century of settled law was upended. She plans to have students research the state of abortion rights in their home states, "figuring out what is going on at this very moment, knowing that it probably will change tomorrow."
"Rights can be rather abstract, but part of the goal of the class is to make them more tangible and to give students some different ways of (connecting them) to their own political values and personal lives," Bender-Baird said.
She requires first-year students to meet with her during her office hours to help them break through any hesitation about asking faculty members for help. As for coursework, Bender-Baird eschews long term papers, noting that students often get more caught up in making a page count than making an argument. Instead, she has students pen weekly scholarly notes that encourage critical analysis of texts. "Students tend to read for things they find interesting or things they don't understand, which is also important," Bender-Baird said, "but 'what is the argument?' is the number one thing you need to be focusing on."
After honing those skills, students write op-eds that integrate multiple sources into essays of under 1,000 words. In addition to giving students the chance to engage in public discourse and share their perspectives, the assignment comes with an additional incentive, one that no one has yet taken Bender-Baird up on.
"If they actually pitch and publish their op-ed, they get an automatic A+ in the class," Bender- Baird said. "If they complete all of the other work."
---
Recommended Reading
"Sex Is as Sex Does" by Paisley Currah
"What's Wrong With Rights" from "Normal Life: Administrative Violence, Critical Trans Politics, and the Limits of Law" by Dean Spade
A conversation with Mailchimp colleagues Michael Mitchell '03 and Lain Shakespeare '05.
Read The Story
The history of the Village Inn, Gambier's iconic restaurant and gathering place.
Read The Story
Kenyon alumni and faculty explore how to become better communicators.
Read The Story