Good Eating Since 1947
The history of the Village Inn, Gambier's iconic restaurant and gathering place.
Story by Andrew Welsh-Huggins | Photographs by Andrew Spear
It's shortly before noon on a temperate July day, a relief from a spate of miserably hot central Ohio weather, when I step inside the Village Inn. I'm there to meet co-owner Joel Gunderson, one of a long line of people who have served diners in the Gambier institution since it opened in 1947.
Soon we're seated in a booth across from the bar (Joel's oldest son, Solvi, is our server) and I listen as Joel explains the ins and outs of running the village's most famous restaurant. At one point he notes that some people come to the VI multiple times a week, so variety is important. "The menu is bigger than it should be by any sort of equation based upon the size of my kitchen, the number of seats I have," he says.
I realize in that moment that Joel has summed up the nature of the VI itself, a place that looms far larger in the shared experience of generations of Kenyon students and Knox County residents than its modest size would suggest. It's a perfect jumping off point for the mission I'm on, to both narrate the VI's history and explain what it's meant to so many people over the years.
And while I'm at it, to nail down the one, true VI cheese soup recipe.
"A nice establishment for people to gather"
The VI's first owners were Jim and Jenny Hayes, who built the current building at 102 Gaskin Ave. and lived in the house next door. Jim Hayes already had his hand in the food business, running a grocery store in the same building that now houses Wiggin Street Coffee. Known as "the Grocer of Gambier," Hayes got his start in the food business in his teens working in a Mount Vernon grocery store run by the father of comedian and native son Paul Lynde. Gambier had a dive bar in a house down Wiggin Street known as "Dorothy's," but there were few other places in town for a decent meal in those days. Jim and Jenny's daughter, Mary Ellen Schaefer, told me that both her parents were entrepreneurs and her father in particular "loved, loved, loved Gambier."
"It was important to them to have a nice establishment there for people to gather," Schaefer said.
Hayes rebuilt in 1949 after a fire, but soon the rigors of running a grocery store and a restaurant led him to sell the business and focus on groceries. From there, ownership passed onto James and Lillian Trittipo, who, after careers in Columbus and Dayton, became VI innkeepers downstairs while living above the restaurant. Lillian, who learned to cook working in the kitchen of the Dayton Art Institute restaurant, adopted some of Jenny's recipes and produced more of her own — including that cheese soup — typing up the day's menu each morning.
The Trittipos' son, Jim, later an Emmy-award winning art director in Hollywood, designed the iconic sign that still hangs outside—"Village Inn, Good Eating"—the words bracketing farm vegetables and a pair of upside down ducks.
Legend has it that James Trittipo, a stickler for behavior, didn't hesitate to pass on etiquette lessons to a recent grad named Paul Newman. Trittipo "set him straight about how he ought to act and talk in the Village Inn," Caryl Trittipo, Lillian and James' eighty-five-year-old daughter-in-law, told me by phone from Rancho Santa Fe, California.
In the 1950s, the restaurant gained a regional and national reputation. A "spanking new place," gushed the Columbus Dispatch. "Recommended by Duncan Hines," the restaurant proudly proclaimed, referring not to a boxed cake mix but the food critic who pioneered restaurant reviews. The Ford Times, a monthly publication of the Ford Motor Co., printed Lillian's celery seed dressing and molded cranberry salad recipes in a Christmas 1955 publication. In those days the VI also included a gift shop selling everything from pipes, pottery and paintings to fraternity ash trays. James Trittipo, always dressed in suit and tie, often let students buy things like penny candy, cigarettes and cups of coffee — price: one nickel — on credit, though he ended the practice when he realized he had $2,500 in unpaid bills on his books.
One thing the restaurant didn't serve in those days, however, was alcohol.
"We realize if we had a cocktail bar, business would be greatly increased, but we prefer to keep business quiet and serve good meals," James Trittipo told the Collegian in February 1963.
The Trittipos followed their grown children to California in the mid-1960s, but the VI's flair for fine dining continued under the ownership of Elizabeth Enck, daughter of Ray Brown, a former Peoples Bank CEO. Among VI specialties from circa 1965 that might be a tough sell today: sautéed veal sweetbreads (that's organ meat to you and me) with mushroom sauce for $2.20. It was also around this time, in March 1966, that the VI broke tradition and finally started serving booze.
Over the next couple of decades, the restaurant changed hands several times and underwent significant changes, losing its fine-dining aura with the addition of things like pinball machines. It also experienced a few hiccups, including
a suspension of its liquor license following investigations into underage drinking, perhaps not surprising given the VI's description in a 1980 Collegian article as "The College's foremost drinking institution." The Collegian also blamed erratic hours and high bar prices for troubles that led to its temporary closure in the early 1990s.
Stability returned when Lisa and Tom Buchanan took ownership in 1992. They started with a small menu and gradually added home-style meals such as meatloaf and Swiss steak. Soon, dining numbers were up as people from the community returned, along with students. "Everybody kind of just communed together," Buchanan said. "It was unique."
Change came to the VI again in 2002 when the Buchanans moved the restaurant to Mount Vernon under the new name of the Parkside. The VI then sat empty for several years, affecting not just life in Gambier but Kenyon functions as well. "Certainly, when it closed, it was a crisis for the college," Tom Stamp '73, the recently retired college archivist, told me, "because there was nowhere for people who were coming here for interviews or whatever to eat."
Joe Nelson, Kenyon's former vice president for finance, explained that acquiring the property was part of the college's long-time priority to have "a vital, lively, entertaining and attractive village life." On March 15, 2006, Kenyon purchased the building for $520,000. One year later, a three-per-son partnership — Joel Gunderson, his wife Margaret Lewis and Jerry Kelly '96 — reopened the restaurant. A new era was about to begin.
First dates, first kisses and first (legal) drinks
The notion suggested by Gunderson's menu comment, that the VI is bigger than the physical space it occupies, becomes clear when I post a call for memories on Facebook and Twitter and alert my own Kenyon classmates about the story. I'm quickly inundated with people's memories, most of them fit for print.
"My fifth birthday party at the VI," Robin Lentz '86 (and daughter of retired English professor Perry Lentz), said as she posted a picture of the happy event on Facebook.
"My now-husband and I had our first date there in 2008," Shannon Deoul '08, said via Twitter, one of several first date or first kiss stories I received. (Deoul and Andrew Pankin '08 married in 2014.)
"I'll always remember the trivia night where we lost because I said Lake Victoria was the deepest lake in the world instead of Lake Baikal," Lili Martinez '13, said in a Twitter direct message.
"My first shot of Wild Turkey (any liquor)!" Everard Corcoran '82 P'18, my former roommate and cross country and track teammate, texted me after I sent him a picture of the VI sign during my July research trip to Gambier.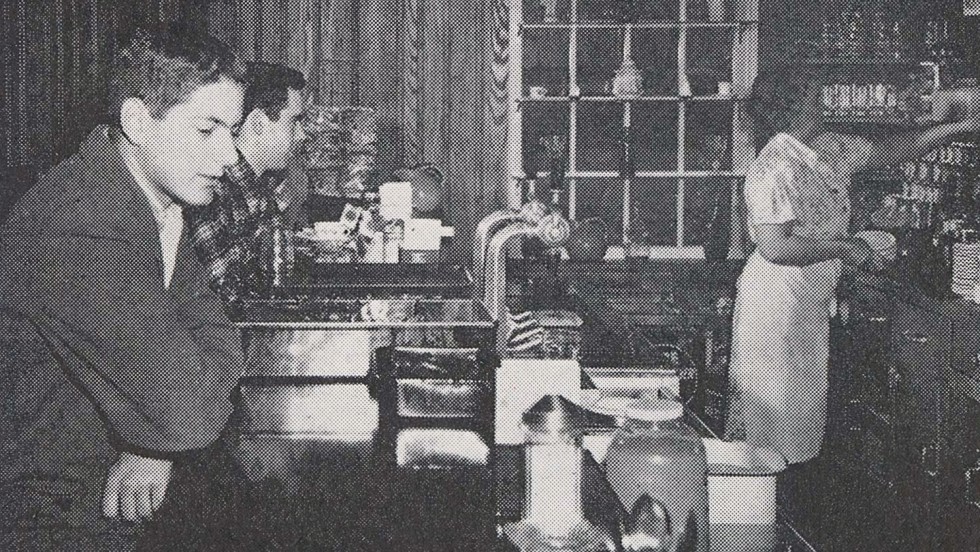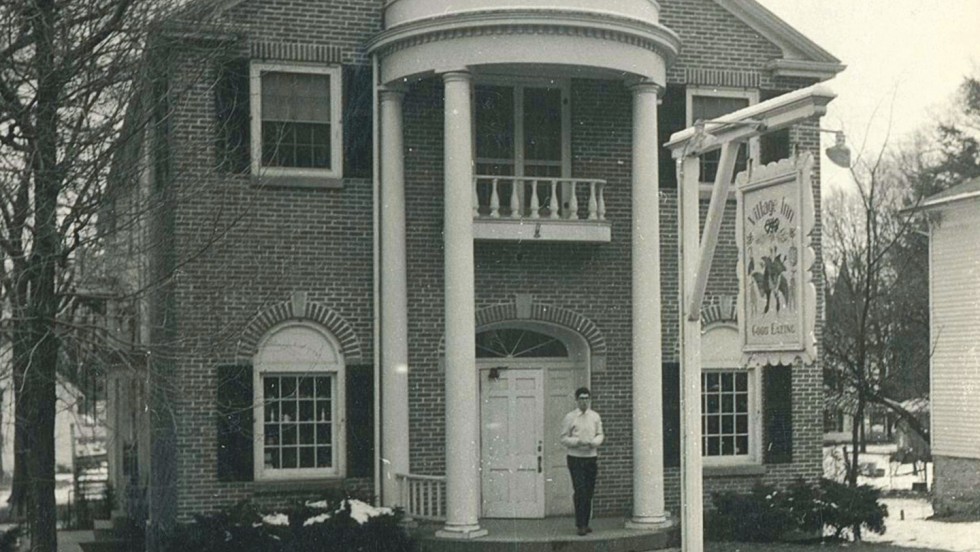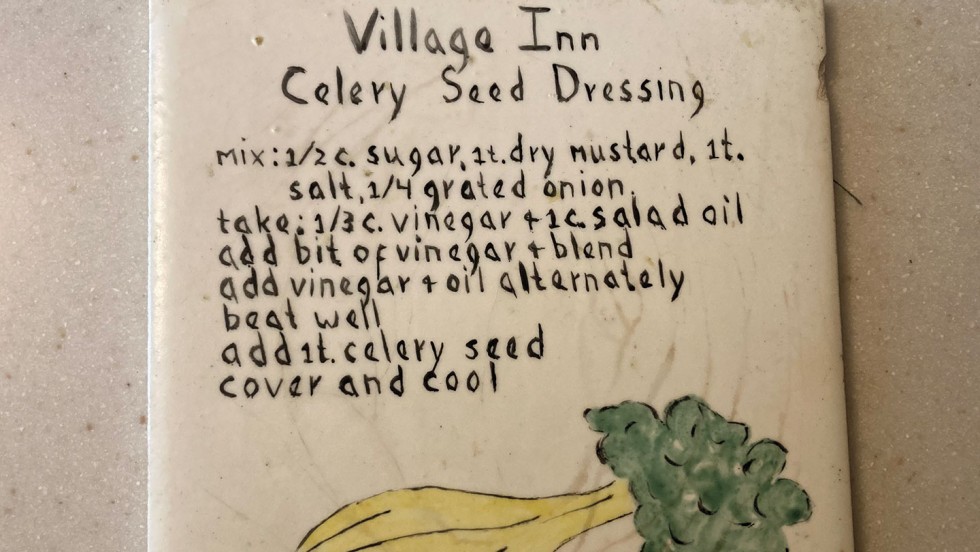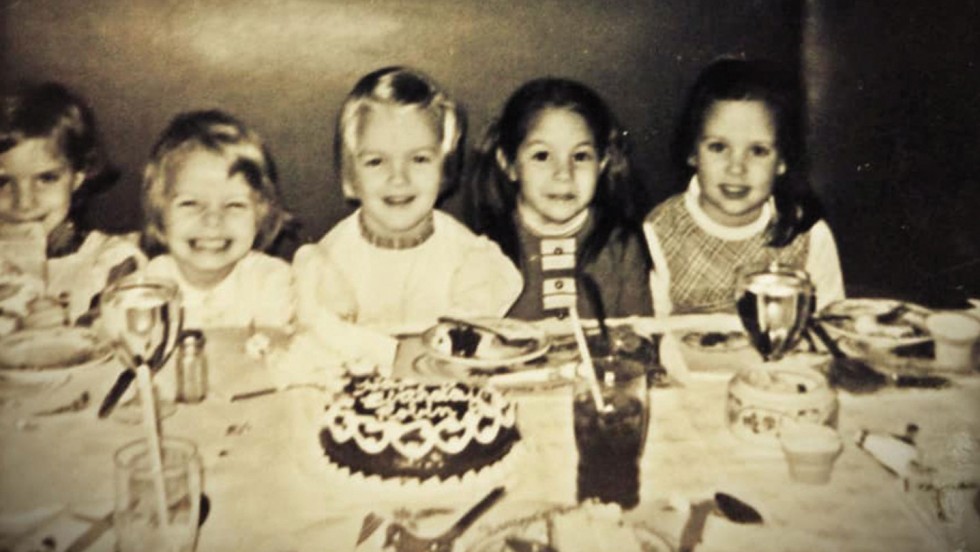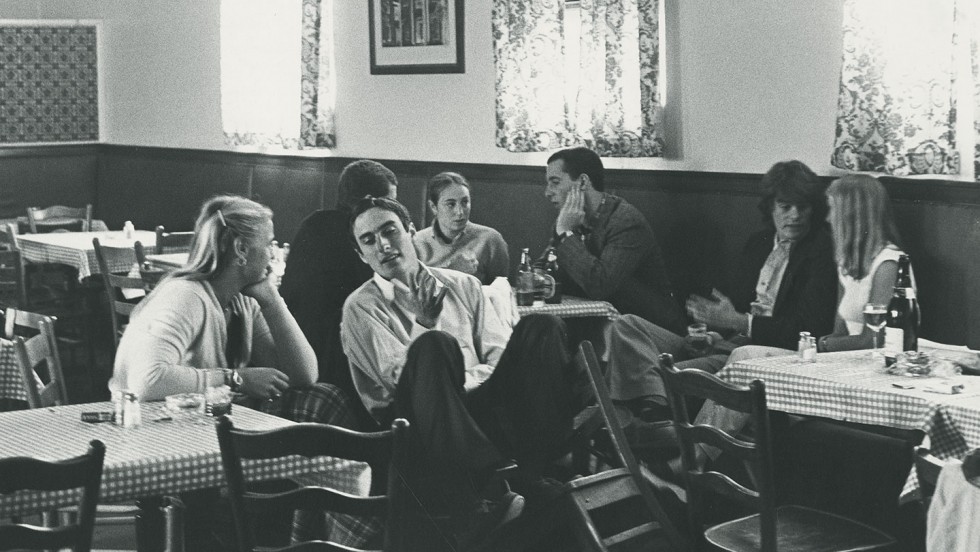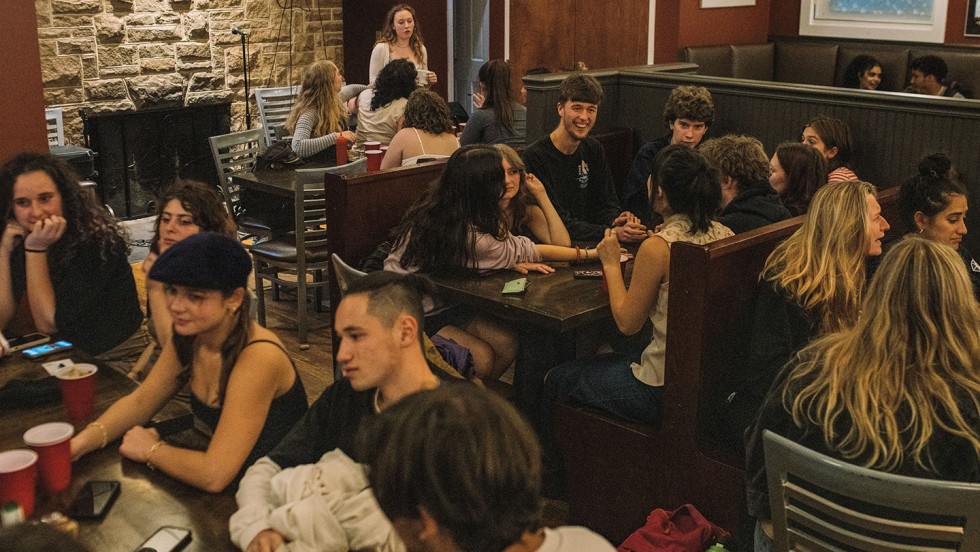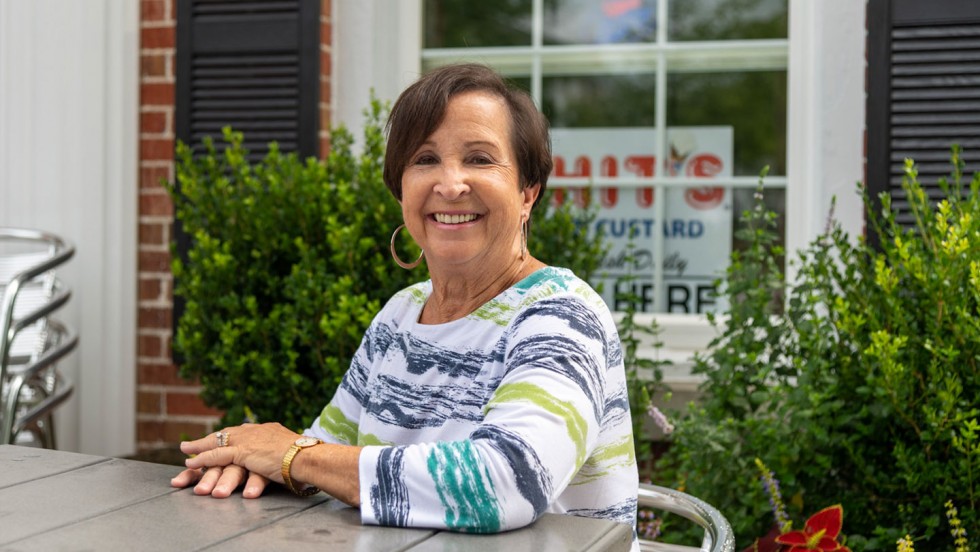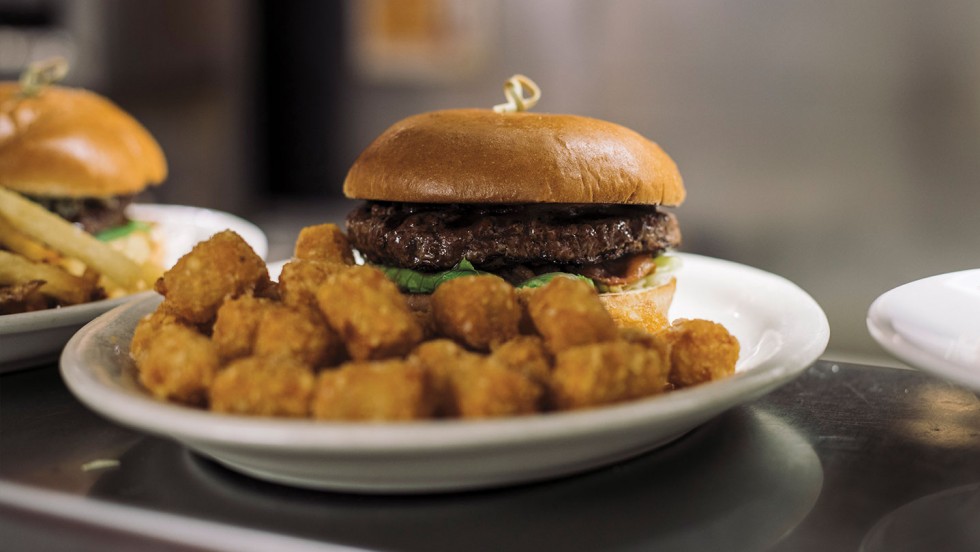 Not unsurprisingly, Everard's was one of several alcohol-related memories people shared, many of them involving Long Island iced tea. As I was pretty much a teetotaler in my Kenyon days, I don't have similar VI anecdotes to recount. But fast forward three decades to the day my wife (and '83 classmate) Pam and I were dining at the VI with our daughter, Emma '17, and Emma ordered a Blue Moon well before her 21st birthday. That was my first introduction to a state law — Ohio Revised Code Section 4301.69 to be exact — that allows minors to consume alcohol in participating restaurants if their parents or legal guardians are buying. Of course I learned about that at the Village Inn.
With that experience in mind, I turned to Emma and her classmate Bridget Murdoch for insights into the VI, a place they frequented as students far more than we ever did.
Over Zoom, Bridget explained that she liked how the VI was someplace you could enjoy if you weren't old enough to drink, unlike many college bars which serve only one purpose. Both appreciated how the restaurant connects north and south ends of campus and is a gathering place for everyone, regardless of whether they have a Kenyon connection. Both working in the greater world now, they miss the familiarity of the place. "If Kenyon was a sitcom, the VI would be the place where people piled in and out of the same booth," Emma said.
Kenyon may or may not be a sitcom, but it's seen its share of real-life celebrities over the years, from novelist Margaret Atwood enjoying a VI meal after headlining the first annual Kenyon Review Literary Festival in 2007 to Jamie Lee Curtis P'09 sitting at the bar. And of course, the VI itself was transformed into a movie set in the summer of 2011 when Josh Radnor, '96, filmed "Liberal Arts," the movie he wrote and directed about an alumnus returning to a Kenyon-like college. He and Allison Janney '82 shot scenes in the VI including one that concludes with Janney's seduction of Radnor's character as as she slowly consumes a single french fry and then declares, "I have a car."
The overnight shooting schedule was beginning to get rough, recalled Susan Chrysler, '85, who worked as a video assistant on the film. "But Allison arrived with her full game and did the scenes in one take and two takes," she told me. "Short night!"
Textbook comfort food for every generation
Ahead of the VI's 2007 reopening, the new partnership pulled up the carpet, refinished the wooden floors, and built the banquette seating that surrounds the dining room. Joel's father, Kenyon art professor Barry Gunderson H'15, carefully restored Jim Trittipo's iconic ducks-and-vegetables sign. Today, Joel Gunderson describes the menu as "elevated bar food," but that first reopened VI aimed a little higher, featuring things like "pan-seared almond and five-spice tilapia with coconut cream sauce."
Recipes bring me around to the passion the Kenyon community has for its favorite VI selections, all of which are textbook comfort food. To gauge people's top preference, I conducted a highly scientific Twitter poll in late August, in which spinach artichoke dip narrowly won over tater tots (33 percent to 31 percent), followed by quesadillas in third, with my fav, mac & cheese, a distant fourth.
And then, going further back in time, there is the restaurant's famed cheese soup (currently not on the menu), which came up more than once in my call for VI memories. An "unctuous, glorious orgasm in a bowl," Harrison Sherwood, '82, described it on Facebook in liberal arts major-worthy phrasing.
In the early 1960s, Lillian Trittipo's "Old English Cheese Soup" was the VI menu's most popular item, along with celery seed dressing, which originated with Jenny Hayes. The soup was still on the menu in October 1979 (my freshman fall) when unpopular changes at the VI included "smaller portions of cheese soup." In the 1990s, Tom Buchanan substituted orange cheddar for aged white cheddar to cut down on the cost, but it didn't seem to matter. "People loved it," he said.
I sleuthed out three copies of recipes, two of them versions used by longtime VI cook Pauline Burch. The key, according to Buchanan, is first cooking celery, carrots, onions and green peppers until they're soft, then using oleo and flour to create a paste before adding cheese and milk.
A third version, according to Tom Stamp, includes a secret ingredient likely foreign to today's connoisseurs. "It was made with Velveeta cheese, which really shocked me, I have to say," Stamp said. "I guess I had different taste buds back then."
A crowded house
For several years after its 2007 reopening, the VI was not just a restaurant but a popular music venue, as Kelly paired Kenyon bands with visiting groups in front of the fireplace. Walk the Moon made appearances there, and students also packed the VI for the College's Detroit Groove Motown band. "They would just burn the house down every time," Kelly recalled over coffee at Wiggin Street Coffee. "They'd fill it up and we just had some great, great shows."
But those concerts also took a toll, from damage caused by so many people crowding inside to the plain fact the restaurant sometimes lost money, especially as people snuck in their own alcohol. Today, the VI features tamer but no less beloved entertainment in the form of its rugby team-run Wednesday trivia nights. (Number of times David Foster Wallace used the word "water" in his famed 2008 Commencement speech, "This is Water"? Five.)
"It's a really fun low-stakes environment to just get to know people, and remind yourself you can be carefree in life," said Ellen Burbank, a trivia organizer last school year who will graduate in December.
The village hub
As I chat with Joel Gunderson on that July day, he explains the saga that led him, a former PR man for the Cleveland Indians (before the Guardians' name change), and Margaret, a former nurse-midwife, to take ownership of Gambier's most iconic eatery. It was a big move from their lives in New York City, and actually started with them first running Middle Ground Coffee, the immediate predecessor of Wiggin Street Coffee.
When I ask Joel to define the VI, he considers the question a moment before calling it a central Ohio version of the traditional British pub that competes only with the post office as a village hub. "It's the place where people come to exchange news and have a beer, have a meal, catch up," he says. Gunderson is also candid about the future, acknowledging he and Margaret — now the longest-serving VI owners — recently listed the business for sale to see what interest it would generate, and are ready to sell. But not just to anyone. "As a native son to Gambier, I feel a little bit of ownership and responsibility that this needs to be a viable place in town and ideally be operated by someone who's local to the community," he says.
As I reflect on our conversation, I come to see how the VI in the end is a reflection of the college's own history. In its earliest days, open only for dinner and without alcohol, it was buttoned-up and a tad stuffy. "The VI is about the last place in the world Kenyon students would normally congregate for a bull session," a Collegian editorial sniffed in 1961. Today, fortunately, the opposite is true. Plenty of bull sessions take place between the warm, wood-paneled walls lined with framed posters of past college events. Bull sessions, and first dates, second dates, meetings with professors, trivia showdowns, comfort food enjoyment, and beyond. Underage drinkers probably slip fast ones past servers occasionally, but the days of people standing on VI tables chugging pitchers of beer are long in the past.
Yet, for all those changes, the VI of today is also recognizable in a comment James Trittipo made nearly six decades ago as quoted in the Collegian, describing the restaurant in 1963 as an occasional alternative to the college's institutional meals. As the paper reported:
'"Many students," exclaimed the ambrosial authority, "just want to get away from the rush and bustle of a regular meal."
A conversation with Mailchimp colleagues Michael Mitchell '03 and Lain Shakespeare '05.
Read The Story
Kenyon alumni and faculty explore how to become better communicators.
Read The Story