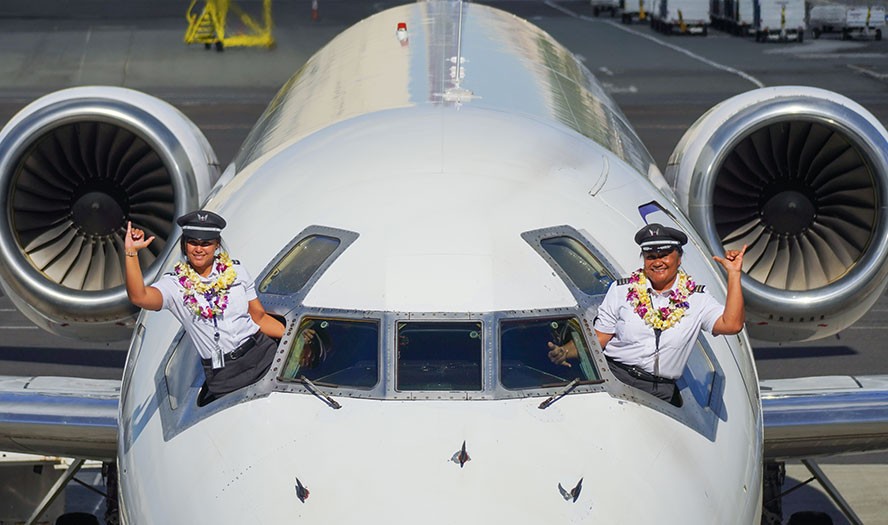 On Aug. 29, Maria Zarka '16, a pilot for Hawaiian Airlines, made history when she and her mother, Captain Kamelia Zarka, became the first mother-daughter team to fly together as first officer and captain for the airline. It was only the third time that a major commercial airliner had been piloted by a mother-daughter duo (with the first two occurring within the last year), and the Zarkas the first women of color to do so. According to Hawaii News Now (KHNL/KGMB),
"Kamelia Zarka broke barriers in 1999 when she became the first Tongan woman to captain a commercial airliner. And now that Maria Zarka made first officer, they jumped at the chance to fly together."
"Obviously, I know her as mom, but today she was captain mom," Maria Zarka told the news channel. "She's an amazing Captain. It was like watching one of the best at work, and I'm so thankful that I get to learn from her."
---
Major at Kenyon: Film
Born in: Honolulu, Hawaii
Currently resides in: Kaneohe, Hawaii (with husband Joseph Guilfoyle '15)
Occupation: First officer at Hawaiian Airlines
My life post-Kenyon: After graduation, I attended flight school in New Jersey and then Hawaii, and have been working as a pilot ever since.
Motto: I am no better than anyone else, and no one is better than me.
Proudest accomplishment: Adding to my mother's legacy as the third mother-daughter pilot crew ever, and the first mother-daughter crew of color to operate a commercial flight. My mother is the first Tongan female pilot for a commercial airline.
My closest Kenyon friends would say: I try to make everything fun.
Favorite Kenyon memory: Holiday dinners with the dive team.
Most surprising thing about life post-Kenyon: Lots of people have heard of Kenyon.
Best advice anyone has given me: Go as far away from home as you can (for a few years).
Book that changed my life: "Jonathan Livingston Seagull" by Richard Bach. My dad read this to me as a child and it gets better with every read. It reminds me always to be growing and to help others grow.
Anything else? I was a four-time NCAA champion in diving. Now I just dive off of rocks into the ocean.
A conversation with Mailchimp colleagues Michael Mitchell '03 and Lain Shakespeare '05.
Read The Story
The history of the Village Inn, Gambier's iconic restaurant and gathering place.
Read The Story
Kenyon alumni and faculty explore how to become better communicators.
Read The Story