Cutting-edge Education
As the producer for SXSWedu, Greg Rosenbaum '10 brings innovative educators and entrepreneurs together to imagine the future of learning.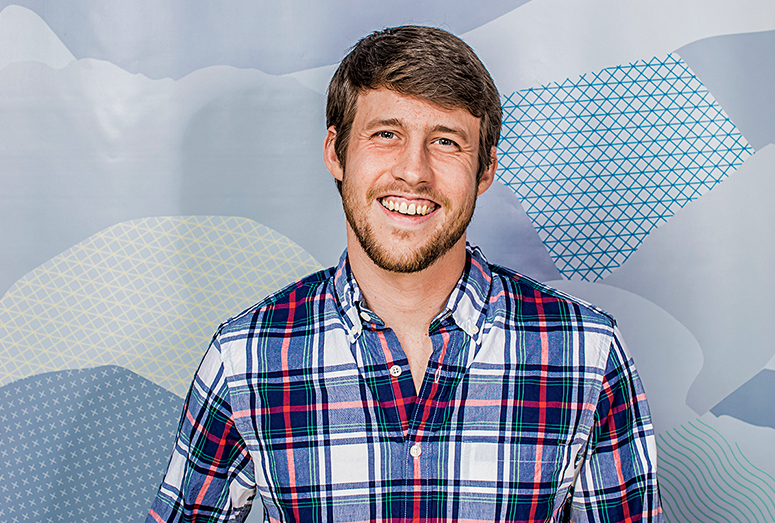 Greg Rosenbaum '10 likely isn't the first Kenyon graduate to leave Gambier without a precise game plan. A music major who grew up in Silver Spring, Maryland, Rosenbaum spent the summer after graduation leading backpacking trips in Wyoming and then moved to Austin, Texas—a city known for its indie music scene.
He figured he'd play some guitar, make some recordings, and a path would emerge. If nothing else, he'd learn something. Shortly after moving to Austin, Rosenbaum met Hugh Forrest '84, who is the interactive director for SXSW—shorthand for South by Southwest—a 10-day festival centered on film, music, and interactive technology that dates to 1987. Forrest told Rosenbaum the organization was thinking of adding an education component to its festival lineup. If interested, Forrest said, Rosenbaum should apply.
Today, Rosenbaum is the producer of SXSWedu, a four-day conference that precedes the SXSW lineup. The gathering is a magnet for national leaders in education and educational technology and was expected to draw more than 8,000 to Austin in March. Past keynote speakers include U.S. Secretary of Education Arne Duncan and technology guru and video-game designer Jane McGonigal. "It's been a crazy ride in terms of handling the growth," Rosenbaum said.
At its core, SXSW is a celebration of the art of engagement, Rosenbaum said, so education fits nicely within the festival's scope. "We think about music, film, and interactive media as being about artists who engage audiences," he said. "So why not include educators who spend every day engaging students in the classroom? It's a chance to shine a spotlight on educators and show them off as the rock stars we think they are."
SXSWedu is more than just a teaching conference, though. Sessions this year included workshops on wearable technology, mobile geography, and data security. The festival is a place where forward-thinking educators can mingle with innovative technologists, glimpsing possibilities and opportunities that neither group imagined. Abstract ideas come into contact with pragmatic solutions, and the mash-up results in new directions.
Assisted by a small but growing staff, Rosenbaum often works around the clock in the weeks before SXSWedu to make sure things run smoothly. It's frenetic, he admitted, but his behind-the-scenes efforts have not gone unnoticed. He has twice been named to the Forbes "30 Under 30: Education" list.
"I left Kenyon thinking I didn't want a real job until I was in my 30s and I didn't want to settle down before I ventured into the world," Rosenbaum said. "For a very long time, I really could only imagine myself being a performance musician."
While considering his career, Rosenbaum has often recalled the experience of one of his professors at Kenyon: Reginald Sanders, James D. and Cornelia W. Ireland Associate Professor of Music, who worked at Hewlett-Packard for many years before deciding to pursue his doctorate in classical music. That kind of fluidity has served as inspiration, Rosenbaum said.
Rosenbaum's experience with SXSWedu also has shaped his view of jobs and careers in general. Music gigs and barista stints have been put in perspective. "Working at SXSW has really helped me appreciate the value of contributing to a cause that's larger than yourself and larger than your own, personal ambitions," he said. "It's very rewarding to be a part of something that has such positive social good."
Related content:
Impressario for Innovators: As the director of South by Southwest Interactive, Hugh Forrest '84 presides over one of the world's most buzzworthy celebrations of all things entrepreneurial, creative and tech. (Vol. 37.3, Summer 2015)
Philander's Phebruary Phling brought the heat to thaw the winter blues and, for over two decades, took its place…
Read The Story
Sabbaticals for a semester or a year keep Kenyon's tenured faculty energized, engaged, and immersed in their…
Read The Story
Musician, tunesmith, and pied piper, Justin Roberts '92 enchants children and hooks their parents.
Read The Story