A Spoonful of Shakespeare
Drama major Will Quam '14 charms children with bite-sized versions of the Bard's greatest hits.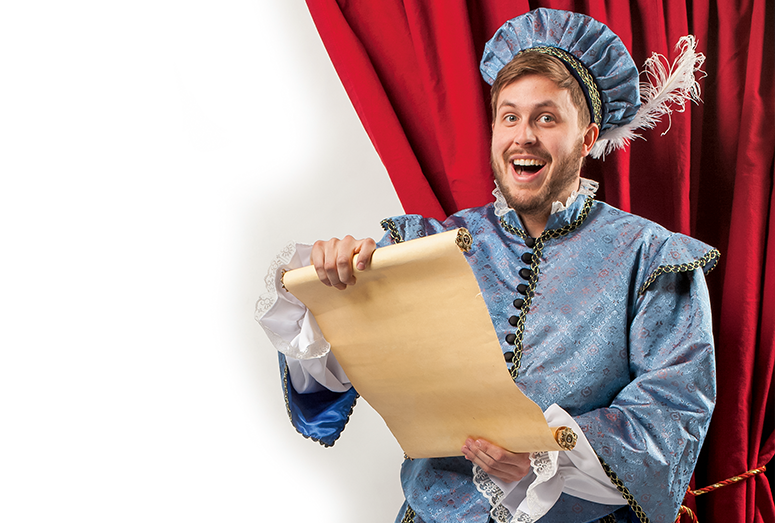 Before Will Quam '14 took the stage of Hill Theater to play the role of Macbeth for his senior thesis production, he performed William Shakespeare's dark tragedy for a discerning audience of preschoolers at the Gambier Child Care Center.

In this 30-minute version of Macbeth, Quam and an energetic troupe of five student actors known as The Billy Shakes Project donned brightly colored T-shirts and dug into a chest of homemade props to tell the story of a Scottish general who yearns to be king.
"It ends with a sword fight, and we used metal swords so it sounded real. The kids liked that," Quam said. "And there are three witches in the full play, but, in our version, it was one actor with two puppet heads on either side."
Beyond puppet and sword play, the Macbeth messages of greed and morality were conveyed to the children through a post-show discussion. "We sat down with them and said, 'We performed it for you. Now tell us the story you saw.' And we sort of helped them through the plot," Quam said. "They might not pick up on all of it, but at least they are seeing Shakespeare."
Introducing young audiences to the Bard inspired Quam and his classmates Verity Allen '13 and Kenneth Fedorko '13 to found The Billy Shakes Project under the guidance of Kevin Rich, a former member of the drama faculty. After a year, the troupe has perfected the art of kid-friendly Shakespeare, performing abridged versions of As You Like It, Hamlet, and Romeo and Juliet at local libraries and public schools.
Quam, who did not enjoy Macbeth when he read it in high school, believes that no one should be reading Shakespeare. Rather, he said, "they should be hearing it, watching it, and performing it." He hopes that breathing life into characters penned more than 400 years ago will help young people relate to Shakespeare in a way that reading textbooks cannot. "This is not dead text," he said. "These are humans speaking in a way that is slightly foreign to us, but that still makes so much sense and conveys human nature so well."
Performing Macbeth in its entirety before a packed theater of classmates, professors, friends, and family members presented Quam with a new set of challenges, like learning to identify with the complex lead character. Though Macbeth is brave and powerful, Quam embraced the role as "a man desperately trying to prove that he is capable of being king." But the actor and aspiring teacher finds more fulfillment off stage. "When putting together the full play, I feel the performance come to life in me," he said. "What's so great about performing for the kids is seeing it come to life in them."
Sabbaticals for a semester or a year keep Kenyon's tenured faculty energized, engaged, and immersed in their…
Read The Story
Musician, tunesmith, and pied piper, Justin Roberts '92 enchants children and hooks their parents.
Read The Story
Philander's Phebruary Phling brought the heat to thaw the winter blues and, for over two decades, took its place…
Read The Story