Freedom School
Inspired by a call to "get proximate," students help lead a teach-in at the site of an infamous lynching.
Story by Mary Keister
February 2016, when a winter storm swept through much of the Northeast, coating runways with ice, many airline passengers — including Bryan Stevenson — were left stranded.
Stevenson, the executive director of the Equal Justice Initiative (EJI), had been slated to speak at Kenyon about racial inequality. With his flight to Ohio canceled and his spring lecture schedule booked solid, Stevenson rescheduled his Kenyon visit for the fall.
Meanwhile, on that same cold night, Frankie Gourrier '08 was home in Silver Spring, Maryland, working on his dissertation. Stevenson's rescheduling would prove fortuitous for Gourrier, a doctoral student in the University of Wisconsin-Madison's history department, who soon learned he'd be returning to his alma mater in the fall as a Marilyn Yarbrough Dissertation Fellow. The new date of Stevenson's lecture, now planned for Sept. 20, meant that Gourrier would be in Gambier at the same time and able to attend.
Gourrier was familiar with the EJI's work, and his graduate school classmate, Doria Johnson, was collaborating with Stevenson on a project to commemorate Anthony Crawford, a relative of hers who was lynched in Abbeville, South Carolina, in 1916. Crawford, a prominent black farmer in Abbeville, was assaulted and jailed after a disagreement with a white storeowner over the price of cottonseed that Crawford brought to the market. He was released on bail but later abducted by a mob of white men and lynched at a nearby fairground, and his family was warned to leave Abbeville.
In his speech at Rosse Hall, Stevenson urged Kenyon students to "get proximate" — to dive into spaces where injustices are occurring and get intimately involved in solving the world's problems. His speech came at an opportune time — just days later, Johnson called Gourrier to see if his students would be interested in aiding the effort to memorialize Crawford.
"Stevenson's talk inspired my students to want to do some of the work he described," Gourrier said. "The success of his speech on campus added some expedience to our work."
Gourrier teamed with Justin Hosbey, another Marilyn Yarbrough Dissertation Fellow, and applied for a grant from the Kenyon Campus Community Development Fund to bus two dozen students to Abbeville to participate in a weekend of memorial events organized by Johnson and other Crawford family members. Two weeks later, the students and a handful of Kenyon staff members departed on their 10-hour journey to South Carolina, ready to get proximate to the effects of lynching and help the town of Abbeville explore its racial past.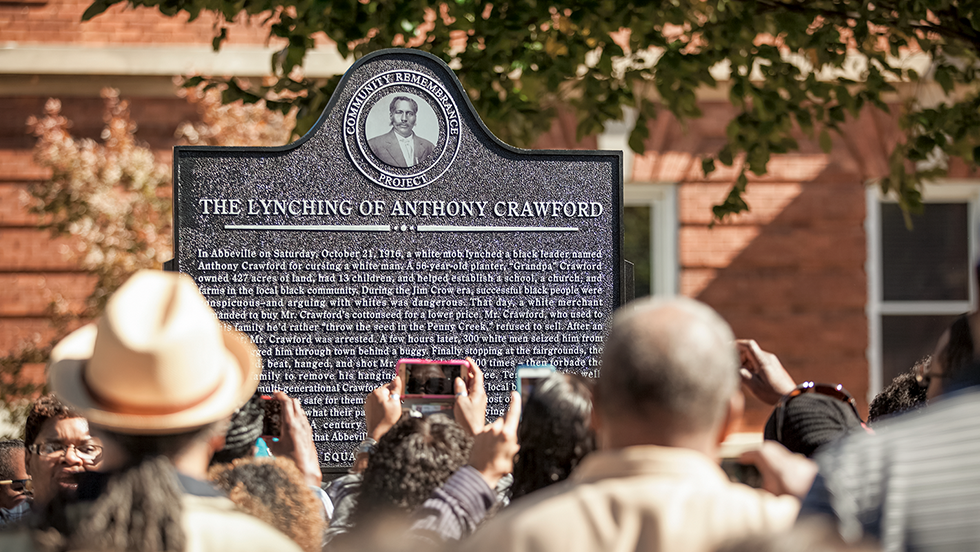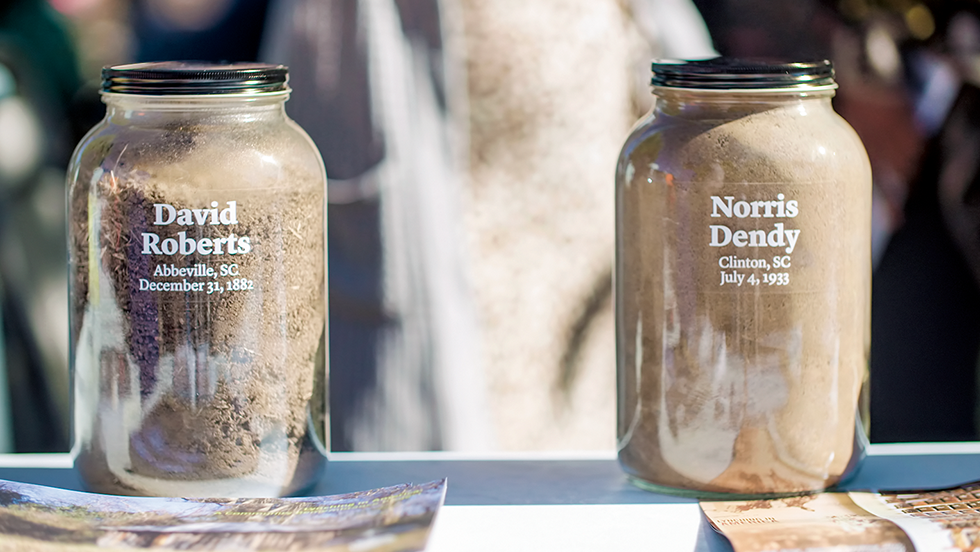 Johnson had invited the students to lead sessions at a daylong teach-in, or freedom school, in Jefferson Davis Park, near where Crawford was killed in 1916. The freedom school, modeled after the freedom schools made popular during the civil rights movement, was meant to spur dialogue about the meaning and importance of civil rights and justice. Students came prepared with discussion topics, from the Great Migration to "Strange Fruit," the iconic song made famous by Billie Holiday, protesting widespread lynching. They also shared poetry and music about race with the few hundred people, including relatives of Malcolm X and Ida B. Wells, who had heard about the event and traveled from across the country to attend.
"There was a community feel to it, kind of like what it is here at Kenyon in our classes," said Maymuna Abdi '18, an international studies major from Hilliard, Ohio, about the freedom school. "It was very cool to be teaching and to be taught by other Kenyon students, and to hear from community members and other people who traveled to discuss the issues. I'm still processing it."
One of the sessions was led by Simeon Wright, a cousin of Emmett Till, an African American teenager whose 1955 lynching in Mississippi galvanized the civil rights movement. Wright shared what it was like to be in the room when Till was kidnapped by the men who killed him.
"When you see Simeon Wright, it reminds you that this didn't occur all that long ago, and that if Emmett wasn't killed, he would have been about this guy's age," Gourrier said. "It's a tough thing to swallow."
Not far from the park hosting the freedom school, a store proudly sold Confederate flag paraphernalia, declaring with a sign in its shop window, "If this flag offends you, you need a history lesson."
"That sort of thing is really important for people to see, especially for people who grew up in the Northeast and areas where it's not as present," said Zak Young '17, from Port Jefferson, New York, reflecting on the shop's wares. "It can be jarring to see the differences that geography can make in American culture."
You could feel the sense of spirit throughout pretty much everyone there ... It was like a shockwave."
Jules Desroches '18
After the daylong teach-in, Kenyon students joined others in a powerful evening ceremony in which Crawford's family members gathered soil from the site where he was lynched. The soil collection was part of the EJI's Community Remembrance Project, a campaign to recognize the victims of lynching, and will be displayed in a museum that the organization is building. The EJI further honored the site the next day with a ceremony, officiated by Stevenson, unveiling a permanent marker at the site that noted its significance.
"You could feel the sense of spirit throughout pretty much everyone there, and how important that sort of recognition was," said Jules Desroches '18, an American studies major from Rockville, Maryland, about the soil ceremony. "Then on Saturday, when the marker was unveiled, in terms of healing, it was a huge moment. It was like a shockwave."
"Black blood on green leaves"
The trip to Abbeville, and the research students did to prepare for it, affected the way some students view trees. Black bodies all too often swung from tree limbs, especially in the South, during the long struggle for civil rights. Maymuna Abdi '18 and Eric Sutton III '18 reflected on this in an untitled poem they wrote on the ride to Abbeville and read at the freedom school.
Oh the sins these trees have seen
How long of a life that must be.
I used to think about how many people hung from
Your branches
How many necks snapped at the strength of your bark
How nobody could quite tell how strong you were
How strong you are
How you followed each of Harriet's footsteps
Finding the rhythm to her pace
She found comfort in your foundation
How In Stono the bloodshed
Drowned your green into burnt red and crimson
Flesh countered the oxygen you typically emanate for us to breathe
With black hurt
Black pain
Black blood on green leaves
Green leaves of the land
The land of freedom
Our freedom
Our freedom wiped away into darkness
Left with nothing but our identity
Even then we are left with nothing
Our land has now become his land
Our freedom no longer exists
Shackled by the chains of the past and the present
Murdered by the hands of the past and the present
We are standing on the land of the past and the present
We are the past and the present
An Educator's Education: Frankie Gourrier's Kenyon roots run deep
Frankie Gourrier '08 has engaged with Kenyon students in the classroom since before he was a Kenyon student himself. While in high school, Gourrier attended Camp 4, then called the Summer Kenyon Academic Partnership, an intensive academic enrichment program that offers high school students a chance to experience college firsthand. During the three-week summer program, Gourrier took classes with Kenyon professors and students who served as teaching assistants, and he lived in a residence hall with both his high school peers and Kenyon students.
"It was really nurturing. I got to learn from a variety of people with wide-ranging experiences," Gourrier said. "Even though the program was intensely structured, I really valued that community style of learning.
"During that program was when I realized that I wanted to teach," Gourrier added.
He went on to become an enthusiastic student in Kenyon's American Studies Program, where faculty members took note of his commitment. After taking a class co-taught by former Assistant Professor of American Studies Kevin Britz P'08 and Sara Kaplan, a Marilyn Yarbrough Dissertation Fellow, Gourrier was asked by Britz to work as a teaching assistant for the Kenyon summer program in 2006.
Now, as a Marilyn Yarbrough Dissertation Fellow himself, Gourrier is guiding Kenyon students through their own life-changing academic experiences. Named in honor of the late Marilyn Yarbrough H'01 P'95, a former trustee and legal scholar, the fellowship gives exemplary graduate students who are members of underrepresented groups the opportunity to complete their dissertations while living in a liberal arts environment. Fellows, who are provided a stipend, are expected to teach one course per semester and contribute to the intellectual culture at Kenyon.
"The fellowship has been exactly what I had imagined, with continued mentoring from faculty members who really expressed an interest in my success as a student and now as a beginning faculty member," Gourrier said. "I find that some of those same people are still looking out for me in ways that are really meaningful."
After six years, Gourrier is nearing the end of his doctoral program in the University of Wisconsin-Madison's history department. His dissertation examines gender in the civil rights movement and studies how men aided their wives' leadership in the movement, in part by assuming more chores around their homes.
These rising Kenyon achievers are proof that the future is in good hands.
Read The Story
A student-driven initiative aims for campus carbon neutrality within decades.
Read The Story