Reflections on a Changing Industry
A Q&A with newspaper veteran Geri Coleman Tucker '74.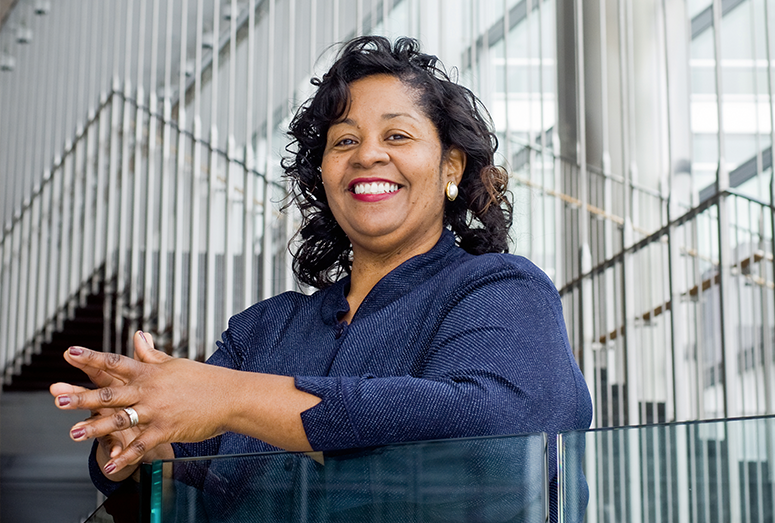 Throughout a career spanning nearly four decades in the news business, Geri Coleman Tucker '74 had a front-row seat from which to view — and report on — the media industry's transition from print to digital.
After graduating from Kenyon, she started her journalism career at the Akron Beacon Journal and eventually moved on to the Detroit Free Press, Gannett News Service and, finally, USA Today, where she worked for 20 years (until retiring in 2013) as the deputy managing editor of the paper's Money section. In a phone interview, Coleman Tucker, who lives in the Washington, D.C., metro area, opened up to the Bulletin about working in the news business — and much more.
Q: What attracted you to Kenyon as a student?
A: I grew up in a pretty poor family, but one that always encouraged education. One thing the five kids in my family always knew was that we were going to go to college, no matter what. My junior year, I started looking at colleges, but not knowing anyone in my circle or neighborhood who had gone to college, I was pretty much confined to the guidance counselor's office and the handbooks that they had on all of the colleges. I was looking on the shelf one day and saw the book from Kenyon, and it had a beautiful picture of a bicycle against a signpost. I thought, wow, that looks charming! I knew nothing about Kenyon but I picked up the book, read through it, talked to the guidance counselor about it and she thought it would be a good fit for me.
Q: You studied psychology at Kenyon. Were you always interested in writing as well?
A: I was always interested in writing. In high school I wrote a lot of poetry and even had an essay published in the Cincinnati Enquirer about the tentacles of racism and how we confront them in society. So when I was in college, I continued my creative writing.
Charles Wright (then-chair of the psychology department) was my professor and advisor. He said, 'You've been writing on the side, but have you ever thought about writing as a career?' I told him I hadn't. He connected me with James G. Bellows '47 and I sent him my writing samples. Of course, my writing samples were poetry and academic papers. (Laughs.) But (Bellows) thought he saw a spark and he suggested I try and get a job as a writer for a mid-size Ohio newspaper.
The Akron Beacon Journal gave me a tryout. They sent me to a city council meeting. It was the first time I ever did any reporting, since I never wrote for the high school paper or the Collegian. But I went to the meeting, wrote a story, they liked it and they hired me! I'm not sure that happens anymore. I was really blessed. Back then, newspapers were king.
Q: What was it like  starting out when newspapers were king, and then watching the media landscape transform?
A: As the media editor at USA Today, I saw a lot of the changes, and the move toward digital media, firsthand. It was a gradual change that quickly got fast. I remember in the early days of USA Today even, we were experimenting with quicker and different ways of delivering information to readers — particularly financial information.
In the '90s, the magic went out of print advertising when people realized that there were ways to target advertising more specifically at the buyers and consumers they were trying to capture, as opposed to mass advertising. That radically changed newspapers, because competition started coming from all different directions. When Craigslist came along, classified advertising started to dry up quickly. And that was a huge source of revenue for newspapers. In the past, there was less concern about editorial making money because advertising paid the way. It was an exciting time and also a time of huge change and pressure. Everyone had to learn new skills.
The problem is that digital journalism has not yet been as profitable as print journalism. So we're still seeing waves and waves of layoffs, downsizings and buyouts throughout the media industry. I think we're in for more years of turmoil.
Q: What advice do you give to students and recent ­graduates who are trying to make it as journalists?
A. In my gut I want to say, "stay away!" (Laughs.) But the reality is, I talk to a fair number of young people who seem to be going into journalism in large numbers. They are not put off by the turmoil in the industry. They're not even put off by the lower salaries that often are offered to them. Young people like the idea of having a platform in which to use their voice and to explore ideas and to interact with readers. They really seem to be embracing it. And they are doing some great things.
Q: What are you up to now?
A: When I retired from USA Today I thought I was just going to retire, but I've found that life is incredibly rich with other opportunities. So I continue to write. I'm a freelance writer and editor.
I have a son, now 30, who has Asperger's syndrome, and shortly after I left USA Today, I was asked to help launch a website, Understood.org, for parents of children with learning and attention issues. And I've gotten really involved with my church orchestra. I started playing clarinet again after not having played it for 40-some years. But the thing I really want to get back to is work on my own novel, which I keep saying I am going to do, but I haven't gotten there yet.
This interview has been edited for length and clarity.
A student-driven initiative aims for campus carbon neutrality within decades.
Read The Story
Inspired by a call to "get proximate," students help lead a teach-in at the site of an infamous lynching.
Read The Story
These rising Kenyon achievers are proof that the future is in good hands.
Read The Story