Wright Center Opens
The newly renovated building gives film students state-of-the-art studio space.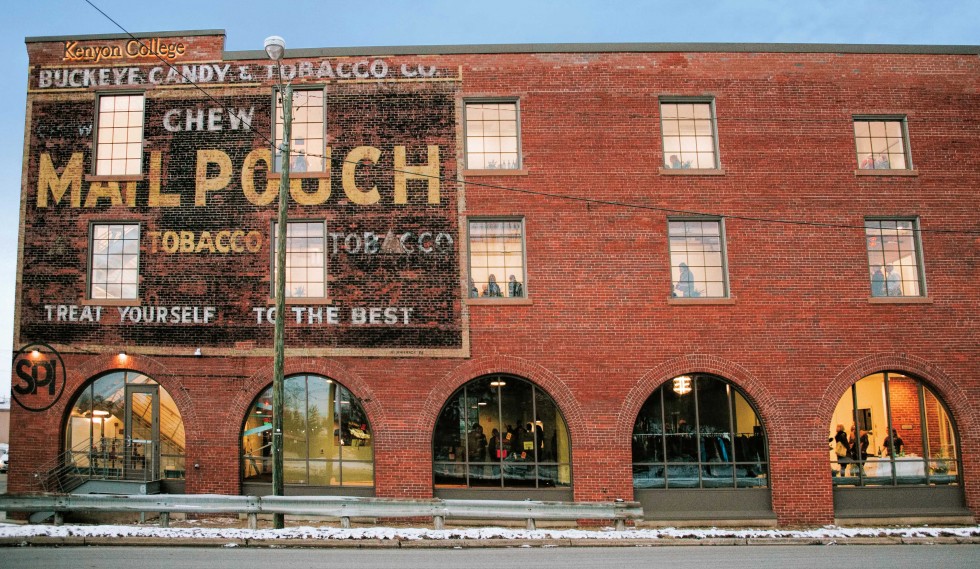 Kenyon film students now have access to new state-of-the-art studio space and production equipment after the opening of the Wright Center in January.
Renovation work on the 18,000-square-foot former food warehouse in downtown Mount Vernon began in March 2016. The former Buckeye Candy and Tobacco Company building houses a two-story movie studio, office space and play areas for SPI, where Science and Play Intersect; and Kenyon's Office for Community Partnerships, directed by Jen Odenweller.
The $6 million effort to save and restore the warehouse at 400 S. Main St. for College and community use puts Kenyon on an education corridor that includes Mount Vernon Nazarene University and Central Ohio Technical College.
"The Wright Center will be an exciting space for the entire Knox County community, and our students will use it to sharpen their skills at both independent and collaborative work; to learn to navigate and solve problems outside of the traditional classroom; and to explore career options," President Sean Decatur said. "This is a wonderful opportunity to expand the number of high-impact experiences that help our students collaborate with our community partners."
Kenyon named the building for the children of the philanthropist who has revitalized a host of Mount Vernon landmarks. Karen Buchwald Wright P'09,'05 is chairman, president and CEO of Ariel Corporation, a leading manufacturer of compressors used in the natural gas industry. Her sons who attended Kenyon are Alexander Wright '05, married to Libby Wright '05, and Hunter Wright '09, married to Katherine Wright '10.
These rising Kenyon achievers are proof that the future is in good hands.
Read The Story
Inspired by a call to "get proximate," students help lead a teach-in at the site of an infamous lynching.
Read The Story
A student-driven initiative aims for campus carbon neutrality within decades.
Read The Story