Forest Bathing and the Meaning of Trees
Professor of Art Gregory Spaid '69 recounts his experience photographing trees throughout the U.S.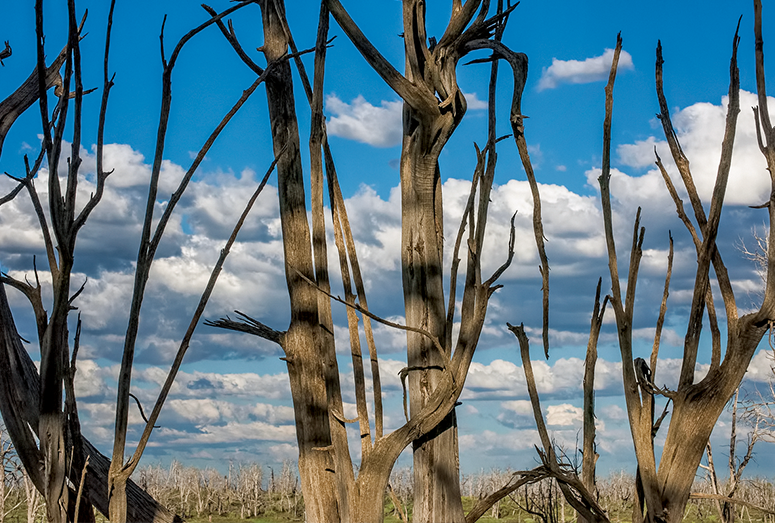 Trees are what I have been thinking about a great deal lately. And reading about. And photographing. I watch them move. I touch them with my hands to better understand the crosshatched bark of a black walnut or the waxy fan-like leaves of a ginkgo. Touching trees always takes me back to a time as a child when climbing trees was exhilarating and liberating play. The cool smooth trunk beneath my hands felt like a stone, yet strangely alive. And I am trying now to get to know trees by their names. To know a beech from a birch. A white oak from a red oak. A juniper from a pinon pine. This is impossible, of course, because there are far too many species for anyone to know — more than 60,000. Perhaps I can, at least, get to know my neighbors.
Three years ago I set out to photograph trees throughout the United States, not only because trees are beautiful — which they often are — but because trees can be more than beautiful. They serve as symbols for our relationship with nature and with culture. They give us visual metaphors for wildness, resilience, balance, endurance, vulnerability, shelter, grace and grandeur, among other things. They give a sense of scale to the environment in which we live, from massive redwoods in California to petite dogwoods in suburban parking lots. Trees measure time in units that help us think deep into the past and far into the future. Some bristlecone pines still living in higher elevations of the American West have been alive for 5,000 years. Imagine. Or if you plant a red oak today in Gambier, Ohio, it will probably outlive you, and your children, and their children, and their children and beyond. The act of planting a tree is a generous investment in the future, both for our progeny and for our planet, which is now losing trees at a rate far greater than they are being replaced.
In school we learn that trees give us oxygen, and we return the favor by producing the carbon dioxide they need. But trees are important to us for subtler reasons that we are only beginning to understand. For instance, I am intrigued by research over the last 30 years that demonstrates how seeing trees — simply seeing them — can lower pain and stress levels and thus promote faster healing.
Researchers have shown that patients heal faster in hospital rooms with a view of trees from their windows. It is now common for hospitals to construct "healing gardens" for the benefit of both patients and caregivers. In Japan there is a term I like for the beneficial effects of walking purposefully among trees. They call it "forest bathing."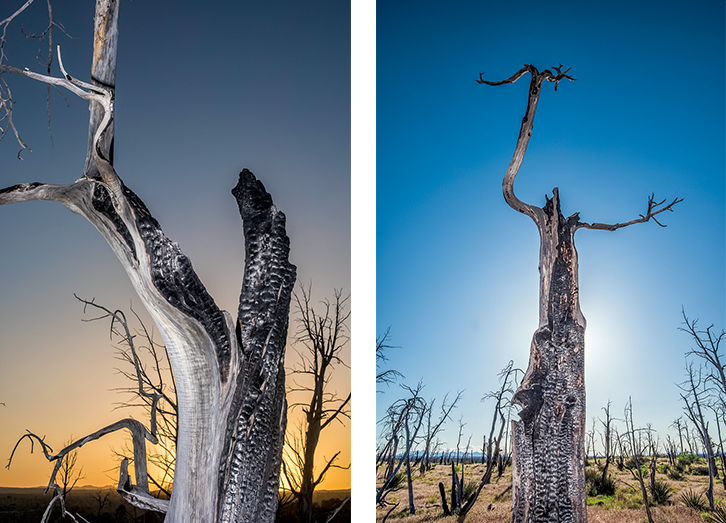 View more photography at gregoryspaid.com.
My project draws upon an instinctive capacity we humans have for reading meaning into nature. We have done that with constellations in the night sky and clouds in the day, and with geological formations in the landscape. A unique example of reading meaning into trees came with the naming of the Joshua Tree that is found in the American Southwest. The name apparently was given by Mormon settlers crossing the Mojave Desert in the 19th Century because they saw in this species of yucca the gesture of Joshua of the Hebrew Bible reaching for the heavens.
Last summer I was awarded an artist residency at Mesa Verde National Park in Colorado, which is where I made the photographs you see on these pages. The park is unique because of its extraordinary number of archaeological sites from Ancestral Puebloan culture dating from AD 400. There are 4,700 sites, including the stunning alcove sites, or cliff dwelling. But I went to Mesa Verde to photograph the sites of wildfires. I chose to concentrate on the haunting beauty and sculptural form of the juniper and pinon trees left standing after fires. Almost 80 percent of that vast park has burned over the last 100 years. Half has burned since 2000.
As you drive up the mesas that give Mesa Verde its name, you pass though one wildfire site after another in various stages of regrowth. Fires are so significant at Mesa Verde that the National Park Service now labels them with roadside signage: "Rock Springs Burn 1972," "Chapin Mesa Fire 1996," "Bircher Fire 2000," "Pony Fire 2000," "Long Mesa Fire 2002" and so on. At Mesa Verde these fires present a unique challenge. The beneficial effects of letting wildfires take their natural course has to be balanced against the obligation of the National Park Service to protect and preserve the extraordinary archaeological heritage found there. (In 1978 Mesa Verde was declared a UNESCO World Cultural Heritage Site.) This is a dramatic example of the complex relationship of nature and culture, with trees playing a central role.
The artist residency gave me special off-road access as well as backcountry training and a radio to keep park rangers informed of my location. My technique was rather simple by necessity because it involved my walking into the sites of wildfires with the equipment I needed on my back. I typically made these photographs at dawn or in the waning twilight when the western sky radiates with clarity and color. Those hours I spent in stone silence waiting for the brilliant sun to fall below Sleeping Ute Mountain were filled with meaning and magic for me. The photographs I made there now seem secondary to the extraordinary privilege of simply being there in that wild place with my eyes wide open.
Gregory Spaid's photography has been included in the collections of major museums throughout the country, including the Museum of Modern Art, the Smithsonian, the International Museum of Photography at the George Eastman House and the Getty Museum. In 2011 the Getty Museum included his work in an anthology of photographs of trees drawn from the museum's collection that covers the history of the medium. He is one of a few contemporary photographers included in this book, titled "The Tree in Photographs" (edited by Francoise Reynaud). Spaid has taught photography and other art courses at Kenyon College since 1979.
These rising Kenyon achievers are proof that the future is in good hands.
Read The Story
Inspired by a call to "get proximate," students help lead a teach-in at the site of an infamous lynching.
Read The Story
A student-driven initiative aims for campus carbon neutrality within decades.
Read The Story