Passion Project
Amy Peterson '02 runs a company that helps women achieve financial independence.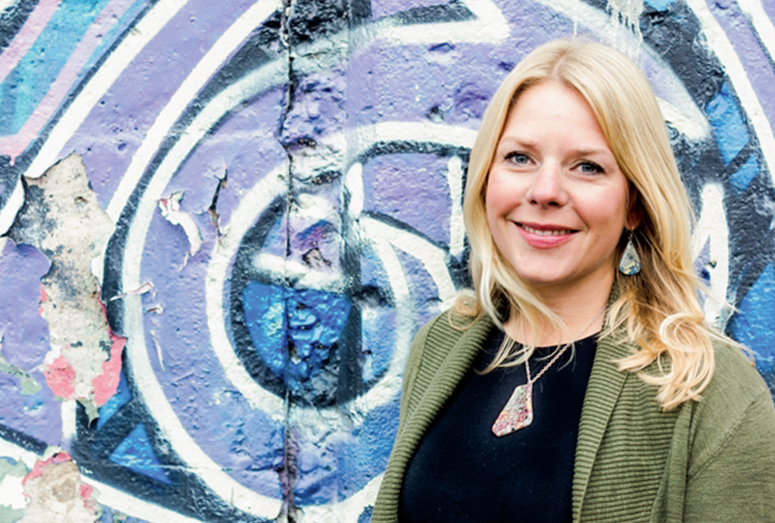 Amy Peterson's love of­ baseball was so fierce that the newly minted law school graduate convinced the Detroit Tigers organization to offer her an internship. She then moved through the ranks to coordinator of community affairs, manager of corporate sales and, ultimately, landed in the role of associate counsel for the team. So, what inspired her to found a jewelry company that not only sells funky, one-of-a-kind wearable art, but allows the women creating the art to transition from poverty to financial independence?
Simple — she believes unequivocally in empowering women, and was grateful for the chance to give back to the city that gave her a dream job.
Peterson lived next door to the Coalition on Temporary Shelter (or COTS), a well-known women's shelter, when she first moved to Detroit. She got to know the shelter residents while walking her dog and started thinking about ways to help them. But she wanted to do more than help — she wanted to empower and educate them.
"I thought that I could start by offering some classes that would teach them the tools they'd need when they left the shelter," Peterson said.
And with that, Rebel Nell was launched. Peterson was inspired by Detroit's graffiti and, with the help of the fledging company's co-founder and creative director Diana Russell,  figured out a way to expose the layers of paint, seal them and create stunning jewelry prototypes. Once the jewelry line was established, Peterson and Russell worked with COTS to identify women who would be good candidates for the program, and hired them.
"The women are trained to create Rebel Nell's products, and the product then pays for the classes we offer them," Peterson said. "This model helps them transition out of the shelter to a sustainable life."
The classes Rebel Nell offers to team members include financial literacy, business education, team building, entrepreneurship and wellness. In addition to these classes, Peterson and Russell tailor the program to each specific woman, going deep to help them find housing, get a driver's license restored, access legal aid or even send a child to summer camp. By keeping the staff small, Rebel Nell can provide each woman with individualized opportunities to learn and grow, while creating a day-to-day support system that allows team members to focus on their families while working full-time and earning a living wage.
Peterson's five-year plan includes opening a branch of Rebel Nell in another city — maybe New York or New Orleans. Her hope is to one day offer this type of programming to other women around the country, and to grow the company so that it employs 10-15 women.
"Seeing these women, their progress and their gratitude, keeps me going on this passion project," she said. "Because at the end of the day, that's what this really is — a passion project. And seeing the women grow — it really reinforces the idea of just how important it is to be a conscious consumer."
"You can make a huge difference through your purchases and you can make people's lives better," she added.
For more information on Peterson and her company, visit www.rebelnell.com.
Web extra: Visit Rebel Nell's Instagram account to see more of their work and share inspirational images.
A student-driven initiative aims for campus carbon neutrality within decades.
Read The Story
Inspired by a call to "get proximate," students help lead a teach-in at the site of an infamous lynching.
Read The Story
These rising Kenyon achievers are proof that the future is in good hands.
Read The Story