Book Reviews: Two Tracks
In this nation of immigrants, few issues are as fraught as immigration. We sometimes forget, however, that behind the passions, enmeshed in the policy debates, there are real people — individuals who might engage our empathy if we knew their stories.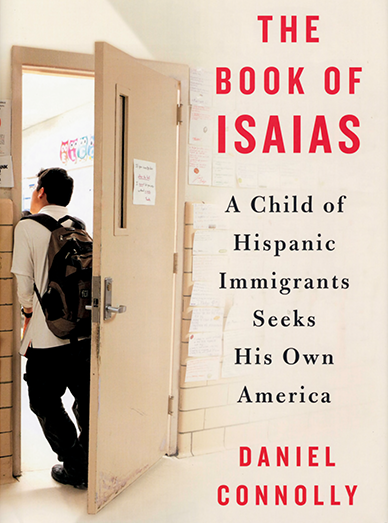 "The Book of Isaias," by Daniel Connolly '01 (St. Martin's Press), is so absorbing, and often very moving, because it keeps a close-in human focus on immigrant families. Not just any families: Connolly brings us into the lives of Hispanic and other immigrant high school students in a troubled school in Memphis. And not just any students: Most of them are unusually smart and talented kids, at the top of their class, prize-winners, who show great promise but face enormous obstacles, in some cases because of their undocumented status but always because of their disadvantaged environment.
Connolly took a year's leave of absence from his job as a reporter with the Memphis Commercial Appeal to immerse himself in Kingsbury High School, particularly in the life of Isaias Ramos, whose Mexican parents brought him to the United States — illegally — when he was 8 years old. Captain of the Knowledge Bowl team, adept at math, a sensitive writer, a musician with a knack for audio engineering, Isaias is nevertheless ambivalent about going to college, partly because he feels an obligation to help his family with its house-painting and renovation business.
The book, which follows Isaias' senior year, 2012–2013, keeps us in suspense as we worry, along with Isaias' teachers and advisors, about whether his undocumented status will prevent him from getting into college and whether he'll qualify for in-state tuition and scholarships. We get to know Isaias' family, friends and classmates. We see these young people in class and at club meetings; we go to college fairs and field trips with them. We meet some of their parents, who lack the ability (and often the language skills) to help their children navigate the college-application process. Connolly's reporting, which continued for more than two years after Isaias' graduation, also took him to Mexico to learn more about the world his parents left.
In one chapter, "Outclassed," Isaias and the Knowledge Bowl team travel to compete against several elite private schools at St. George's Independent School. "At Kingsbury," Connolly writes, "the first thing that greeted visitors at the front door was a walk-through metal detector. At St. George's, the front door led to a luxurious space resembling a living room, with bookshelves and a giant slab of petrified wood that served as a coffee table."
In the course of taking the team through its ups and (mostly) downs, Connolly digresses to discuss the history of segregation and court-ordered busing in Memphis, white flight and the changing nature of the city's public schools. It's a good example of how he masterfully weaves together personal stories and the larger context of history, immigration policy and current research on topics such as motivation among Hispanic and black students.
One of the book's major themes is that the immigration system has created "a permanent caste of people with limited rights," illegal immigrants who are tolerated, indeed valued, as a source of cheap labor but who are denied the full benefits of citizenship. Another key theme — and a wrenching one — is the chasm separating many of even the brightest immigrant kids, legal or not, from better-off peers who enjoy a vastly wider sense of possibilities.
To the Knowledge Bowl coach, English teacher Jacklyn Martin, "it seemed that society created two tracks: a track for people expected to make something of themselves and a track for poor people to whom society sent the message, 'Try not to be a loser.' And she saw in Isaias a smart, weird, quirky student who … had landed on the second track."
Martin is one of many adults in the book, including teachers and school officials along with volunteers and employees of private nonprofit groups, who emerge as quiet heroes, giving their all, against the odds, to help these students succeed. Their stories, too, make this sometimes heartbreaking book an inspiring one.
More Recent Books by Kenyon Authors
John Binder '62, "Before First Light"
The titles of Binder's poems suggest a playful, wide-ranging mind: "Guilty as Conceived," "Eat More Possum," "Kennebunkport Cowboy George W. Bush," "Leaving L.A." The collection offers love poems, elegies, rants, memories and introspection.
Caleb Carr '77, "Surrender, New York"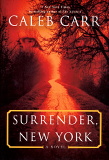 (Random House). In a rural county in upstate New York, teenage "throwaway children," kids who have been abandoned by their families, are being gruesomely murdered. A psychological profiler and a forensic scientist — exiles from the city — delve into the case. Carr, who attended Kenyon from 1973 to 1975, is the best-selling author of the thrillers "The Alienist" and "The Angel of Darkness."
Jennifer Gooch Hummer '87, "Operation Tenley"
(Month9Books). Middle school meets fantasy-thriller meets galactic power struggle in the story of Tenley Tylwyth, who desperately wants to compete on "America's Next Most Inspirational Teen" — but who, as an Elemental capable of creating weather, has angered Mother Nature. Only the fairy-like Fair Ones can save her.
Kent Karosen '88 and Chana Stiefel, "Why Can't Grandma Remember My Name?"
(Fisher Center for Alzheimer's Research Foundation). This gently straightforward book about Alzheimer's disease will help children understand and deal with the confusing changes they may encounter in an elderly relative. It's a visually lovely book, too, juxtaposing colorful artworks by children with equally striking pieces by Alzheimer's patients. Karosen, a managing director and partner at Cantor Fitzgerald, is the president and CEO of the Fisher Center for Alzheimer's Research Foundation. Royalties from the book benefit the foundation.
Megan Lewis '91, "Performing Whitely in the Postcolony: Afrikaners in South African Theatrical and Public Life"
(University of Iowa Press). Lewis, a professor of theater at the University of Massachusetts who grew up in apartheid South Africa, has written a fascinating study embracing not only the stage but also such forms as video and rapping. What emerges is a look at the complexity of Afrikaner identity, in a way that "neither patriotically deifies it nor glibly demonizes it."
Lewis has also co-edited (with Anton Krueger of Rhodes University in South Africa) "Magnet Theatre: Three Decades of Making Space" (University of Chicago Press), including essays, interviews and photos dealing with the influential Magnet Theatre of Cape Town.
Paul Matthews '55, "Now the Day is Over: Five Years in a New England Boarding School"
(Bauhan Publishing). A noted painter, Matthews has written a probing, honest and sometimes painful memoir about his time at the all-boys South Kent School in Connecticut. Vivid descriptions and character sketches blend with introspective passages, bringing an era and a rarified realm to life.
Aaron Perzanowski '01 and Jason Schultz, "The End of Ownership: Personal Property in the Digital Economy"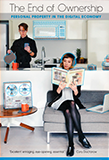 (MIT Press). The authors, both law school professors, examine the tradeoffs we accept — in terms of ownership and control — when we use ebooks, cloud storage, streaming and other digital goods.
Jeana Visel '01, "Icons in the Western Church: Toward a More Sacramental Encounter"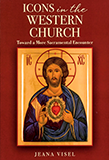 (Liturgical Press). Visel traces the history, meaning and role of icons in the Eastern Church and goes on to explore how these sacred images might enrich Roman Catholic practice as well. A member of the Sisters of St. Benedict of Ferdinand, Indiana, Visel paints icons herself, while working as an administrator at Saint Meinrad Seminary and School of Theology.
Inspired by a call to "get proximate," students help lead a teach-in at the site of an infamous lynching.
Read The Story
These rising Kenyon achievers are proof that the future is in good hands.
Read The Story
A student-driven initiative aims for campus carbon neutrality within decades.
Read The Story