Book Shelf
Explore new releases from members of the Kenyon community.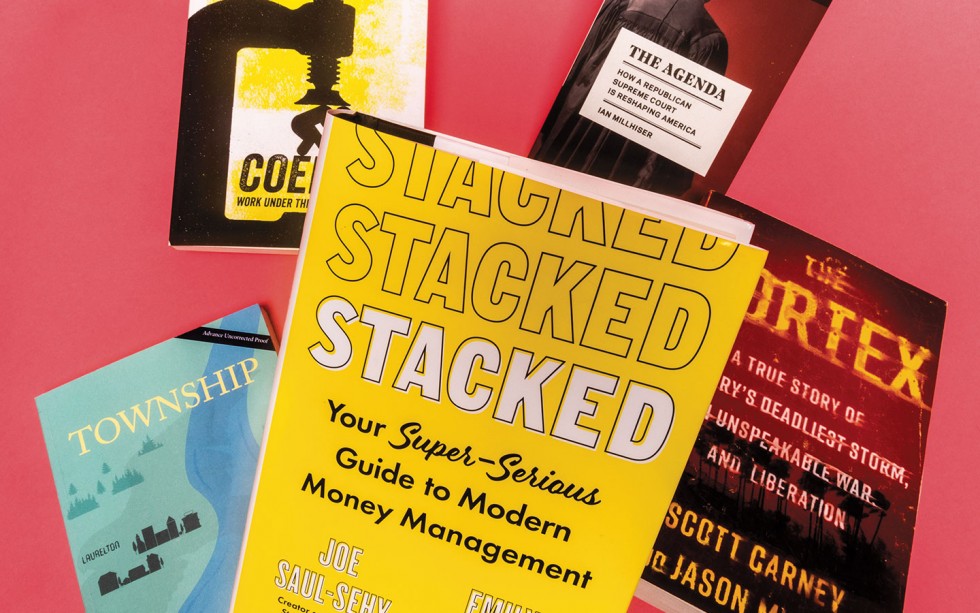 The Vortex: A True Story of History's Deadliest Storm, An Unspeakable War, and Liberation
BY SCOTT CARNEY '00 AND JASON MIKLIAN
When the 1970 Bhola cyclone struck East Pakistan (modern-day Bangladesh), the area where the storm made landfall was the most heavily populated coastline on the planet. The cyclone killed half a million people as tensions were rising in the movement for Bangladeshi independence. With Pakistan split, U.S. and Soviet forces faced off in the Bay of Bengal — a move that would put the world a hair's breadth from nuclear war. Though it sounds like a thriller novel, "The Vortex" is even better because it's true. (Ecco/Harper Collins)
Township
BY JAMIE LYN SMITH '96
Smith's debut short-story collection features nine stories set in Appalachian Ohio. Each tale is finely wrought and imbued with a captivating sense of place that captures the nuances and humanity of the region. Beyond poverty porn and click-bait headlines of misery and woe, Smith's stories approach life in Appalachia with empathetic honesty. David Lynn '76, editor emeritus of the Kenyon Review, called the collection "Supple, deeply rooted in place, and astonishing in [its] bite and wit." (Cornerstone Press)
Stacked: Your Super-Serious Guide to Modern Money Management
BY JOE SAUL-SEHY AND EMILY GUY BIRKEN'01
In times of uncertainty and economic turmoil, money is even more top of mind than usual — especially for those of us who have been putting off investing, budgeting and getting out of debt. Saul-Sehy and Guy Birken break these important financial concepts down into bite-sized pieces and infuse each morsel with their signature wacky, pun-filled humor. (Avery/Penguin Random House)
The Agenda: How a Republican Supreme Court is Reshaping America
BY IAN MILLHISER '00
In "The Agenda," Millhiser, a senior Supreme Court correspondent for Vox, explores the question, "What will a conservative Supreme Court do with its power?" Using his research and expertise, Millhiser speculates on what the six conservative Supreme Court justices are likely to do regarding issues like abortion, affirmative action and voting rights. (Columbia Global Reports/Columbia University)
Coerced: Work Under Threat of Punishment
BY ERIN HATTON '96
In "Coerced," sociology professor Hatton explores the commonalities among prisoner laborers, graduate students, welfare workers and college athletes. These workers have few, if any, labor rights and their employers have far-reaching power beyond that of typical employers. Hatton illuminates an often overlooked segment of the work-force: coerced laborers who work under the threat of punishment. (University of California Press)
---
Additional New Releases
• Jenna Blum '92, "Woodrow on the Bench"
• Brittany Clair '08, "Carrying On: Another School of Thought on Pregnancy and Health"
• Amy B. Mucha '90 and Addy Rivera Sonda, "A Girl's Bill of Rights"
• Ira Sukrungruang, Richard L. Thomas Professor of Creative Writing, "This Jade World"
Editor's Note: Have you published a book in the past year? Email editor@kenyon.edu and tell us about it.
How a marketer and trail-runner broke into an untapped market, scaled up and started over.
Read The Story
What it takes to create a classroom where everyone can thrive.
Read The Story
A writer visits the site of Jubilee College in Peoria, Illinois, and finds the spirit of Kenyon's founder is…
Read The Story