Tales from the Underworld
For Cristin Bishara '94, the phoenicians aren't a bygone ancient civilization — they're a present connection to her deceased father, a touchpoint of her Lebanese heritage and part of the inspiration behind "Vial of Tears," her new young adult novel.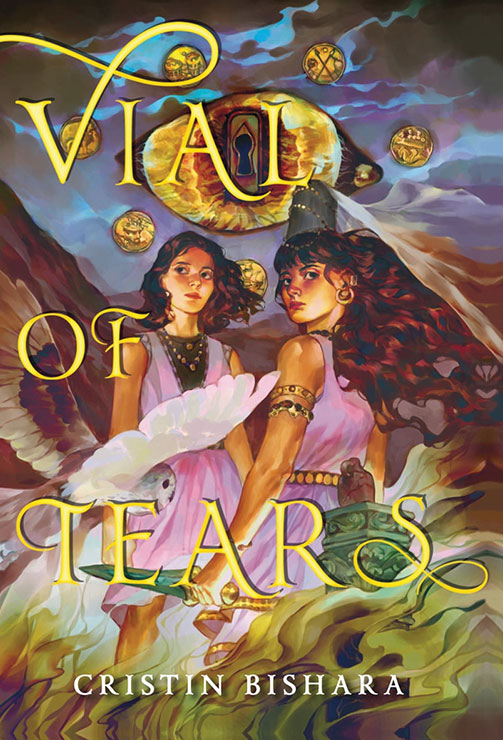 Based on Phoenician mythology, "Vial of Tears" (Holiday House, 2021) follows present-day sisters Samira and Rima as they're transported to the underworld by a mysterious coin sent to them by their great-grandfather, in Lebanon. There, they grapple with the death of their father and try to find their way out of a place teeming with shapeshifters, angry gods, flying monsters and a captor with a keyhole-shaped pupil in the middle of his iris — all before their mother even realizes they're gone.
In addition to Phoenician mythology, "Vial of Tears" was inspired by family stories Bishara heard while growing up in Poland, Ohio.
"My great-grandfather unearthed a collection of ancient coins in his village in the Lebanon mountains in the 1950s," Bishara said. "By now there are so many varying stories. He was digging for a garden, he found it in a cave, he was digging the foundation for a house, so who knows how it came about."
But one fact remains: Bishara's great-grandfather, Assad, found a cache of ancient coins in his village, Karm El Mohr. Bishara's aunt has the coins, and Bishara's brother did the legwork of identifying them.
"They're all Greek and Roman, about 2,000 years old. Just hearing about those coins as a kid growing up, that buried treasure sparked my imagination," she said.
Long before the ancient coins were buried, the Phoenicians lived in the Levantine region, including what is modern-day Lebanon. After Bishara's father died, she inherited some of his books, including one on the Phoenicians, and the story began to take shape.
"My dad was obsessed with the Phoenicians. I read a book he owned, which covered Phoenician mythology and the pantheon of gods, and thought about the coins. I thought, maybe I can put all this together," Bishara said. "I knew I wanted to have a magical coin that transported somebody to the Phoenician underworld."
The book Bishara read was "Peoples of the Past: The Phoenicians," by Glenn Markoe, one of only a few books on the civilization. Much of the Phoenician culture has been lost to time, which made the research for "Vial of Tears" challenging.
"The way I explain it to people is to imagine something catastrophic happening to our civilization right now. In terms of writing, all the digital stuff is going to be gone, and anything on paper is gone because of time and the elements. But the things that are etched in stone are the things that remain," she said. "A lot of what we know of the Phoenician civilization is etched in stone, on tombstones. You can't learn about a culture in its entirety from its cemetery."
As challenging as worldbuilding the Phoenician civilization in fantasy form was, it was an important mission for Bishara, who wants to see more Middle Eastern representation in young adult literature.
"There just wasn't any YA literature with Middle Eastern characters when I was growing up. We're really lucky now because we're going through this amazing movement and there's a spotlight on getting more diversity in children's books, in particular," she explained. "I'm not sure I could've sold this manuscript 10 or 15 years ago. There was a time when no publishers wanted books like this because they didn't think the books were commercial enough."
Though much of the novel takes place in a fantasy version of an ancient society, Bishara weaves in tidbits of modern-day Lebanese immigrant culture, especially when it comes to the book's vivid descriptions of food. From baklava to pita bread, and from lamb stew to grape leaves, the details of the cuisine woven throughout the story are enough to make a reader salivate onto the page.
"Lebanese food was such a big part of my childhood because we went to my grandmother's house every weekend and she was always cooking," she said.
"I'll forever remember the smell of my grandmother's kitchen. I know my kitchen smells like that too sometimes, which makes me happy knowing that my children will know that same smell and it'll make them think of home. It's a way of keeping the culture alive."
The Phoenicians show us what happens when a culture is nearly lost and all that's left are artifacts and pieces, so the impetus to keep Lebanese-American culture alive for future generations is a means of survival that hinges upon family ties. This is the driving force behind "Vial of Tears."
Bishara may have been dreaming up the concept for "Vial of Tears'' for decades, but Kenyon is where she first came to believe that she could actually make a life as a writer. She took her first creative writing classes at Kenyon — a poetry class and a fiction class in her senior year — and went on to earn an M.F.A. in poetry from St. Mary's College.
"I went into Kenyon thinking I was going to go to law school after, and I left Kenyon thinking I want to be a poet," Bishara said. "Those four years changed my route and made me feel like writing books was a worthy pursuit, as opposed to an impractical dream."
Bishara recalled that Professor of English Emerita Jennifer Clarvoe, who taught the poetry-writing class she took, had an impact on her writing.
"I still remember notes she wrote on some of my poems, like 'pare back to essentials' and 'don't mute with overlap.' I can still see those notes in the margins in my mind," Bishara added.
Though Kenyon has a reputation for producing best-selling young adult authors like John Green '00 H'16 and Ransom Riggs '01, Bishara's path to young adult publishing was long and circuitous. While working toward her MFA in creative writing, she studied poetry, took screenwriting classes and then joined the Society of Children's Book Writers and Illustrators on the advice of a fellow writer friend. When the idea for her first novel, "Relativity," a science fiction book published by Bloomsbury in 2013, came to her, Bishara knew it had to be YA, just as she knew "Vial of Tears" also had to be. Bishara writes across multiple genres, and she allows each story to tell her what it needs to be.
Throughout the process, the writing skills she's honed over the years surface to guide her hand. "I'll nitpick over the precision of my language and word choice, so that's where my poetry comes in. The screenwriting comes in because I'm extremely visual and I like to be able to light a scene. I feel like I have a camera attached to my vision when I'm writing," Bishara explained. "I don't think it hurts at all for writers to try everything because it informs your writing in so many different ways. You pull from all of those toolboxes without even realizing it."
Despite the explosion of the young adult genre in recent years, there are lingering misconceptions that the books are for kids only, and that adults should steer clear. For Bishara, this attitude of shame around the genre also marks a larger societal ill: that books about other cultures are seen as only being relevant to people in those cultures. And that's a narrative that books like "Vial of Tears" can help change.
"Fear, hope, loss, love, forgiveness — all the things we look for in a story are in YA," Bishara said. "No matter what the story and what cultural inspiration is behind it, we all grapple with the same questions, and the same big themes are running through all of our hearts and minds."
A writer visits the site of Jubilee College in Peoria, Illinois, and finds the spirit of Kenyon's founder is…
Read The Story
How a marketer and trail-runner broke into an untapped market, scaled up and started over.
Read The Story
What it takes to create a classroom where everyone can thrive.
Read The Story