Under a Social Microscope
Discover the inspiration behind "Glass House," the latest buzzy song by Annie Blackman '20.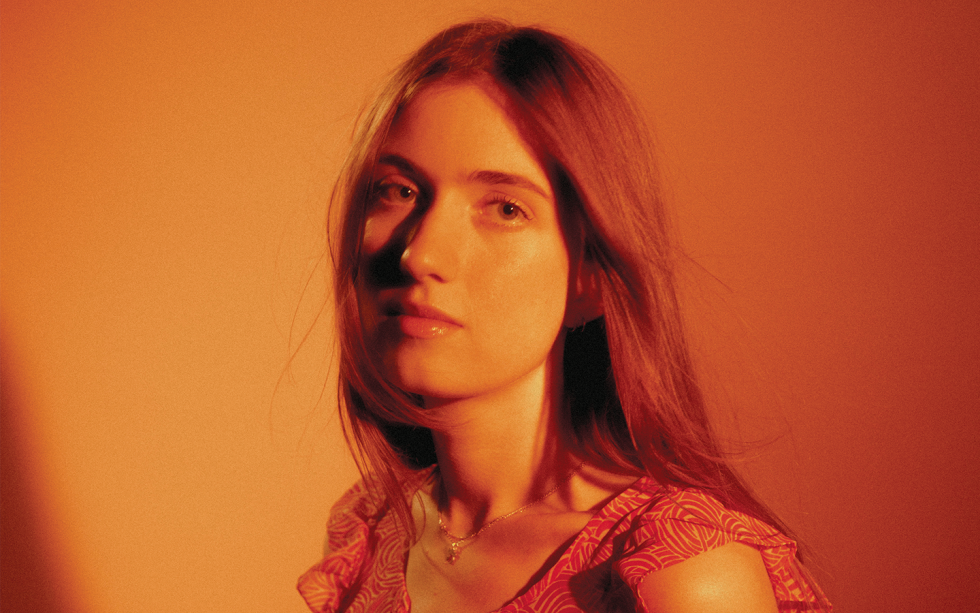 If your Spotify Wrapped for 2021 included artists like Phoebe Bridgers, Soccer Mommy, Mitski and Boygenius, Annie Blackman '20 might feature prominently on next year's list. After graduating from Kenyon, the English major and musician from Montclair, New Jersey, who honed her craft playing open mic nights and shows at the Horn Gallery, signed with independent music label Father/Daughter Records. Through them, she has released a set of singles that have gained traction on TikTok and other social media platforms, including this song, "Glass House," which, it's worth noting, features production by Evan Rasch '17 and drums by Carl Lehman '17.
James Rettig of Stereogum described the song as "a strummy and melodic soarer with some cutting lines." Blackman told Rettig that "'Glass House' is about guilt and hypocrisy, and throughout the song, the recipient of my frustration changes. Sometimes it's myself, sometimes it's someone else. Mostly, it explores the sentiment of the chorus, 'If I'm bad and you're bad then one of us is better.' It's an unhelpful, obsessive way of thinking, but there's a little catharsis in the anger."
Blackman's music is available on all streaming services.
---
Blackman's notes are below in italics.
'Glass House'
We can talk it out
Come over I'm just a stone's throw
From your glass house
I wanted to play with "those who live in glass houses should not throw stones" and make it a little more personal.
Or leave it in the past
Whatever you wanna do goes
I learn fast
But who's to say that I got fucked?
A game's a game and luck is luck
I'm not a loser
I'm a winner in a rut
Then the line gets pretty thin between
The ego and the self esteem
If he thinks I'm duplicitous he's right
When I feel particularly insecure, I find myself wavering between ego and low self-esteem. Neither feeling is sustainable, and when one is exhausted, the other is assumed. Does containing dualities (good or bad) somehow make me two-faced?
What's a person?
What's a body?
What's the takeaway tonight?
Can't be sure
These are questions I find myself asking in almost every song I write. I might not be able to answer them, but asking always helps.
If I'm bad and
You're bad then
One of us is better
Just laugh
It's good practice
Punish me it's funny when I'm small
Or so I'm told
Every other dream
You get me in a corner
face close
Bared teeth
Not a lot to crack
The symbolism's thin
At least I
Have that
My dreams are usually a pretty literal representation of my waking thoughts. I was having a recurring dream for a while where someone would find me in a crowded room and tell me he hated me. The symbolism is pretty straightforward, if you ask me.
Think of all the times that he
Insisted he would die for me
To satisfy a complex I can't name
A bullet aimed between my eyes
A sideways slow-mo sort of dive
He couldn't be my martyr but I tried
I really like the imagery here. It feels like the act of taking a bullet for someone only happens in slow-motion. Super dramatic, and I wanted to try and capture that.
Oh Annie and the narrative
They told him I would write
How'd I do?
Worrying what other people think about you is hard to shake, especially at a school like Kenyon where it feels like you're living under a social microscope. Am I living up to the version of myself people expect me to be? Is that a good thing? A bad thing?
If I'm bad
And you're bad
Then one of us is better!
Just laugh
It's good practice
Punish me it's funny when I'm small
Or so I'm told
I had a lot of trouble writing this chorus but it ended up being pretty cathartic. If the rest of the song is me at my most vulnerable, the chorus gives me a chance to just be angry. Which is important sometimes.
A writer visits the site of Jubilee College in Peoria, Illinois, and finds the spirit of Kenyon's founder is…
Read The Story
How a marketer and trail-runner broke into an untapped market, scaled up and started over.
Read The Story
What it takes to create a classroom where everyone can thrive.
Read The Story