Icebreaker with Celestino Limas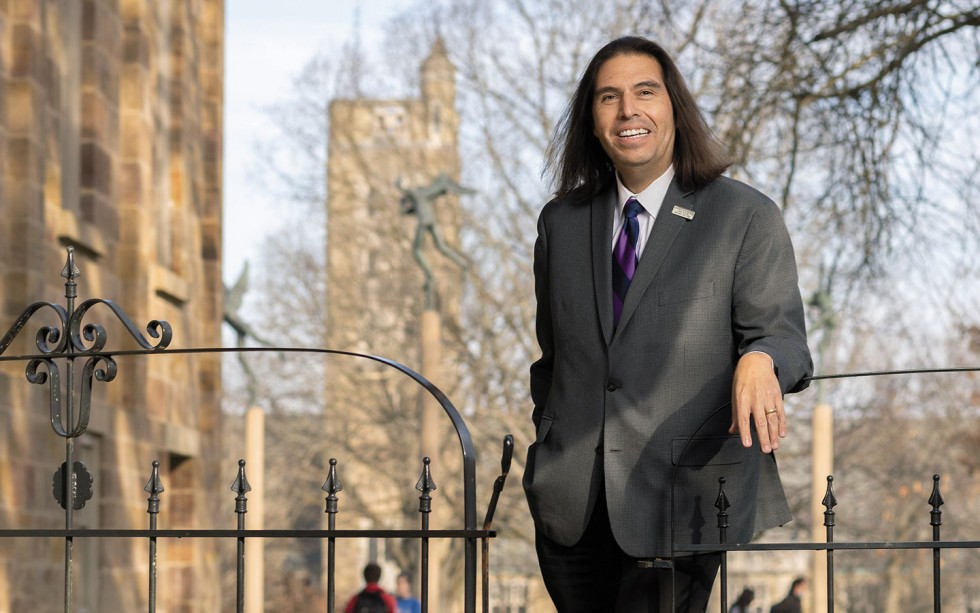 Celestino Limas joined Kenyon as vice president for student affairs in August 2021 after serving in a similar role at Elizabethtown College in Pennsylvania. He's spent much of his career at small liberal arts colleges, often leading campus-wide diversity and inclusion efforts. Limas holds a bachelor's in psychology, a master's in special education, and a doctorate in educational leadership, and has taught American Sign Language and other courses at several institutions.
What's your favorite place?
It's a close race for me between Middle Path and Kona, Hawaii.
How would you describe yourself in a sentence?
A proud papa and devoted husband who loves riding his Harley chopper and is stoked to be a senior servant at Kenyon.
What drew you to Kenyon?
The level of investment students, faculty and educators have in making the community a lived reflection of our articulated values.
What books changed your life?
"Pedagogy of the Oppressed" by Paulo Freire, "Borderlands/La Frontera: The New Mestiza" by Gloria Anzaldúa and "Lies My Teacher Told Me" by James Loewen.
What's the best advice anyone has ever given you?
Anything my mother ever told me — she had wisdom, grace and an ability to prioritize what matters that shaped me into the person I am for my family.
What else would you like people to know?
The Kenyon of today has been making great strides to revive our community after the past three semesters — watch as all of us on campus work to breathe life into all of your favorite traditions!
How a marketer and trail-runner broke into an untapped market, scaled up and started over.
Read The Story
A writer visits the site of Jubilee College in Peoria, Illinois, and finds the spirit of Kenyon's founder is…
Read The Story
What it takes to create a classroom where everyone can thrive.
Read The Story