Drawing Abroad
For Henry Uhrik '18, illustration helps transcend cultural and language barriers.
When Henry Uhrik '18 arrived in Yaroslavl, Russia, to spend a semester abroad, he was committed to honoring the Russian-only language pledge implemented by his program. Although his Russian skills slowly improved, there were communication barriers. Luckily, Uhrik had at his disposal a secret second language: that of comics.
"When language was difficult, I would go and I'd sit at a bar and listen to people, and then just draw comics in my sketchbook," he said. "At the end of my trip, I scheduled this big party with all of the people I had met, and we all got together at this one café, and they passed around my sketchbook. It was a great way to connect with people in a final way."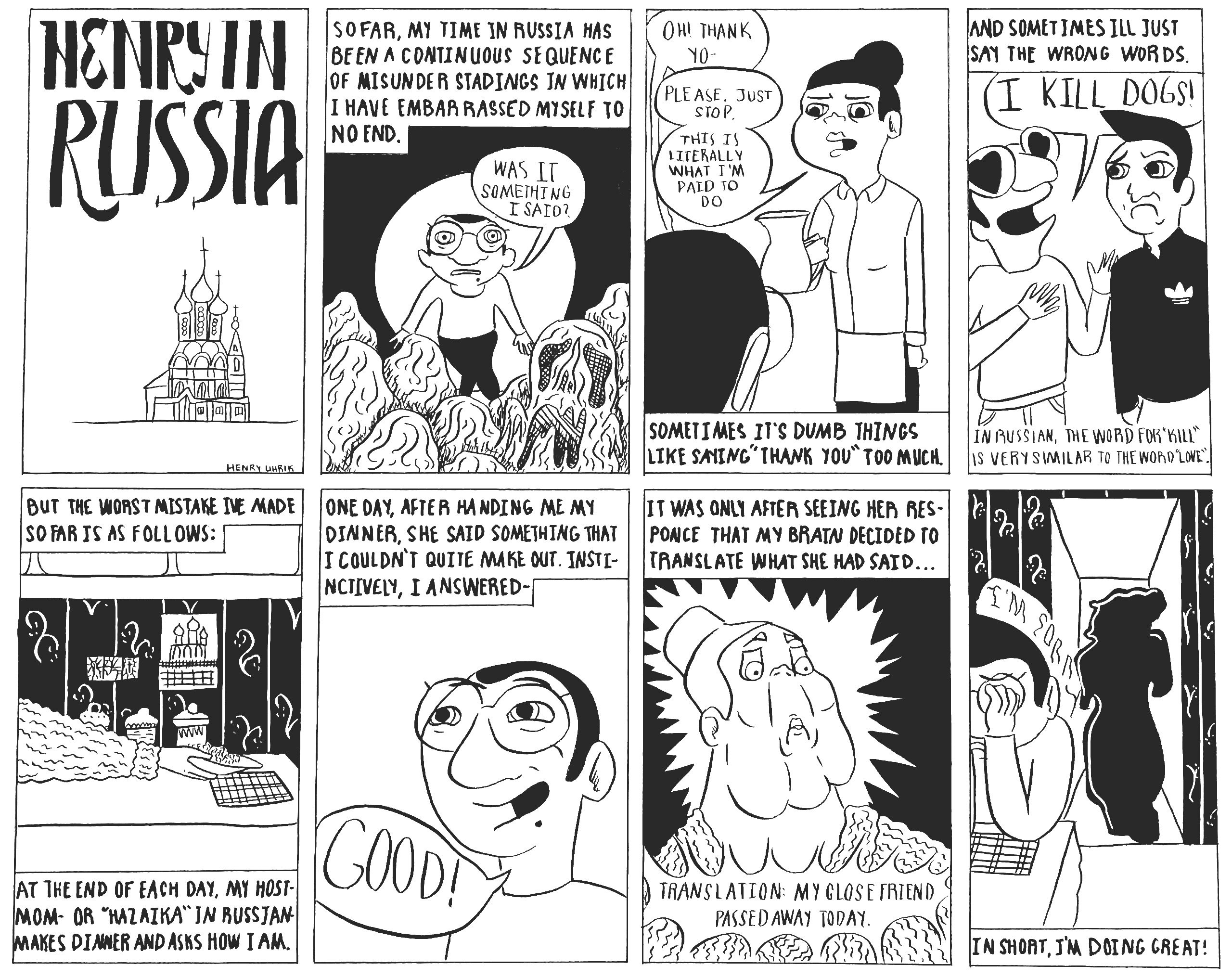 Uhrik, from Phoenix, has been interested in drawing ever since childhood, and brought that passion to Kenyon. "I realized that every class I wanted to take was a studio art class," he said, which quickly led him to declare a major in the subject.
His second major in Russian area studies, however, came as more of a surprise. When his academic advisor suggested Russian as a way to fulfill Kenyon's language requirement, "I just thought that was the most ridiculous thing ever," Uhrik said. He enrolled in an introductory class "just completely as a joke, and that one-year joke became two years of studying Russian and then going to Russia and majoring in it."
Uhrik's semester abroad was partially funded by a travel grant through the Natalia Olshanskaya Scholarship, named in honor of the longtime professor of Russian who died in 2016. "It was a really, really huge honor," Uhrik said, "about receiving the grant. (Olshanskaya) is the reason why I'm studying Russian. She really pushed me forward into doing it." Uhrik further pushed himself by choosing to study in Yaroslavl, rather than a major city where he could fall back on English. "If I was in Moscow or St. Petersburg, I knew I would cheat," he said. "In Yaroslavl, everyone there speaks Russian and only Russian."
On campus, Uhrik exercises his drawing skills by working as a staff illustrator for the Collegian, contributing editorial cartoons, illustrations to accompany news stories and a visual "Notes From Abroad" column during his time in Russia. He also works as an associate at the Gund Gallery, where he leads video projects along with other students. "At the Gund Gallery, I work with a team, and when I'm doing comics it's a very solitary process," he said. "So working with a team gets me to better communicate what I need to do and how I need other people to do their jobs, which I don't get from comics."
The legacy of the Collegian's most famous cartoonist — Bill Watterson '80, who went on to create the legendary "Calvin and Hobbes" comic strip — was not even on Uhrik's radar during his college search. "I never read 'Calvin and Hobbes,' and once I got to Kenyon, people were like, 'oh, Bill Watterson went here,' and I had no idea who he was," Uhrik admitted. "And then I pretended I did for a while, and then I finally looked at some of his stuff, and was like: 'Oh, it's very good.'"
In preparation for his comprehensive senior exercise in studio art this year, which will focus on experimental forms of cartooning, Uhrik has paid attention to the legacy of several more underground or alternative cartoonists who have been associated with Ohio, like Jeff Smith, Robert Crumb and comic book writer Harvey Pekar. He's also happy to have the Ohio State University's Billy Ireland Cartoon Library and Museum as a nearby resource. "It's a great, great archive. It's one of a kind," he said.
After graduation, Uhrik plans to unify his two passions by returning to Russia to study comics in that country. "Russia has never really had a huge history with comics. ... Especially during the Soviet era, comics were looked at as capitalist propaganda," Uhrik said. "Then, in the '90s, they had this massive, massive boom. … None of the people who are making comics are doing it full time — it's what people are doing in their spare time and, from that, it's not fueled by a market or by money, it's just pure creation."
But Uhrik is just as committed to creating art as he is to researching it. "The goal right now is to be a cartoonist," he said. "To travel, to learn, and then basically just make comics all day every day."
Web extra: View more of Uhrik's work at henryuhrik.com.
From pilgrimage souvenirs to rubber ducks, peek inside the personal collections of Kenyon alumni and faculty.
Read The Story
At Kenyon, student activists tackle national and international issues — as well as concerns closer to campus…
Read The Story
Behind the music with Nick Petricca '09 of the popular rock band Walk the Moon, which got its start at Kenyon.
Read The Story