Details
According to Dean of Admissions Diane Anci, Kenyon's Class of 2021 is "a terrific tribute to the things that Kenyon values most. It is academically distinguished, among the most diverse classes we've enrolled, and its talent knows no bounds."
5,603  First-year applications received
460  First-year matriculants
19.8  Percentage of domestic students of color
8  Percentage of international students
19  Countries (including the U.S.) they call home
37  States they call home
9  Percentage of Pell-eligible students
69  Students with a relative who attended Kenyon
4.04  Mean high school GPA
40  Percentage of students who received need based scholarships
35 million  Total dollars spent on financial aid for all classes
It's Electric
Gambier is a new destination for electric-vehicle drivers wanting to charge their cars. Kenyon's Office of Green Initiatives partnered with Tesla this fall to install two Tesla chargers and a universal EV charger outside the Kenyon Inn, and they plan to install more outside the Kenyon Bookstore — an ideal place for drivers to grab coffee and a good read while topping off their cars.
Image credit: Steve Jurvetson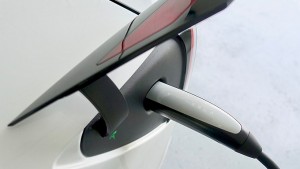 Washrooms fit for the Whitney
A sign posted in Rosse Hall directing guests to
"accessible restrooms" was meant to refer, of course, to facilities complying with ADA standards. Someone, however, chose to interpret "accessible" in the art-world sense of "easy to understand," and decided to provide another option: A second, smaller sign appeared, pointing the way toward "avant-garde restrooms" for those desiring a less pedestrian experience. No word on whether Marcel Duchamp's "Fountain" was a featured exhibit.
Cold Coyote
Visitors to the Brown Family Environmental Center might be in for a surprise if they raid the BFEC's fridge. Instead of ice cream and ice pops, the freezer contains a skinned coyote. "It was pretty tricky to get him in there," said manager Noelle Jordan, "because we also have a red-tailed hawk, a flying squirrel and five song birds." All of the chilled critters will become part of the BFEC's teaching collection.
'05
Kelly A. Smallwood Stowe relocated mid-pandemic to greater Boston for a new job at the Volpe National Transportation Systems Center and updates, "I'm working on transportation research and analysis projects for a variety of government agencies. Very interesting, given the massive transition to remote work for much of the American workforce. Also a very interesting time to parent schoolaged children. We opted to home-school, which has turned out to be the best decision for our family. Technology is good for many things, but our first- and second-graders have benefited tremendously from the one-on-one attention they're receiving from their home-school teacher — my husband.
'83
"It's been a long time since I sent in a class note! My wife, Kate, and I celebrated our 25th anniversary this year. Our son Jack is a sophomore at Xavier University in Cincinnati. I have been working in business-to-business media for over 30 years, most of that time with Reed Business Information and UBMInforma. Now working for Cleveland-based WTWH Media, managing clients across the U.S. for our EE World, Design World and R&D World brands."
— James H. Dempsey III, Rocky River, Ohio
'64
Walter W. Nielsen, Phoenix, and his wife, Karen, "continue to cocoon by doing crossword puzzles, reading, hiking Arizona trails, gardening and virtually visiting our four children, five grandchildren and three great-grandchildren — a number happily augmented by great-grandson River's arrival." Walt and Karen also enjoy Arizona State University lifelong learning online courses. Last fall, he took classes in art history, bats, birds, volcanoes, jazz, memoir writing, movie history and storytelling. "A downtown Phoenix gallery is currently exhibiting several of Karen's paintings and my nature photographs. Karen's have far better odds of selling than mine."