Triage on the Field
Three questions with head athletics trainer Mark Teeples.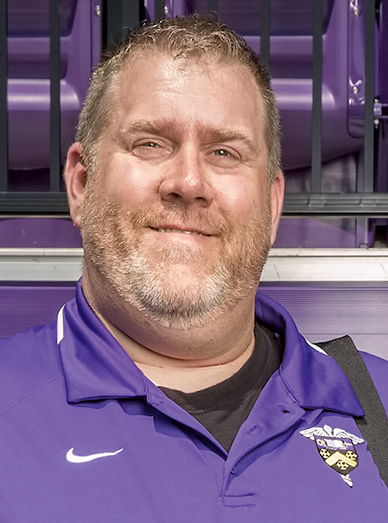 During a chaotic 11-year span working as an athletic trainer with the Baltimore Ravens and the Columbus Blue Jackets, Mark Teeples reluctantly forfeited family milestones, like his kids' first words and steps.
"I was never home when the sun was up. There were times I didn't even go home. I'd just sleep under my desk," Teeples said in an interview with sports editor Martin Fuller. The crushing time commitment and demanding travel schedule prompted a change — one that landed Teeples in Gambier, where he was hired as an assistant and later promoted to head athletics trainer.
"My work at Kenyon is still a big time commitment, but now I have more opportunities at home. Eating breakfast with my kids and taking them to school — to me, that's a luxury," Teeples said.
1. A day in the life of an athletic trainer is never routine. Can you, however, attempt to dissect one?
Unless a 6 a.m. practice is scheduled, we'll arrive around 9 or 10 a.m. Those morning hours are for meetings and open clinic coverage for non-athletes, faculty and staff. Around 2:30 p.m. things gear up for varsity athletics. We start practice prep, rehabs, evaluations and taping. The mad rush starts at 3:30 p.m., when the rest of the varsity athletes arrive. After that, we work as many practices as possible and then it's back to the training room around 6:30 p.m. for post-practice, rehabs and paperwork to document everything. Around 8 p.m. we try to shut down the room unless, of course, there are games or late practices scheduled.
2. Aside from long hours, what unique challenges come with working at the DIII level?
Being able to provide a steady standard of care with minimal staff. Every event is becoming more of a production, which makes games longer. Meanwhile, roster numbers keep growing and students seem to be taking on more and more. In pro sports, the athletes only had to get better. That's it. That was their job. At this level it's different. Athletes have many things on their plate. While they try to juggle those things, we do our best to fit into all of their schedules.
3. What is the atmosphere like in the training room?
I'd be lying if I said there wasn't a basket of Nerf guns in the office. We keep it lighthearted, but professional. We want to make sure a person is comfortable coming in. My goal is to be almost a parent away from parents. I want to have the trust of those athletes. They might be at their lowest point, but they feel at ease coming to us because we are an approachable staff. That's very important to me.
From pilgrimage souvenirs to rubber ducks, peek inside the personal collections of Kenyon alumni and faculty.
Read The Story
Behind the music with Nick Petricca '09 of the popular rock band Walk the Moon, which got its start at Kenyon.
Read The Story
At Kenyon, student activists tackle national and international issues — as well as concerns closer to campus…
Read The Story