Investing in Diversity
Barry F. Schwartz '70 H'15 leads efforts to endow the President's Fund — and prioritize college access.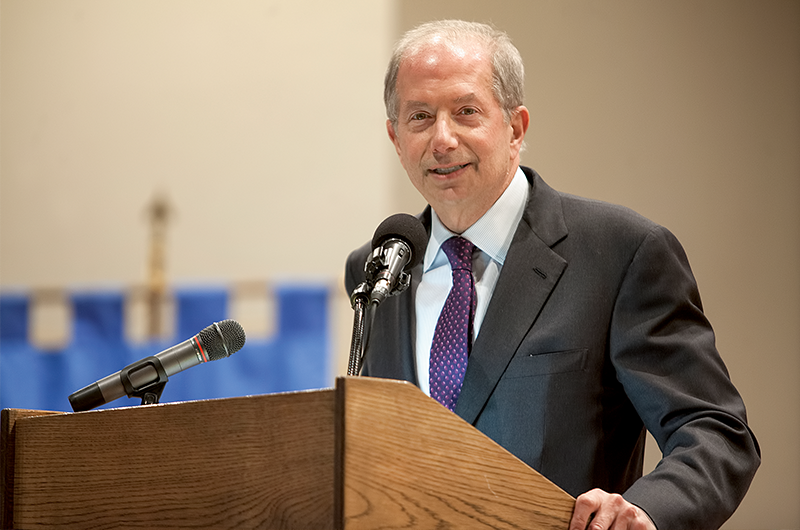 Former Board of Trustees Chair Barry F. Schwartz '70 H'15 is leading efforts to endow the President's Fund, a scholarship that will put a Kenyon education within reach of a more diverse pool of talented students for generations to come.
Awards from the President's Fund will go to underrepresented students whose family income is in the bottom 60 percent of family incomes across the U.S. The College has set a goal of $20 million for the fund.
"There's a real understanding among students, faculty, administrators and staff that diversity plays an important role in the quality of the Kenyon experience," Schwartz said.
In the future, the pool of the nation's most promising students will be more ethnically diverse, more likely to be first in their families to attend college and require more financial aid, according to U.S. census data. Kenyon has made steady progress toward diversity over the last two decades. In 2000, about 8 percent of Kenyon's student body identified as students of color, compared to 20 percent today. In 2000, only about 6 percent of students were first in their families to attend college; now about 10 percent of Kenyon students are first-generation.
Financial aid is the fastest growing item in the College's annual budget. It totaled almost $33 million in 2016–17, and again Kenyon has increased spending on financial aid for the 2017–18 budget.
"It is never an attractive option to increase tuition to balance the College's budget. We can't just keep bumping tuition 3 or 4 percent a year," Schwartz said. "That's why there's a great need for financial aid endowment."
Only 12 percent of Kenyon's financial aid spending is supported by endowed funds that are permanently invested and each year generate spendable dollars equal to 4.5 percent of the fund's market value. Kenyon's commitment to meeting a student's full financial need means that the College is limited in the number of low-income students it can admit, given Kenyon's comparatively small endowment. The endowed President's Fund will expand Kenyon's annual resources by providing vital need-based aid year after year.
Schwartz is planning to meet with alumni to encourage contributions to the fund.
Schwartz has long understood the power of endowment. In 2007, he established the Barry F. Schwartz Strategic Scholarship Endowment Fund to provide renewable scholarships, grants to provide loan relief, research stipends or other forms of financial aid to convince students with high academic merit from underrepresented communities to matriculate at Kenyon instead of other colleges.
"This is an existential problem," Schwartz said. "If Kenyon College is to retain the vitality that diversity has brought to it, then this issue of access has to be confronted."
Web extra: Read President Sean Decatur's blog post, "Shaping Kenyon's Future," about efforts to boost diversity at Kenyon.
From pilgrimage souvenirs to rubber ducks, peek inside the personal collections of Kenyon alumni and faculty.
Read The Story
Behind the music with Nick Petricca '09 of the popular rock band Walk the Moon, which got its start at Kenyon.
Read The Story
At Kenyon, student activists tackle national and international issues — as well as concerns closer to campus…
Read The Story