Theater as Empathy
Harrison David Rivers '04 writes plays that reflect his life experiences.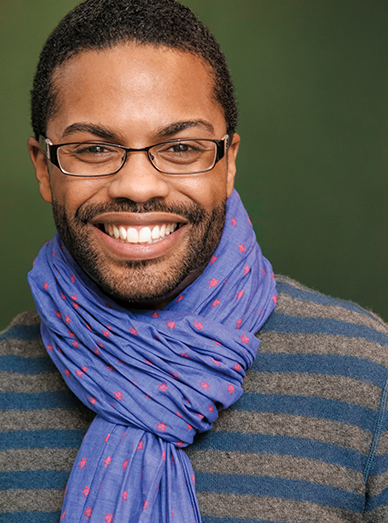 The first time Harrison David Rivers '04 saw himself reflected in a character onstage, he wept. He was in New York City in 2007, and the musical was "Passing Strange" — about a young, middle-class African-American musician who struggles to find himself as he travels through Europe. To Rivers, it was a revelation. "Oh, that's me," he thought.

Three years earlier, Rivers had been a dance and drama major at Kenyon, where he performed with the Chamber Singers and portrayed Linus in "You're a Good Man, Charlie Brown." Rivers was interested in the African-American tradition of oral storytelling, and wrote a musical for his American Studies honors thesis. Still, he never thought of himself as a playwright. Kenyon taught him how to figure out the best medium for expressing himself. "You build work that you love with people that you love," he said. "That's really been key to any kind of success that I've experienced."

After college, he was living in San Francisco when he began to hear voices inside his head. Worried that something was seriously wrong, he called his mother for advice. "Why don't you write down what the voices are saying?" she suggested. The result was a 180-page play that he used to apply for the MFA program at Columbia University. And it was there that he began to find his purpose as an artist.

In New York, he noticed that the actors of color in his graduate school classes rarely had meaningful parts written for them. He promised one friend that he would write a play for her. It became "Sweet," the story of two African-American sisters living in a small Kansas town in the 1960s, which premiered at the National Black Theater last year. "If I didn't tell the stories of the people who looked like me, who loved like me, then who was going to?" Rivers said.

In 2015, his work grew even more personal with a play about an interracial gay couple dealing with the turbulent early years of the Black Lives Matter movement. "The Bitter Earth," commissioned by the New Conservatory Theatre Center in San Francisco, reflected Rivers' struggles with his own political apathy. Every day, it seemed, he woke up and heard that another black man had died at the hands of police officers. Yet, he said, "I wasn't rallying and I wasn't marching. I'm an African-American gay man and I was not doing anything."

He did notice, however, that when he walked down the street holding hands with his white husband, people reacted to him differently than they had before. Rivers channeled all of these conflicting emotions into the script. "The closer the play is to me, the blacker that play is going to be, and the queerer that play is going to be," he said. "Hopefully it will allow other people, when they read it and see it, to better grapple with what they're grappling with as well."

Rivers' work has been performed on Broadway and at Lincoln Center, and last year he was the Playwright-in-Residence at the Williamstown Theatre Festival. He now lives in St. Paul, Minnesota, where he's a core writer and member of the board of directors at the Playwrights' Center. In February, a play he co-wrote with Ahmed Ismail Yusuf about Yusuf's experiences as a Somali immigrant in Minnesota will premiere in St. Paul. The two men have been collaborating on "A Crack in the Sky" for two years, but the work took on added significance in the face of recent anti-Muslim and anti-immigrant sentiment. "Theater is all about empathy," Rivers said. "Without the art, we become a pretty cold people."
Web extras: Learn more about Rivers and his work at harrisondavidrivers.com, and watch his interview with the National Black Theatre about his play "Sweet."
From pilgrimage souvenirs to rubber ducks, peek inside the personal collections of Kenyon alumni and faculty.
Read The Story
Behind the music with Nick Petricca '09 of the popular rock band Walk the Moon, which got its start at Kenyon.
Read The Story
At Kenyon, student activists tackle national and international issues — as well as concerns closer to campus…
Read The Story