Great Expectations
These teaching award winners keep students engaged in the classroom — and in the community.
Every year, Kenyon honors two standout faculty members with the Trustee Teaching Excellence Award. This year's recipients were Jacqueline McAllister, assistant professor of political science, as a junior professor; and Clara Román-Odio, professor of Spanish and the director of Latino/a studies, as a senior faculty member.
McAllister, who came to Kenyon in 2014, teaches courses in international relations, including on the politics of transitional justice, human rights, civil wars and U.S. foreign policy. Her research focuses on whether, how and when international criminal tribunals impact violence against civilians and peace prospects. Román-Odio, who has taught at Kenyon since 1992, teaches courses in Latin American literature of late 20th century and cultural productions of the borderlands. She specializes in borderlands theory, with a particular emphasis on feminisms of color, and spearheaded the Kenyon community-engaged learning initiative, as well as the creation of the public humanities project Latinos in Rural America.
What makes these teachers so impactful? We asked several of their current and former students to talk about how their favorite professors have inspired them — in and out of the classroom. Here's what they had to say.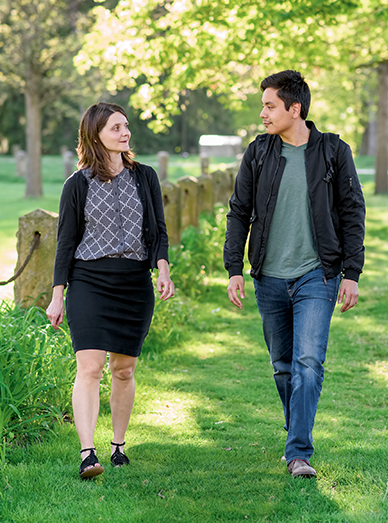 Jacqueline McAllister
"Kenyon is so lucky to have Professor McAllister. She actively weaves comments and questions from students into her classes and is open to adjusting the syllabus if students want to hear more of something (in particular). She asks about our interests and passions, and goes above and beyond to show how those interests can be applied to the subject matter. Her students understand how hard she works, which drives us to match her level of effort.
While she has high expectations, she makes herself available to us so we can meet these expectations. She even brings cookies to every seminar and baked us brunch at the end of the semester.
I will remember her as a central figure to my education — and an inspiration for furthering my education in the coming years."
— Sarah Grace Spurgin '17
"Professor Jacqueline McAllister is undoubtedly the most influential professor I have ever had the pleasure of studying under at Kenyon. She goes above and beyond to make sure every student feels comfortable in her courses, while at the same time forcing them to engage through critical thinking and discourse.
In my seminar on the 'Politics of Transitional Justice,' Professor McAllister incorporated her students' questions into every single one of her lesson plans and actively went out of her way to shape her lessons to fit the interests of her students.
Professor McAllister's guidance has not only compelled me to pursue a career in international policy, but has helped me in times, unknown to her, that I have been struggling. As an athlete, she has encouraged me to pursue my passion and has even attended some of my games to show support for me, my teammates and the Kenyon community as a whole."
— Jordan Pakula '17
"Professor McAllister has single-handedly transformed my perspective on international politics and helped me engage with course material in ways only a few professors on this campus have been able to do. As a political science major, I took 'International Relations' strictly because it was a required course.
After Professor McAllister's class, however, I found my mindset and beliefs continuing to evolve, and I found myself asking her, 'So, if one were interested, how would one get a job in this field?' Professor McAllister is an exceptional professor, but, most importantly, a passionate and engaging person. Her ability to connect with her students is unequivocally her best quality."
— Daniel Garcia-Archundia '17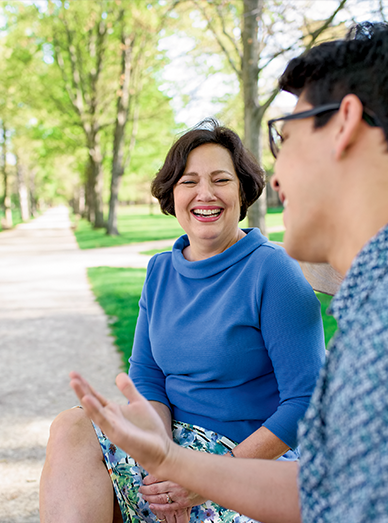 Clara Román-Odio
"I often hear people talk about 'the professor that changed everything.' For me, Clara Román-Odio has been that professor.
Her exceptional teaching was exemplified last year during her course, 'Introduction to Chicano/a Studies.' Clara provided a challenging and diverse curriculum that incorporated prose, poetry, history and community-engaged learning (CEL). Each student designed their own CEL project and chose their own cultural artifact for analysis in an extended paper.
For my CEL project, Professor Román-Odio introduced me to a representative of the Mount Vernon Salvation Army. With instructions from her to start an SAT/ACT College Preparation Class for Latino/a high-school and middle-school students, my team set off to work. While Professor Román-Odio was minimally involved in our curriculum design and project implementation, she was always available to us should we need any additional support. She challenged me to apply my academic background to tackle real-life issues in our community while still on the Hill."
— Mary Sturgis '17
"Professor Román-Odio is a shining example of what a mentor should be because of her unwavering generosity and commitment to excellence. Perpetually busy with a handful of projects, on top of the several departments and programs she runs, Professor Román-Odio leads by example and still finds a way to generously push her students and mentees past our comfort zones and towards the excellence she firmly believes we can all accomplish.
She stands out among many helpful mentors and teachers at Kenyon because of her ability to make every encounter a fun learning experience — leaving you knowing she is genuinely invested in you and your future."
— Sebastián Chávez Erazo '18
"As a child, the mixture between lo Americano and my Mexican heritage presented itself in the midst of Chicago's noisy streets that were lined with Aztec murals painted alongside Shell gas stations. However, despite having been raised in Pilsen, a primarily Mexican-American neighborhood, my classes in public school never reflected the concerns that plagued those around me. It was only 367 miles away, in Professor Román-Odio's classes, 'Intro to Chicano Literature' and 'The Literature of National Experience in Mexico,' that I first came to understand and love the neighborhood I had grown up in. It was through these courses that I was first exposed to culturally relevant education.
At the root of Professor Román-Odio's teaching lies an immense passion for the academic and professional success of her students. Through the years, her feedback has helped me develop into a proud Chicana scholar, and, for that, I am extremely grateful."
— Patricia Mota '16
At Kenyon, student activists tackle national and international issues — as well as concerns closer to campus…
Read The Story
Behind the music with Nick Petricca '09 of the popular rock band Walk the Moon, which got its start at Kenyon.
Read The Story
From pilgrimage souvenirs to rubber ducks, peek inside the personal collections of Kenyon alumni and faculty.
Read The Story