Details
According to Dean of Admissions Diane Anci, Kenyon's Class of 2021 is "a terrific tribute to the things that Kenyon values most. It is academically distinguished, among the most diverse classes we've enrolled, and its talent knows no bounds."
5,603  First-year applications received
460  First-year matriculants
19.8  Percentage of domestic students of color
8  Percentage of international students
19  Countries (including the U.S.) they call home
37  States they call home
9  Percentage of Pell-eligible students
69  Students with a relative who attended Kenyon
4.04  Mean high school GPA
40  Percentage of students who received need based scholarships
35 million  Total dollars spent on financial aid for all classes
It's Electric
Gambier is a new destination for electric-vehicle drivers wanting to charge their cars. Kenyon's Office of Green Initiatives partnered with Tesla this fall to install two Tesla chargers and a universal EV charger outside the Kenyon Inn, and they plan to install more outside the Kenyon Bookstore — an ideal place for drivers to grab coffee and a good read while topping off their cars.
Image credit: Steve Jurvetson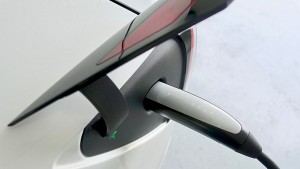 Washrooms fit for the Whitney
A sign posted in Rosse Hall directing guests to
"accessible restrooms" was meant to refer, of course, to facilities complying with ADA standards. Someone, however, chose to interpret "accessible" in the art-world sense of "easy to understand," and decided to provide another option: A second, smaller sign appeared, pointing the way toward "avant-garde restrooms" for those desiring a less pedestrian experience. No word on whether Marcel Duchamp's "Fountain" was a featured exhibit.
Cold Coyote
Visitors to the Brown Family Environmental Center might be in for a surprise if they raid the BFEC's fridge. Instead of ice cream and ice pops, the freezer contains a skinned coyote. "It was pretty tricky to get him in there," said manager Noelle Jordan, "because we also have a red-tailed hawk, a flying squirrel and five song birds." All of the chilled critters will become part of the BFEC's teaching collection.
'85
Brian J. Edwards was named to Barron's list of America's Top 1,200 Financial Advisors for his outstanding work in a Morgan Stanley wealth management office on the northeast side of Columbus.
'72
"If anybody had told me back in '72 that I'd still be playing 'Whole Lotta Love' and actually enjoying it … This band from Connecticut found me in Northampton, Massachusetts, and I'm celebrating my second year with them. Just a bar band, but lots of work and enough money that I have to think about how to report it at tax time."
— David B. Erickson
'63
John M. Ackermann announces the birth of a granddaughter, who joins her 2-year-old brother in the family of his stepson, whose wedding required his regrettable absence from the 50th reunion. After work as an ecology professor at universities in California, Kansas, and finally Fiji, John spent 20 years with the U.S. EPA's Air Program in North Carolina and Georgia, where he and his wife, a teacher, have retired to a house in the woods.