Snapshots of Life on the Hill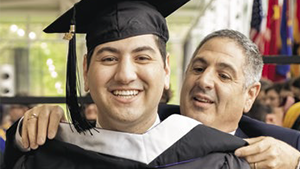 Family Ties
Every year at Commencement, Kenyon alumni are invited to take part in the hooding ceremonies of their graduating children. Pictured here, Myles H. Alderman Jr. '82 P'14, '18, participates in the hooding of his son, Brooks H. Alderman '18, on May 19. The younger Alderman graduated from Kenyon with a degree in political science.
Quad Pods
Four temporary modular units were installed on campus in the spring. Starting in the fall, the units will house library services and provide study space during construction of the new library. Three modular units on Ransom Lawn, totaling about 14,000 square feet of space, will host the library's core services, including circulation, research and reference, Helpline, special collections and archives, public printers, periodicals, new books, computer workstations and study spaces. A
3,000-square-foot modular building between Watson and Norton halls will provide seating for more than 100 students.
Bells of Success
Kenyon's third annual Bell-A-Thon raised $687,044 in donations with the help of 1,075 donors and a one-to-one trustee match. Live streamed from the belltower of the Church of the Holy Spirit, the event featured performances from student groups such as the Kokosingers and ballroom dance team, and conversations with professors like P.F. Kluge '64 and Perry Lentz '64.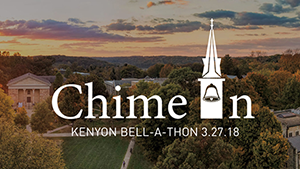 '11
Casey E. McKone is busy as a nurse practitioner in internal medicine at the Cleveland Clinic. "On days off I'm working on projects around my 1920s home or grabbing beers with Kenyon friends in Cleveland," he notes.
'57
"Kenyon College administration and faculty repeatedly emphasized that a good liberal education would serve you well during retirement years. Thirty-one years after retiring from active medical practice, I can affirm Kenyon's promise. I have experienced two bouts of boredom. Each lasted about 20 minutes."
— Dale C. Havre, Inverness, Florida
'61
John E. Baker retired this year as photographer for the Flagship Niagara — "the brig that won the Battle of Lake Erie, which allowed Kenyon College to exist!" John still shoots for the Erie County Historical Society and the Arboretum at Frontier Park in Erie, Pennsylvania: "No salary involved, but I sure do get to some great parties," he adds.