Snapshots of Life on the Hill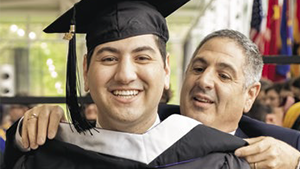 Family Ties
Every year at Commencement, Kenyon alumni are invited to take part in the hooding ceremonies of their graduating children. Pictured here, Myles H. Alderman Jr. '82 P'14, '18, participates in the hooding of his son, Brooks H. Alderman '18, on May 19. The younger Alderman graduated from Kenyon with a degree in political science.
Quad Pods
Four temporary modular units were installed on campus in the spring. Starting in the fall, the units will house library services and provide study space during construction of the new library. Three modular units on Ransom Lawn, totaling about 14,000 square feet of space, will host the library's core services, including circulation, research and reference, Helpline, special collections and archives, public printers, periodicals, new books, computer workstations and study spaces. A
3,000-square-foot modular building between Watson and Norton halls will provide seating for more than 100 students.
Bells of Success
Kenyon's third annual Bell-A-Thon raised $687,044 in donations with the help of 1,075 donors and a one-to-one trustee match. Live streamed from the belltower of the Church of the Holy Spirit, the event featured performances from student groups such as the Kokosingers and ballroom dance team, and conversations with professors like P.F. Kluge '64 and Perry Lentz '64.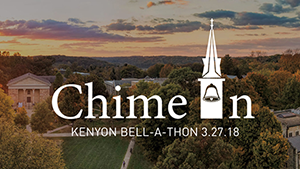 '83
Virginia "Ginger" L. Deely Halstrom checked off a bucket list item in February when she and husband Howard spent two weeks in Australia with two of their daughters, one of whom began a semester abroad. "We hiked, snorkeled, Segwayed, quad biked as well as rode trains, planes and cable cars while visiting rain forests, mountains, sand dunes, the reef, desert and various cities of this amazing country. Best vacation ever," she summed up.
'00
Kristin Ann Meister gave birth last December to a son, Cyrus. In March, her family moved down the hall in their building in New York City to an apartment that will better accommodate the new addition.
'12
Robert R. Yee is the head brewer for Widmer Brothers Brewing in Portland, Oregon. He got married last July and recently bought a house.