Snapshots of Life on the Hill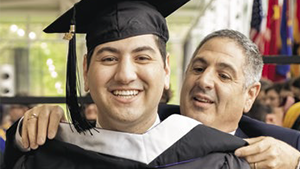 Family Ties
Every year at Commencement, Kenyon alumni are invited to take part in the hooding ceremonies of their graduating children. Pictured here, Myles H. Alderman Jr. '82 P'14, '18, participates in the hooding of his son, Brooks H. Alderman '18, on May 19. The younger Alderman graduated from Kenyon with a degree in political science.
Quad Pods
Four temporary modular units were installed on campus in the spring. Starting in the fall, the units will house library services and provide study space during construction of the new library. Three modular units on Ransom Lawn, totaling about 14,000 square feet of space, will host the library's core services, including circulation, research and reference, Helpline, special collections and archives, public printers, periodicals, new books, computer workstations and study spaces. A
3,000-square-foot modular building between Watson and Norton halls will provide seating for more than 100 students.
Bells of Success
Kenyon's third annual Bell-A-Thon raised $687,044 in donations with the help of 1,075 donors and a one-to-one trustee match. Live streamed from the belltower of the Church of the Holy Spirit, the event featured performances from student groups such as the Kokosingers and ballroom dance team, and conversations with professors like P.F. Kluge '64 and Perry Lentz '64.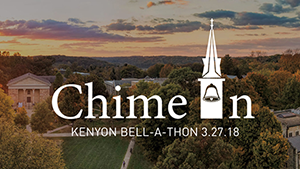 '11
Erin R. Schaff continues freelancing as a photojournalist covering Capitol Hill and national news stories for the New York Times, Washington Post, UPI and other organizations. "Over the past few months," she writes, "it's been fun to catch up with my Kenyon housemate Bryn T. Stole '11 now that he's a print reporter covering Capitol Hill."
'07
John A. Compton celebrated his fifth year developing and writing role-playing games with Paizo, Inc. in Redmond, Washington. He also contributed story material and adventure design for the upcoming "Pathfinder: Kingmaker" video game.
'80
Karl J. Shefelman thanks everyone who watched, rated and reviewed his film "Looking for the Jackalope" online. This spring his distributor takes it to the Cannes Film Market to try to sell it to foreign territories. In April, Karl headed to St. Louis to direct a short film for a writer/producer as a proof of concept for a full-length movie based on a novel.