Snapshots of Life on the Hill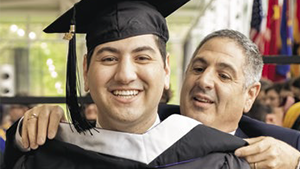 Family Ties
Every year at Commencement, Kenyon alumni are invited to take part in the hooding ceremonies of their graduating children. Pictured here, Myles H. Alderman Jr. '82 P'14, '18, participates in the hooding of his son, Brooks H. Alderman '18, on May 19. The younger Alderman graduated from Kenyon with a degree in political science.
Quad Pods
Four temporary modular units were installed on campus in the spring. Starting in the fall, the units will house library services and provide study space during construction of the new library. Three modular units on Ransom Lawn, totaling about 14,000 square feet of space, will host the library's core services, including circulation, research and reference, Helpline, special collections and archives, public printers, periodicals, new books, computer workstations and study spaces. A
3,000-square-foot modular building between Watson and Norton halls will provide seating for more than 100 students.
Bells of Success
Kenyon's third annual Bell-A-Thon raised $687,044 in donations with the help of 1,075 donors and a one-to-one trustee match. Live streamed from the belltower of the Church of the Holy Spirit, the event featured performances from student groups such as the Kokosingers and ballroom dance team, and conversations with professors like P.F. Kluge '64 and Perry Lentz '64.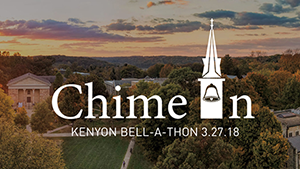 '75
Diane E. Souder, Albuquerque, New Mexico, retired after more than 40 years with the National Park Service. "While I won't be jumping into the green and gray every morning," she writes, "I do plan to continue work as a public information officer on fire assignments; 2018 promises to be a big year for fires in the West."
'07
Jeffrey N. Gardner, Chicago, ends 10 years with the Museum of Science and Industry this September and will pursue a master's in sound arts and industries. Jeff's audio podcast "Our Fair City" will end in July; he'll begin a new show titled "Unwell: A Midwestern Gothic Mystery," a serial drama about memory, ghosts and small-town Ohio living.
'73
Julia E. Miller Vick, who lives in Haddonfield, New Jersey, with James W. Vick '74, participated in the March for Our Lives in Washington on March 24. Next, she notes, a 2019 Philadelphia-area Purple Palooza music and arts festival may be in the works. Their son David C. Vick '12 works in Los Angeles on the CBS show "Man with a Plan." On a visit to Joshua Tree, California, Stephen H. Dachman '73 took the Vicks to Hollyhocks, a Frank Lloyd Wright residence, and in April they traveled to France and visited Maria C. "Mia" Halton '73, there on an artist's residency.