Snapshots of Life on the Hill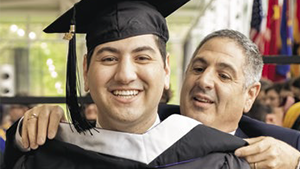 Family Ties
Every year at Commencement, Kenyon alumni are invited to take part in the hooding ceremonies of their graduating children. Pictured here, Myles H. Alderman Jr. '82 P'14, '18, participates in the hooding of his son, Brooks H. Alderman '18, on May 19. The younger Alderman graduated from Kenyon with a degree in political science.
Quad Pods
Four temporary modular units were installed on campus in the spring. Starting in the fall, the units will house library services and provide study space during construction of the new library. Three modular units on Ransom Lawn, totaling about 14,000 square feet of space, will host the library's core services, including circulation, research and reference, Helpline, special collections and archives, public printers, periodicals, new books, computer workstations and study spaces. A
3,000-square-foot modular building between Watson and Norton halls will provide seating for more than 100 students.
Bells of Success
Kenyon's third annual Bell-A-Thon raised $687,044 in donations with the help of 1,075 donors and a one-to-one trustee match. Live streamed from the belltower of the Church of the Holy Spirit, the event featured performances from student groups such as the Kokosingers and ballroom dance team, and conversations with professors like P.F. Kluge '64 and Perry Lentz '64.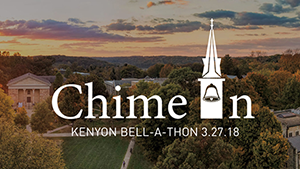 '90
Julia Griner and her husband spent eight years in Paris but have moved back to Rome and set up a cooking school: "With Pino's years in NYC restaurants and our catering company and private culinary education courses in France, England and Italy, it seemed natural to open our own school here in Trastevere," she writes. "It's a dream come true. Pop in for caffé and biscotti; Kenyon folks in Rome for 50th birthdays, we will be happy to spoil you with 50 percent off any class (grano-farina.com)."
'82
Mary "Molly" Poling Elkind relocated to Santa Fe, New Mexico, after holding a solo show of her tapestries in Atlanta. She looks forward to continuing to weave and teach.
'12
Sally A. Wilson updates: "Still in Africa, mostly Mozambique, working in the national parks. When in Maputo, I make organic soaps and tend chickens."