Snapshots of Life on the Hill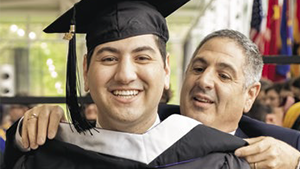 Family Ties
Every year at Commencement, Kenyon alumni are invited to take part in the hooding ceremonies of their graduating children. Pictured here, Myles H. Alderman Jr. '82 P'14, '18, participates in the hooding of his son, Brooks H. Alderman '18, on May 19. The younger Alderman graduated from Kenyon with a degree in political science.
Quad Pods
Four temporary modular units were installed on campus in the spring. Starting in the fall, the units will house library services and provide study space during construction of the new library. Three modular units on Ransom Lawn, totaling about 14,000 square feet of space, will host the library's core services, including circulation, research and reference, Helpline, special collections and archives, public printers, periodicals, new books, computer workstations and study spaces. A
3,000-square-foot modular building between Watson and Norton halls will provide seating for more than 100 students.
Bells of Success
Kenyon's third annual Bell-A-Thon raised $687,044 in donations with the help of 1,075 donors and a one-to-one trustee match. Live streamed from the belltower of the Church of the Holy Spirit, the event featured performances from student groups such as the Kokosingers and ballroom dance team, and conversations with professors like P.F. Kluge '64 and Perry Lentz '64.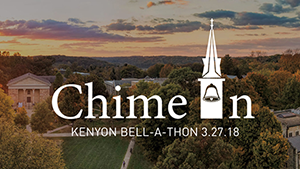 '07
Erin M. Ellingwood married Yuval Shavit at Cambridge City Hall in Massachusetts in 2016 and celebrated with a reception last July at the Cincinnati Nature Center. They were "delighted to party," she writes, with Adrienne Boris '07, Margaret Willison '07, Deanna Lesht '07 and Nathaniel J. Ewert-Krocker '07, along with friends and family from all over the U.S. and Israel.
'67
Wayne D. Beveridge, Augusta, Georgia, reports that recouping from a "micro-surgery" took not a couple of weeks but a quarter of a year: "'Microsurgery' certainly says nothing about recovery. I'm sure age and pathology have something to do with it. Suffice it to say I'm on the mend." Wayne's 55th reunion packet from his prep school reminded him that time is flying by.
'93
Michael J. Marshall, Athens, Georgia, was awarded a Meigs Distinguished Teaching Professorship for his work at the University of Georgia, where he is associate director of curriculum in his department. Last fall he opened a research lab called the Social Ecology Studio, "initiating and facilitating community arts projects in collaboration with science and social researchers to enhance the local ecosystem and enrich the community," he writes.